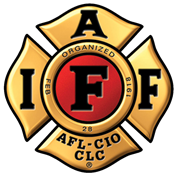 Union Members Feature: International Association of Fire Fighters
NATCA continues to highlight our union sisters and brothers who are also essential workers during the COVID-19 national emergency. Today we highlight and thank our union siblings of the International Association of Fire Fighters (IAFF).

IAFF represents more than 324,000 full-time professional firefighters and paramedics in more than 3,500 affiliates, and is the driving force behind nearly every advance related to fire and emergency services in the 21st century.
Learn more about how IAFF is helping protect its members as they continue to perform their critical work during the global pandemic.