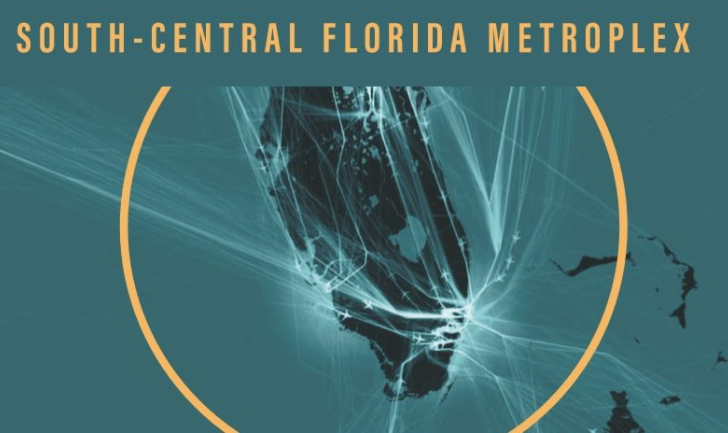 Changes Arrive at Florida Metroplex and Northeast Corridor Atlantic Coast Routes
Changes have come to the Florida Metroplex and Northeast Corridor Atlantic Coast Routes (NEC ACR), which will improve safety and efficiency in this busy airspace. "These changes will improve the efficient flow of air traffic over South-Central Florida while also decreasing the complexity and frequency of controller interactions, said Article 114 Metroplex Rep and co-lead for the project Christian Karns. "The project will improve many air traffic procedures to take advantage of the most current design criteria and to improve their connections to, and separation from, other procedures. Additionally, the project takes advantage of modern technology by creating or optimizing performance-based navigation procedures that are accurate, repeatable, and predictable."
On April 22, 54 new procedures were published, mainly impacting central Florida. Additionally, 37 of the new procedures were implemented, with 17 SIDs and STARs temporarily delayed, as indicated by Notices to Airmen (NOTAMs). The remaining 17 SIDs and STARs, mainly in the south Florida area, will be implemented in August.
Procedure changes will eventually be implemented at Orlando Executive Airport (ORL), Orlando Sanford International Airport (SFB), Punta Gorda Airport (PGD), St. Pete-Clearwater International Airport (PIE), and Tampa International Airport (TPA), among others. "The procedure changes have not yet been implemented due to COVID," said Karns. "Air traffic controllers have not been able to get in the labs and train, but all procedures will be implemented on Aug. 12."
New T routes were also effective on April 22. Although V routes are still available, the FAA encourages operators to file for the new T routes. Many of the V routes will be decommissioned over time. These new routes are the most effective for the airspace. General aviation operators, partly due to the large number of independent entities, tend to be slower adopters of route changes, so the Federal Aviation Administration (FAA) will work with flight planning and routing organizations to encourage the use of these new routes.
Meanwhile, major updates are planned for the NEC ACR. Full implementation of the changes has also been postponed due to the COVID pandemic and training challenges. Beginning this fall, seven Q routes will be implemented. Washington Center (ZDC) ultra-high sector 30 will be implemented on Sept. 9. Overall, almost 40 Q routes and Y routes will replace north-south high-altitude route structure along the East Coast. These routes will also decrease reliance on ground-based navaids.
"This has been a very long project, with multiple government shutdowns, and the COVID pandemic, but it is finally coming to fruition, with the first implementation happening last month and the second happening later this year," said Karns.