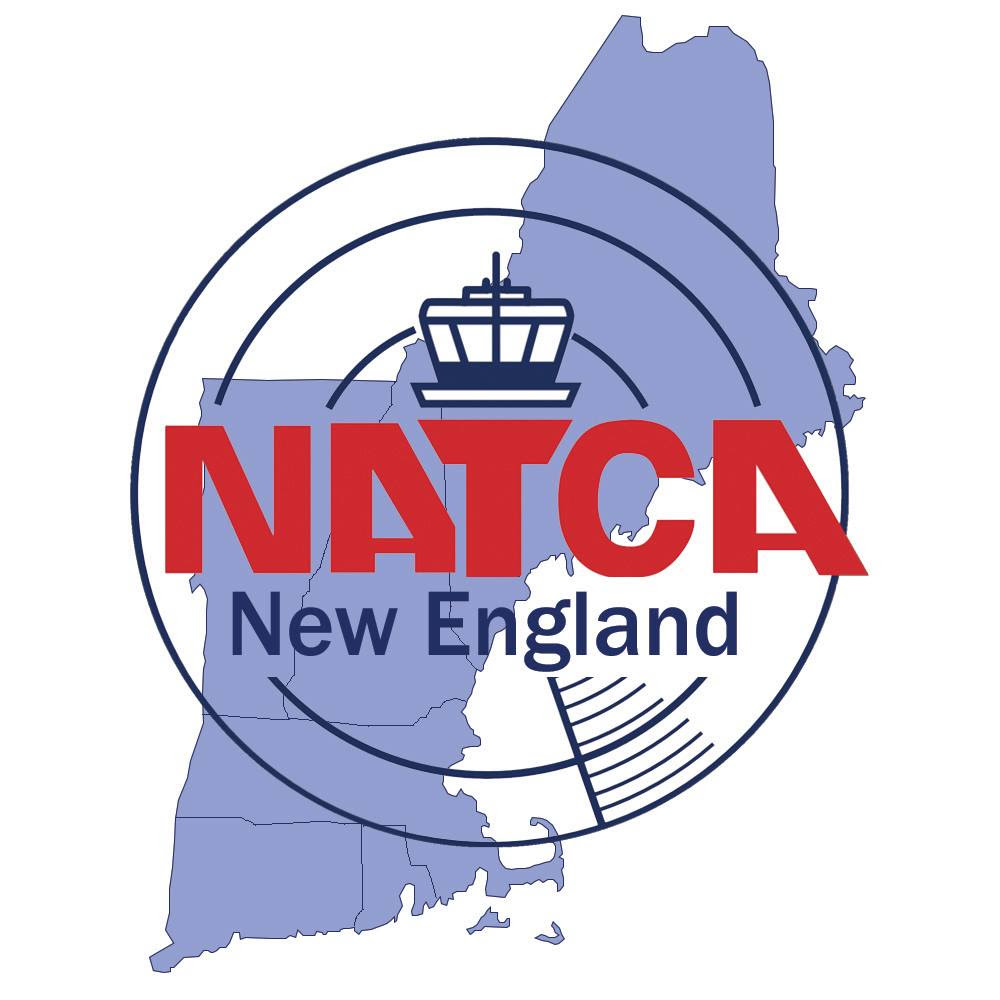 July 2021 New England Bi-Monthly Regional Update #1
From Mick Devine, NATCA New England Regional Vice President
A few weeks ago, the nomination period ended for national elections. I accepted my nomination and will be the New England RVP for another three years starting in September as nobody else was nominated. I just wanted to say thank you for the trust you've put in me and our entire team we've built over the last 2 ½ years and give us the chance to grow it even further over the next 3+ years. It is the honor of a lifetime to have been given that trust from my peers.
While COVID isn't over, home seclusion certainly is. This month has been a transition from all virtual schedules to in-person scheduling, and the transition is happening fast. This month brought about a pre-COVID month for the first time since February 2020.
On June 1st, I was able to get to BDL for their first in-person membership meeting since the pandemic began. It was a great first event to get back into the swing of normalcy. BDL is a tremendous facility with great leadership which continues to show examples of how a local should be run.
From June 2nd through the 4th, NATCA kicked off its in-person events with its first in-person National Executive Board meeting. It was great to see everyone in person after exclusively being virtual for over 16 months. The last in-person meeting was in January of 2020. While we were able to carry on with the task of running the union virtually, there is no replacement for in-person meetings. We were able to get back to the business of the union going forward as we begin to transition back to normal, and more importantly, life with a new President and Executive Vice President for the first time in 12 years. Stepping away from the stability Paul and Trish have guided this union with is scary, but this union is in very capable hands with our new President and EVP with Rich and Andrew and they will help bring this union to new heights.
On June 8th, the NEB met with the heads of the ATO for our quarterly Strategic Leadership Meeting (SLM). These meetings have taken on a new role as more of a specific update on high-level issues, projects, and priorities, as well as a state of collaboration at the field level. Since nobody wants to be called out in front of this crowd, things usually seem to get fixed leading up to this meeting.
On June 9th, I had the opportunity to travel down to BED and see some of our great brothers and sisters there. FacRep Ben Nutter has done a tremendous job with this building creating a great bench of activism for us regionally and nationally.
Additionally, on June 9th, we met nationally to run a mock NCEPT panel. This mock panel was done to check in on the coding of the program which NCEPT is run through. If you recall, the NCEPT panel in May was postponed because the coding was done incorrectly. We did find an error in the mock panel and were able to fix it prior to the June 22nd panel.
On June 16th I was able to visit A90 for their membership meeting. Nick Marangos has done a great job taking over for long-time FacRep Curt Fischer and moving the ball forward from where Curt left off.
On June 17th I visited BOS. It was great to see everyone and witness the traffic decline in person. Matt Morgan has continued to move the ball forward and build a great local again.
Later on June 17th, I had to partake in our National Training Committee meeting. That committee has the monumental task of refocusing from virtual learning back to in-person and figuring out when is the right time to pull the trigger. That is one of the best committees in NATCA and never missed a beat throughout COVID. Their ability to break every class down into a two-hour maximum online module and get them out to the membership in under a month was unrivaled by maybe only the FacReps in getting everyone into COVID staffing in less than 4 days.
On June 21st, our leadership team went to ZBW for a facility visit. Again, the traffic decline was monumental. Fred has clearly found his comfort zone as FacRep and ZBW is once again headed in the right direction. Following a 16-year FacRep is not an easy task, let alone during COVID. Make no mistake, COVID was a very difficult time to become FacRep, and Fred met that task.
On June 22nd, we met in Washington, DC for the NCEPT panel. This was a different panel in that the rules were vastly different than we've done in the past. The NCEPT team is tasked with not only the transparent movement of people throughout the NAS but also to help mitigate staffing nationwide. While our changes in late 2018 moved the national average nearly 5% nationwide and we were getting closer to being able to open NCEPT back up, the pandemic dropped the staffing right back down to 78%, which is the reason why we had to be more limiting.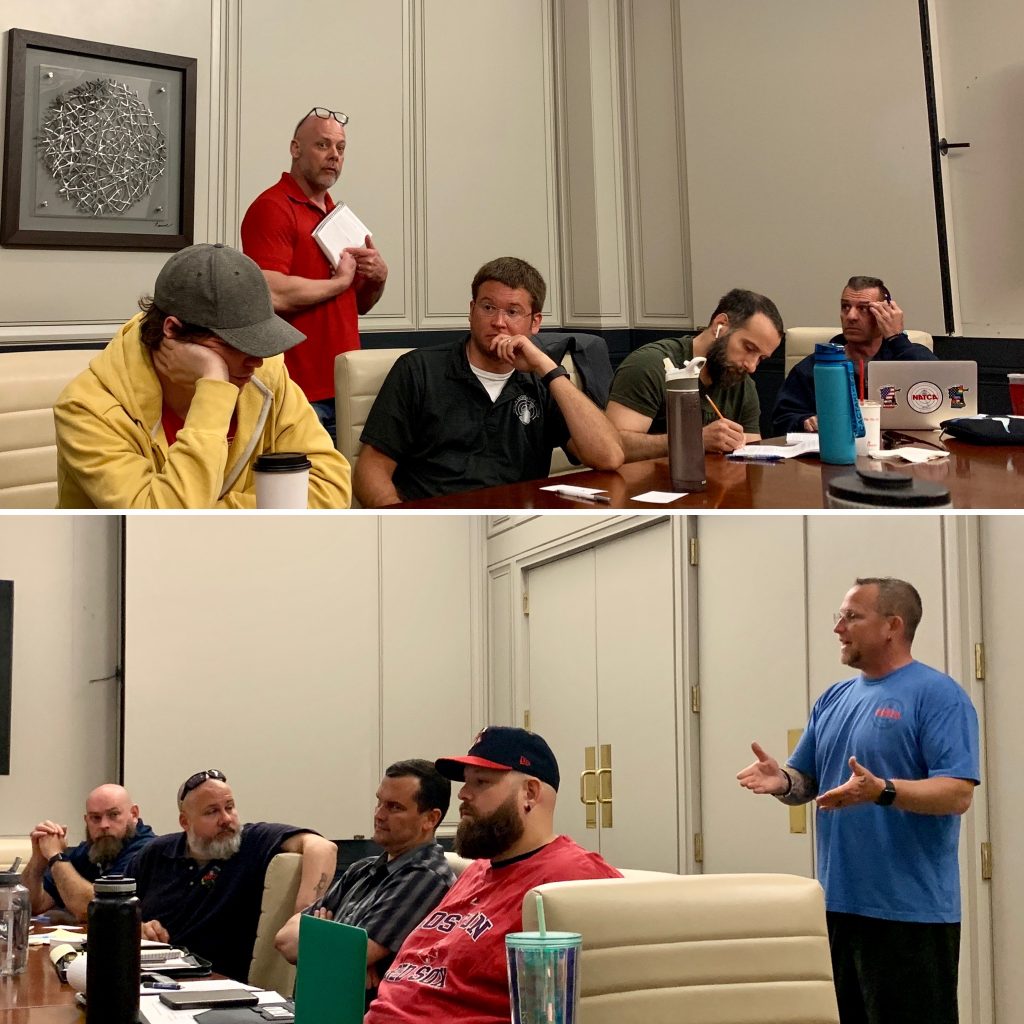 On June 24, New England held a quick one-day FacRep Meeting in Nashua, NH. Our reps have gone above and beyond for the greater part of 16 months protecting our membership, and the opportunity to meet up in person and talk about what we did well, what we did wrong, and to simply be able to sit with each other and build back up the comradery that our family of reps needed. Many of the reps had never met most of the reps in the region in person.
Later that night on June 24th, I was joined by NNE Legislative Chair Andre Jean, NRX Legislative Chair Jason Holland, Mass State Coordinator Matt Morgan, and BED FacRep Ben Nutter for a zoom meeting with Mass Congresswoman Lori Trahan and Chairmen Jefferies from NY. We were able to discuss the upcoming infrastructure plan and how it relates to aviation and air traffic facilities. We also had the opportunity to thank them for all their support for our organization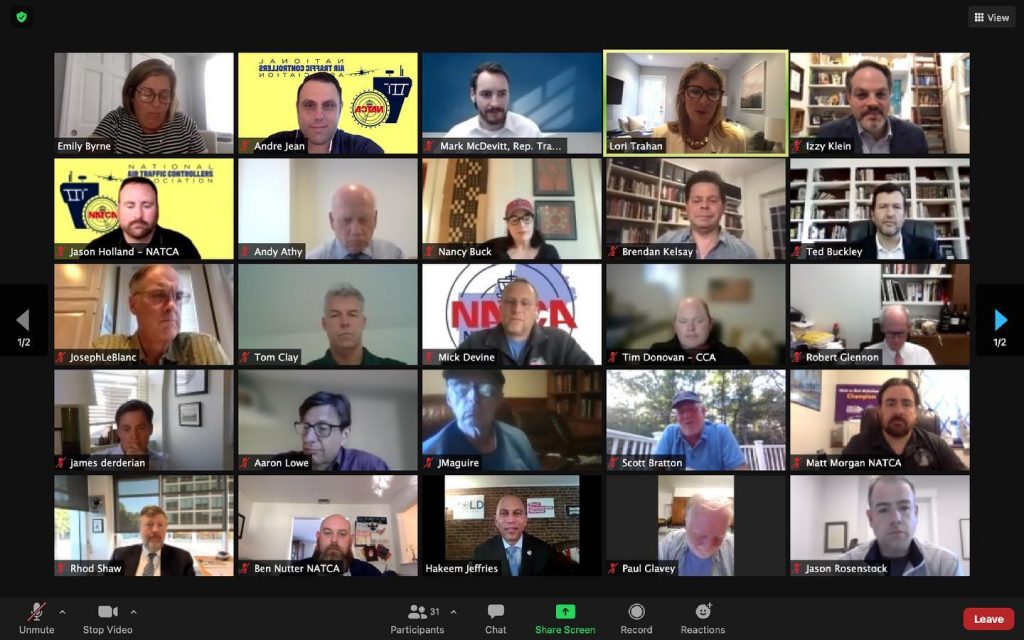 From June 28-30, I was in Las Vegas to attend the NWP Pre-Convention Meeting. The RVPs are going to the pre-convention meetings to show solidarity as a board and help push constitutional amendments that we have proposed.
Also on June 30th, we had a membership call with our members from ACK. ACK has been in the national spotlight for a few months now, and never so much so as the last month. We had four new hire academy grads who were held away from the facility during COVID and told to stay home due to the gating criteria, which ACK was a red building for all of COVID. When June 6th came, all four employees were unable to get any housing on Nantucket. Not one room for rent on the entire island. While Nantucket has always had an issue with affordable housing, physical housing was never to the point where nobody could get a place. To go along with that, they have only seven CPCs. That's six-day workweeks getting them 2 ½ members on a shift (2 day shifts/2 night shifts/1 middle shift) working in a 4 position summer tower. While discussions were being had on long-term solutions to the affordability issues, the immediate issue was what to do with these new trainees who could not get to the facility until after Labor Day. A settlement was reached to reassign them to different buildings. There is always good that comes from the bad. This issue really showed the FAA at the very top how bad the issue was at ACK that we are scheduling a meeting at the national level to fix the housing issue at ACK in the upcoming weeks.
---
From Scott Robillard, NATCA New England ARVP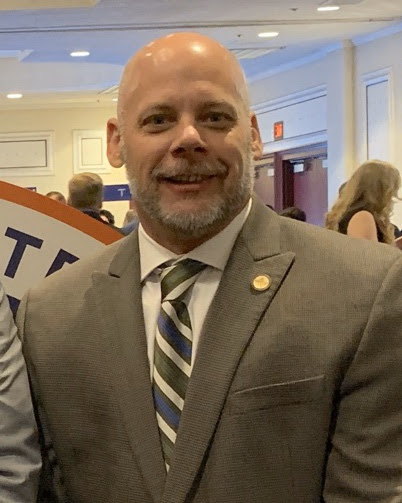 Hello New England. With spring and summer comes Prime-Time leave. With Prime-Time (PT) leave comes Overtime (OT). So, let's talk about both!
Prime Time Leave: Article 24, Section 4, 5, and 6. Prime – Time (PT) is generally understood to be when leave is most desired. While each facility differs slightly, most in New England have a PT period that is negotiated to be from around Memorial Day to around Labor Day, Thanksgiving, and Christmas-New Year's. Some add-in February and/or April vacation weeks. A hand full of New England facilities have defined PT as year-round.
The negotiations are straightforward: Determine the number of people bidding. Are CPCs and DEV/CPC-IT bidding together or separate? Use this data to build a period that allows for each bidder to have 2 weeks consecutive or non.
21 employees bidding = 210 leave days.
Prime Time definition example:
123 days May 15-September
155 days at Thanksgiving
10 days at Christmas
Total 138 total days
A week of leave is defined as 7 days. 2 weeks is 14 days. If you bid 2 weeks consecutive, you do not bid the weekend days. Considering the example above, could 21 employees reasonably bid 2 weeks, consecutive or non, if there were 2 slots per day? Probably not with only 276 slots. If that is true, one of two things must happen. You either must add days to PT or you must have 3 off per day.
While squeezing PT to increase slots is a common practice, you must always consider that there needs to be available personnel for overtime to staff to the staffing guideline number.
Keep in mind that PT leave is the only leave in negotiations where the Agency is reasonably expected to use overtime to cover and that ONLY your first round of bidding is Prime Time. All other leave bid is Non-Prime Time (NPT) all leave on a posted schedule is called Spot Leave.
---
Overtime Article 38 (OT). What is the definition of OT? OT is work that is required to be performed that is more than your 8-hour day or your 40-hour week. (5 CFR Part 551) OT is required work. There is no "optional" or "voluntary" OT. If there were, "optional" or "voluntary" OT would give the employee the ability to dictate when, where and how much OT they would work. Obviously, that is not the case.
This begs the question, where do the concept of volunteer or voluntary OT come from? Article 38, Section 1 requires the ATM to maintain a list of those who have "indicated a desire" to work overtime. This list is commonly referred to as the volunteer list. Everyone else is put onto the "other list" which is commonly referred to as the non-vol list. The non-vol list will also include those who are deemed not qualified. Normally DEV/CPCIT with limited certifications. These two lists, those who have indicated YES and those who have indicated NO (plus the unqualified), become your volunteer and non-volunteer lists.
Locally, the parties negotiate how and when you indicate your desire in reference to OT and how you move from list to list.
Questions
1) When calling in OT, is the highest in seniority always called first from the volunteer list or lowest in seniority from the non-vol list? No. Article 38, Section 2 requires that overtime be distributed on an equitable basis. Article 38, Section 1 requires that the parties negotiate the procedures to distribute the OT equitable. The common practice used is "actual OT hours work" for the first tiebreaker and seniority is second.
2) If I am a non-volunteer for OT, does that means I should never be assigned OT? No. Overtime is a condition of employment.
3) When does the Agency move from the volunteer list to the non-vol list? Article 38, Section 2, second paragraph is controlling. "In the event no employees on this roster (Volunteer list) can be reached, the Agency may require other qualified unit employees to work the overtime." The practical application here is that the Agency calls every volunteer but cannot reach anyone. At this point, they can move to the non-vol list. There should be no mechanism for a volunteer to transfer an overtime to non-vol simply because they don't want this specific assignment.
4) As a volunteer, can the Agency schedule me to work OT at the posting of the BWS? Yes. Generally, this is how the Union prefers OT to assigned.
5) As a non-vol, can the Agency schedule me to work OT at the posting of the BWS? Yes. But this is only in the case where there are no employees available from the volunteer list.
6) If I am a volunteer or a non-vol and the Agency assigns me OT, can I get out of it? Yes, and there are 2 ways. Both are in Article 38, Section 4. Your choices are to secure a replacement or request the Agency relieve you of the assignment due to personal circumstances make it impossible for you to work the OT or the health/efficiency of the employee may be impaired. The options on Article 38, Section 4 both have a high bar, and both are in the judgment of the Agency. But if you are a volunteer, remember you asked to be assigned. If you are a non-vol the shift is probably in crisis, or they would not have made it to you.
---
To Protect your rights, you have to know your rights!
Do you know your Prime-Time period?
Do you remember what your first pick was in leave bidding?
What does your facilities Article 38 MOU say for who is qualified?
---
Labor Management Relations
From Kyle Szary, NATCA New England LR Coordinator, ZBW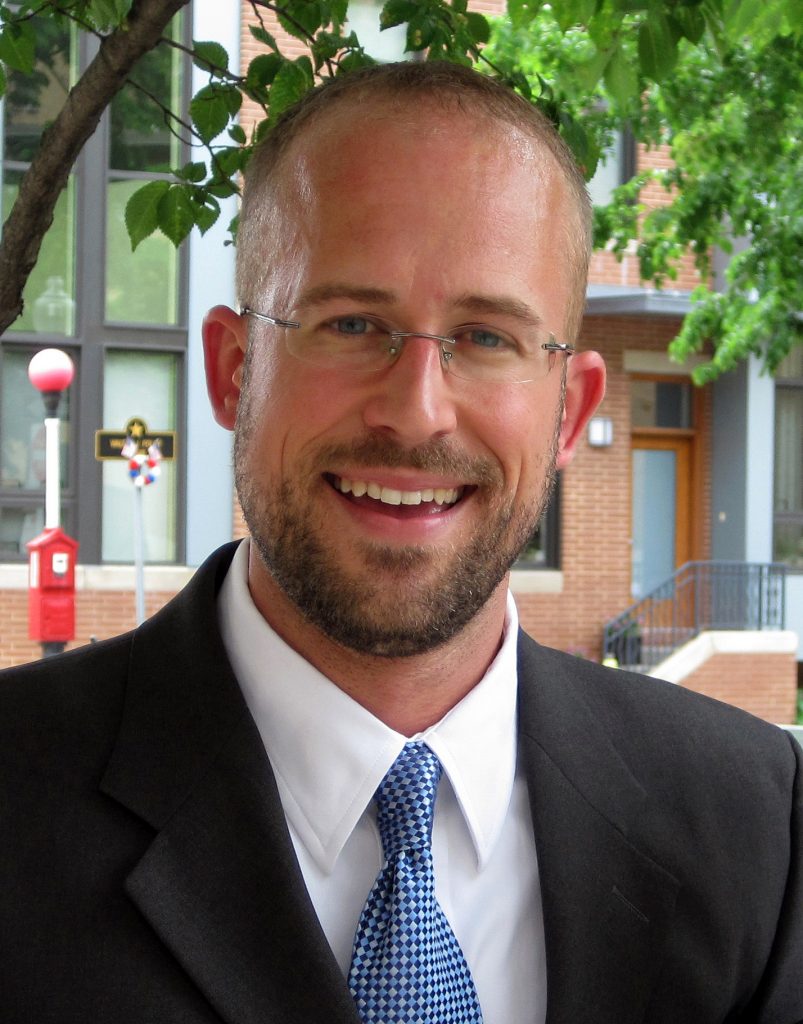 All regional holiday pay grievances concerning a NATCA-identified deficiency in CASTLE, the Department of the Interior's payroll software, have been resolved except for one at PWM which is still at the Step-2 level.
The current Regional PAR grievance snapshot is as follows:
1 grievance remanded back to the facility level pending resolution
4 grievances slated to be addressed during the third quarter Pre-PAR hearing
5 TOTAL
Did you know?
As our facilities return to normal schedules many controllers are once again faced with less-than-ideal staffing which can affect leave requests after the Basic Watch Schedule has been posted for a pay period ("spot leave"). When making a spot leave request, keep in mind these two pertinent sections from the Contract:
Article 24, Section 14: Spot leave is leave requested for any period during a posted watch schedule. Leave requests for the shift being worked shall be approved/disapproved subject to staffing and workload within thirty (30) minutes of the request being made. Leave requests for future shifts shall be approved/disapproved subject to staffing and workload within two (2) hours of when the request was made, or prior to the end of the shift, whichever is less. Approval/disapproval shall not be subject to conditional circumstances. Leave requests shall be approved in the order that they were requested. If the request was disapproved and annual leave for that time period later becomes available, the leave shall be approved in the order that the request was received.

Article 32, Section 8: When considering an individual request for a shift and/or days off change, the Agency will consider the staffing and workload of the losing and gaining shift as a precondition to approval. If it is determined that those needs are adequately met, the change shall be approved.
---
NCEPT Results
From Jake Detwiler, NATCA New England NCEPT Rep, ZBW
Last week, on June 22, we held our first NCEPT panel in nearly a year (July 2020). Some individuals participated in person at FAA Headquarters in Washington, DC, and the remaining attended virtually. In this panel, 98 ERR selections were made to 54 unique facilities, selecting BUEs from 60 different facilities. Congratulations to the NNE BUEs from BTV and BDL on their selections! It is the joint goal of NATCA and the FAA that this panel is the start of returning to a Quarterly NCEPT process, with the next panel hopefully in September. As of the last count, there are over 3800 ERRs currently on file from 1179 individuals. Hopefully, a return to normal panel frequency will reduce this number and accommodate more transfers for BUEs looking to move.
In this update, I want to explain some of the nuances behind how the process works and answer the hypothetical question of why someone did or didn't get selected in a given panel. Last month, I explained the requirements for a facility to be able to select and/or release in the NCEPT panel. Just because your current facility and your destined facility are both "green" under those categories, does not guarantee you a move. If all ERRs were approved at once, there would be mass movements and untenable training demands at some facilities. The facility priority list (aka, the Draft Order) ranks facilities for selecting, and they select BUE based on how they are ranked from the Managers Ranking List. As the panel works its way through this list, names can waterfall and move (or become ineligible). There are caps on how many a facility can release, and caps on how many a facility can select….you could get caught up by either of those directly or indirectly. For instance, if there are 5 BUEs from your facility with active ERRs, but your facility can only release 1 person, then as soon as a BUE from your facility gets selected, the remaining 4 BUEs will be ineligible for subsequent selections. Conversely, your facility might be able to release 5 people, but the destination facilities don't have room to select you or have too many trainees that they can't select you.
So now that I've got you thoroughly confused, you ask what's the point of all of this? It isn't a perfect system. There are many moving parts involved in evaluating the staffing of both the NAS and individual facilities. Less than five years ago, ERRs involved submitting your paperwork, calling (repeatedly!) the FacRep and ATM of the facility you had your sights set on, and hoping for the best. Maybe you got picked up? Maybe your facility would release you. Leading up to an NCEPT panel it might look like your ERR to Dreamland ATCT is a slam dunk, only to find out you didn't get selected… Be patient! In the trailing six NCEPT panels over the last two years, 564 ERR selections have been made from 224 different facilities to 134 different facilities. That's a lot of movement within the NAS!
The NCEPT process is still relatively new, and both parties remain committed to it. As NCEPT grows, so does our leadership. Currently, the team is lead by RVPs Rich Santa and our own Mick Devine. When Rich Santa takes over for Paul Rinaldi as NATCA President, incoming Eastern Region RVP Brian Shallenberger (current ZDC FacRep and Eastern Region NCEPT Representative) will join Mick as our lead. We look forward to what the future has in store for NCEPT!
As always, if you have any questions about anything related to NCEPT, don't hesitate to reach out to me, Jake.Detwiler@natca.net
---
Training Updates
From Lisa Fulford, NATCA New England Training Rep, A90
Weekly, I am sent OJTI Training Reports from the National Training Burst Team. The reports detail the number of trainees training and not training, the level of each trainee, and the number of hours they receive. The reports also show how our district compares to other districts in hours per week trained and the percentage of trainees who received training. I forward the reports to the local Training Reps, so they are also aware of the amount of training being conducted.
The reports were first generated for the National Training Initiative (NTI), which is currently not in effect. Before COVID-19, NATCA and the FAA had agreed on the NTI and were tracking trainees' hours per week depending on whether or not they kept currency. The NTI will be in place again in the near future, however, no date has been announced yet.
Prior to recall, New England Region's OJTI reports did not accurately capture training data, as many of our facilities were on 5/5 or 5/10 schedules. The reports were not tailored to take into consideration the days that people were on administration leave, so regardless of the number of days a trainee worked the average hours per week was always divided by 5 days. This brought averages down for hours/week for several facilities.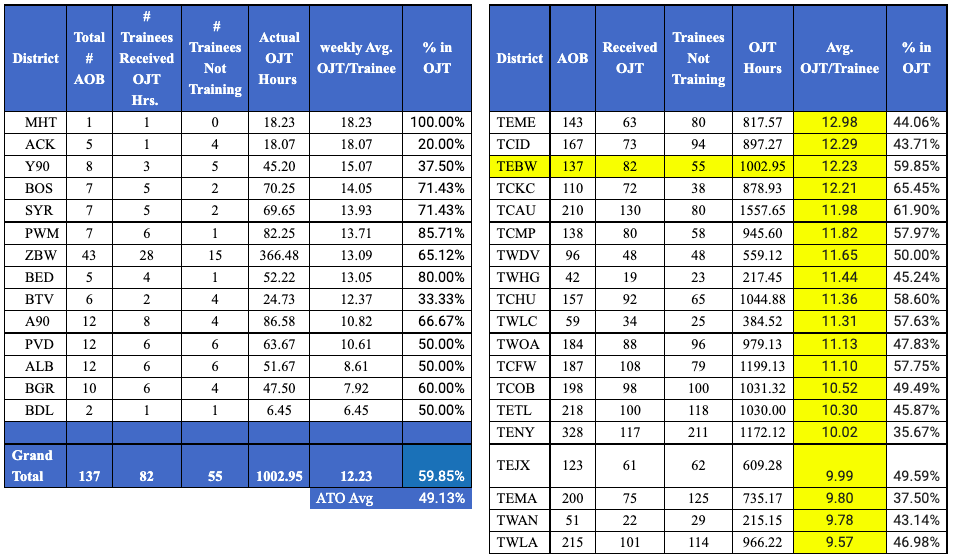 Now that all facilities are back to Basic Watch Schedules, the New England Region (and the TEBW district) have placed in the top 5 (AND in the top 3) for the last several weeks for Average OJT hours per trainee, as well as for the percentage of trainees receiving OJT. The numbers are finally reporting what has been happening for the majority of the weeks during COVID Training.
Thank you for your hard work and for continuing to provide quality training throughout this last year. You may email our entire Training Rep team at: TEBWtraining@gmail.com or email me personally at: lisa.cyr@natca.net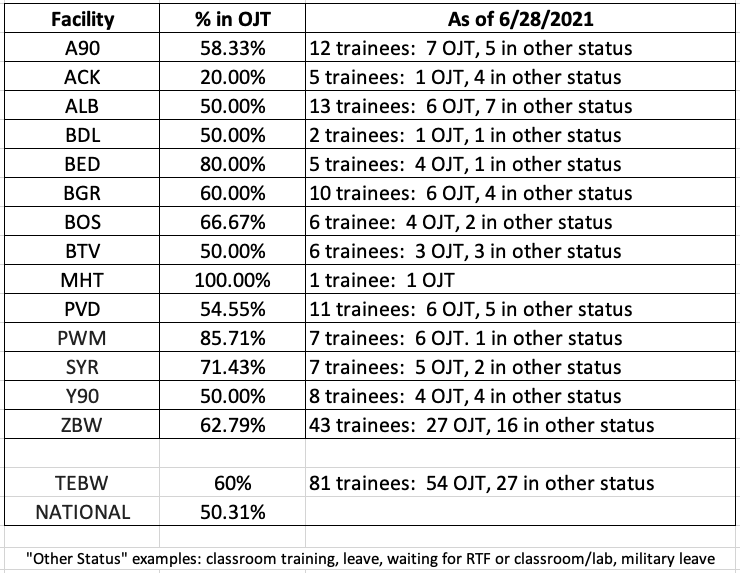 ---