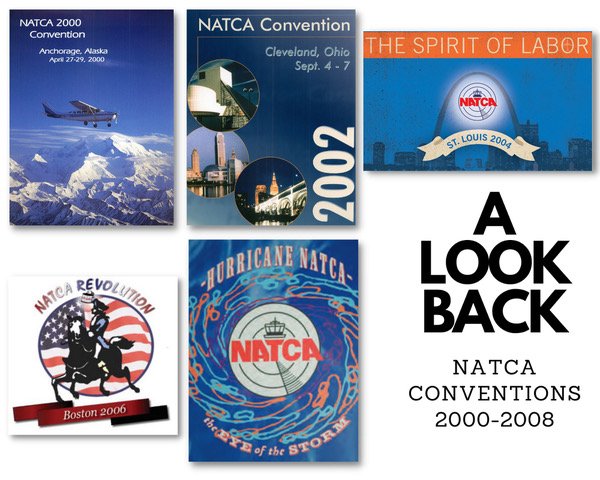 NATCA Historical Committee: NATCA Conventions Part Two
With NATCA's 18th Biennial Convention coming up Aug. 10-12 in Houston, we continue to look back on our past conventions. The National Historical Committee (NHC) is examining each of the previous conventions and the importance they have had in shaping our Union. These events bring together local delegates from across each of our 10 regions to vote on and decide the direction of our Union.  

NATCA's conventions from 2000-2008 made great strides in building and expanding our Union and saw us weather some dark times. 

The 8th Biennial Convention in 2000, held in Anchorage, saw amendments passed that reflected NATCA's growing diversity in representing members beyond air traffic control and bylaws to honor individuals for service to the Union. Diversification continued as a focus at the 9th Biennial Convention in Cleveland in 2002, with renaming the Engineers & Architects region to Region X (NRX), and allowing the National Executive Board to choose which bargaining units NRX would represent.

Della Swartz, retired NRX member of the NHC notes, "The formation of Region X was important, giving us a stronger voice at the national level and also demonstrating that our brothers and sisters in air traffic recognized and valued our differences." 

In 2004, at the 10th Biennial Convention in St. Louis, there was debate over the seniority system and the first round of Natty Award recipients were announced (now named the Timmy Awards, short for the Tim Haines Memorial Award of Honor and Distinction). Discussion of the air traffic controllers contract negotiation impasse and impending White Book implementation took center stage at the 11th Biennial Convention in Boston in 2006, and seniority discussions continued. In 2008, at the 12th Biennial Convention in Miami, fighting for fair collective bargaining rights was a main discussion point as the negative toll of the White Book continued.

Please enjoy this Convention collection of our Union's documents and history. Please click here.

To learn more about the NATCA Historical Committee, please click here.
Convention Update

For those attending the 18th Biennial Convention in Houston, to register or modify your registration please click here. 

There will be video coverage of the convention, both live and on demand, on the members side of natca.org. For more information about the convention, view our Biennial Convention webpage here.