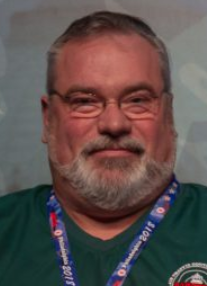 Recognizing Some of the Unsung Heroes of NATCA: Mike Odryna
In celebration of the 34th anniversary of NATCA's certification by the Federal Labor Relations Authority as the exclusive bargaining representative of Federal Aviation Administration (FAA) air traffic controllers, we continue our series looking at the unsung heroes of NATCA.

Throughout our history, NATCA's growth and success has been marked by individual efforts of leadership, vision, and dedication that–joined together with other members' work–lifted the Union into the best position to represent our members. Some of those individuals are widely known, but many are not. NATCA's National Historical Committee looked through our Union's history–early and recent–to identify examples of extraordinary efforts by NATCA members that may not be well known by our membership. In the third part of our series, we introduce you to Mike Odryna.
Odryna began his career in 1989 and spent all 30 years at Boston Center (ZBW). He represented the New England Region on Occupational Safety and Health Administration (OSHA) issues starting in 1997 and chaired our OSHA Committee for the last 15 years of his career. In that role, he was instrumental in getting many of the current OSHA-related contract articles in place as well as using collaboration to encourage the Federal Aviation Administration Air Traffic Organization into adopting NATCA's interests directly into their own orders and policies.
For example, Odryna was heavily involved in the inception of the Occupational Safety, Health, and Environmental Compliance Committee (OSHECCOM) in 1996. This committee advises and assists management in implementing and monitoring safety and health programs, and provides a forum for information exchange. He was also instrumental last decade in encouraging facilities to increase the number of employees trained to administer cardiopulmonary resuscitation (CPR) and to use an automated external defibrillator (AED).
Who Are The Unsung Heroes in Your Facility?

Who are the outstanding, creative, driven members at your facility who are taking this Union forward? We want to know who your unsung heroes are and we need your help.

Let us know and tell us about what they are doing to lift up your local, and NATCA as a whole. Email us at publicaffairs@natcadc.org.