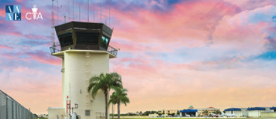 Paul Speaks at Contract Tower Webinar
NATCA President Paul Rinaldi once again addressed participants of the annual meeting of the U.S. Contract Tower Association (USCTA) an affiliate of the American Association of Airport Executives (AAAE). It works to enhance aviation safety at smaller airports – including at the 116 Federal Contract Towers represented by NATCA – and coordinates contract tower issues with Congress, the Department of Transportation, the Federal Aviation Administration, the National Transportation Safety Board (NTSB), and the Government Accountability Office (GAO). The 2021 meeting took place virtually and attracted USCTA members from around the nation.

The 30-minute talk was a discussion between Paul and AAAE Senior Vice President for Government Affairs Brad Van Dam about a variety of issues, including problems related to stop and go funding, advocacy efforts around infrastructure legislation in Congress, controller staffing issues, the importance of continuing training, and the safe integration of space launches into the NAS.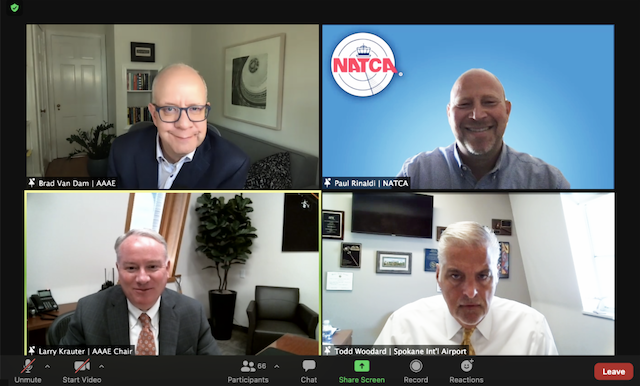 While introducing Paul, USCTA's Program Chair Todd Woodard described Paul as "an effective advocate for his members and a strong voice for aviation safety and an incredible partner of the USCTA." Woodard added, "[USCTA] couldn't have the successes we have without him pulling on or pushing on a bill right alongside us. And I just want to thank him personally, as the chair of the association. Paul has done an incredible job of building relationships with airports and other aviation stakeholders. We deeply appreciate how NATCA, USCTA, and AAAE have been able to work together on so many issues over the past 12 years."

Regarding the efforts to pass the infrastructure bill in Congress, Van Dam commended Paul for his recent testimony before the Senate Aviation Subcommittee and NATCA for its advocacy efforts in general. "I thought you just did an exceptionally effective job of laying out the challenges that you see at your facilities around the country…Thank you for a job well done up on the Hill. Putting a human face and the impacts that it has on your members to have some of these leaking roofs and HVAC systems that just aren't up to par and broken elevators really helps drive home the case for why we need a massive investment in our aviation infrastructure."

As the session wrapped up, AAAE Board Chair Larry Krauter also commended Paul and Trish. He said, "Paul, one of the things that comes to mind in my 33-year career in our industry is how you and Trish have transformed NATCA into an organization that really is so highly respected for its ability to partner and its advocacy and education efforts on the Hill, but also throughout the industry. And one of the ways to describe you and Trish, that I think hasn't been said yet, is just honorable. You've always kept your word to us. You've been a great partner. You have, in my view, lifted up the organization, and you have placed it into a really good situation that has a very good future ahead of it."