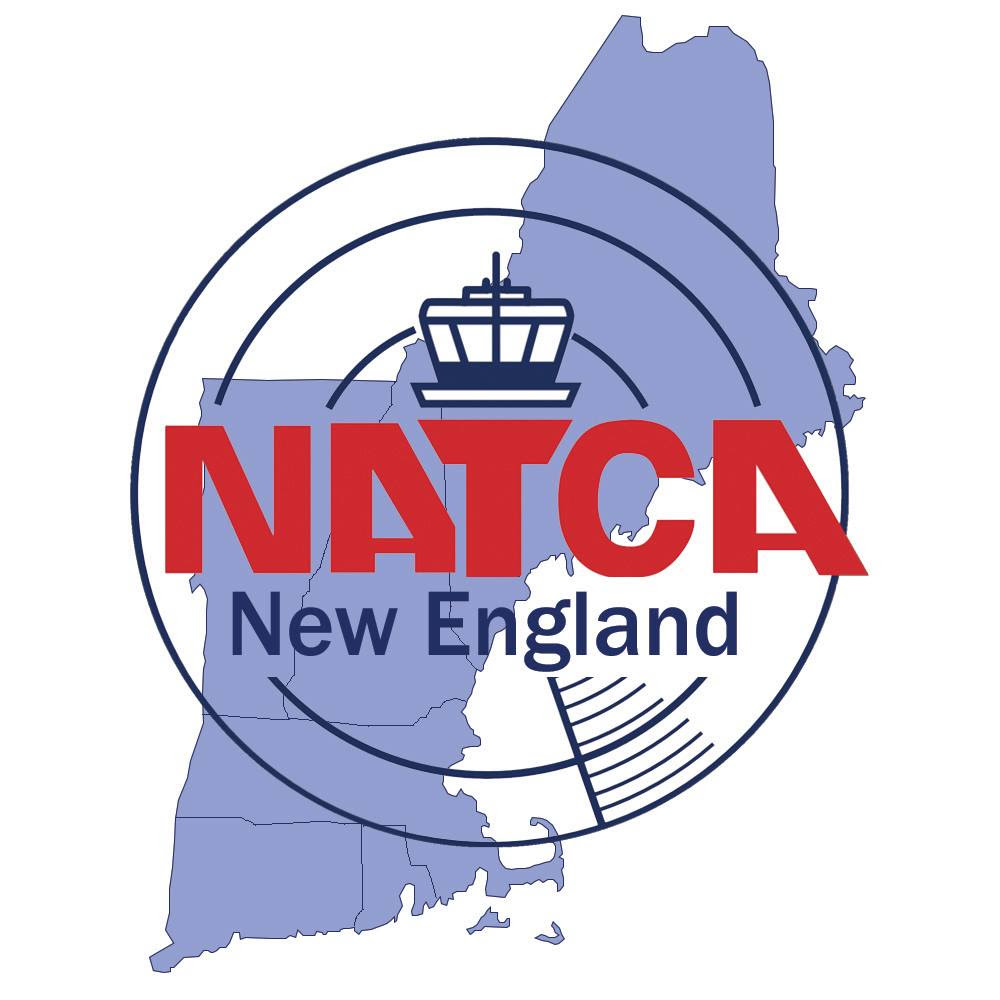 August 2021 New England Bi-Monthly Regional Update #1
From Mick Devine, NATCA New England Regional Vice President
New England Brothers and Sisters,
July was a month of highs and lows. A return to normalcy was a breath of fresh air. Preparations for our biannual convention began with a trip to Denver from July 6-8 for the Northwest Mountain Region and Alaska Region pre-convention meeting. Many of the RVPs joined the hosts to help answer any questions on the proposed amendments that were on the table.
ARVP Scott Robillard and I visited Portland Tower/TRACON on July 9th. Portland Tower is an up-and-coming facility of activism led by a tremendous FacRep, Steve Brown. PWM was the 6th facility visit of the summer so far. We were able to discuss the previous 16 months with the membership and thank them for their professionalism during the pandemic.
On July 12th, I visited Bangor Tower/TRACON. BGR is another great facility led by another terrific FacRep, Benji Coburn. Again, we discussed the last 16 months and talked about where we are all headed in the upcoming months, including some NCEPT concerns, as BGR continues to be very poorly staffed with many members looking to get back closer to home.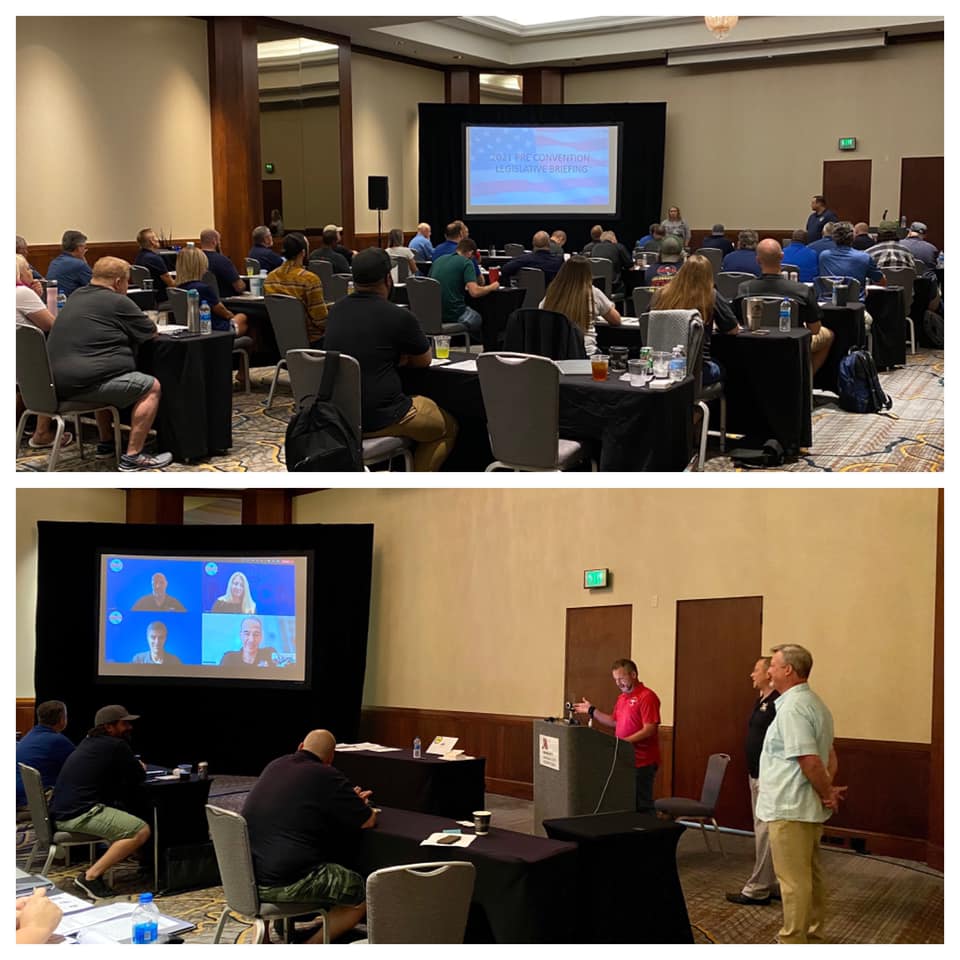 On July 16th, I made my second trip of the summer to Boston Center. I spent the day with VP and FacRep Elect, Kevin Coeyman. Boston Center is still going through its transition from long-time FacRep Kevin Bianchi to the next generation of leaders. ZBW's future is on the upswing, evident by the number of activists that rose their hand to try to be elected to the next LEB. Good luck to all the candidates.
On July 20 & 21, your FacReps and leadership were in Kansas City for New England's Pre-Convention meeting. We were joined by the Central Region and Region X. New England FacReps were not only present but very active during the two-day meeting. They knew this was a business trip, and they represented you accordingly. I was very proud of our team.
I spent the rest of the month on my first vacation since 2016. I was truly looking forward to putting my phone down and decompressing for a week. That didn't happen at all. The COVID-19 Pandemic has reared its ugly head again. While we may not be experiencing it in New England, our Sisters and Brothers from the Southern, Southwest, and Western Pacific Regions are getting crushed, with COVID cases popping up at rates we only saw during the worst of it. Texas, California, and Florida are not in good shape. As a result, we had to make the tough decision to postpone the Convention for the fourth time, pushing it to the week of December fifth.
Unfortunately, New England will be canceling its involvement in the 2021 Milford Labor Day Parade, as well as the solidarity event scheduled for September seventh. This was not an easy decision, but it was the right decision to protect our membership from a NATCA sponsored super spreader event. We are currently working with the instructors of the Secretary-Treasurer Class scheduled for September 7-8 in Nashua to see if we can't provide this course virtually. If we cannot do so, we are prepared to cancel that class as well.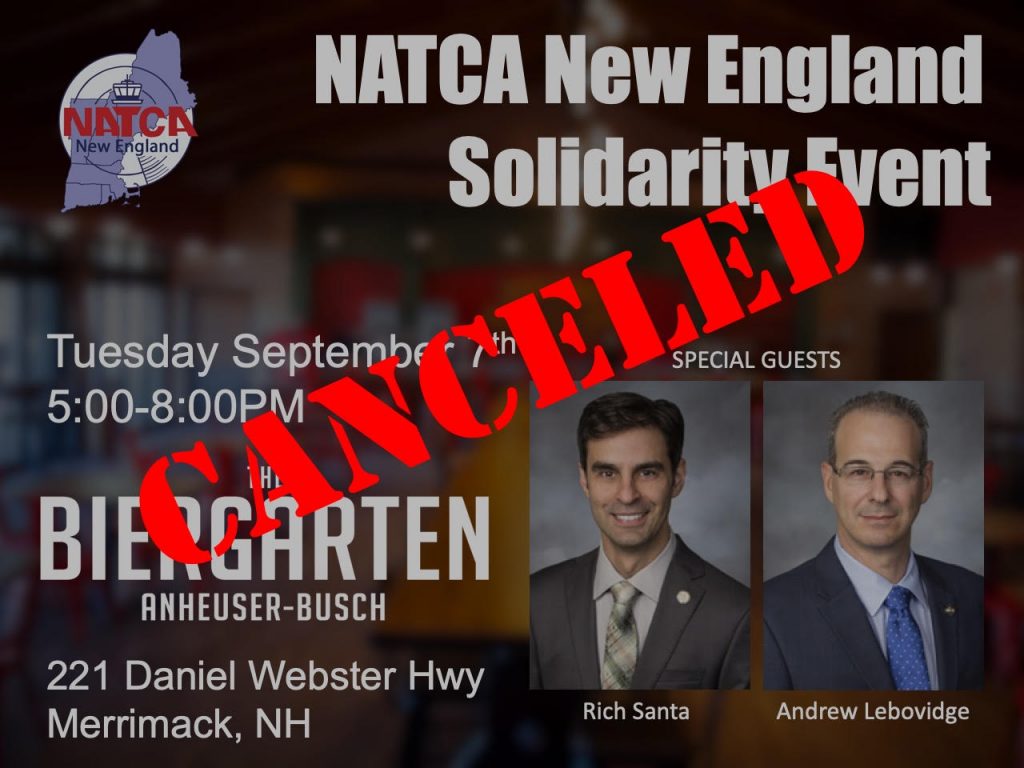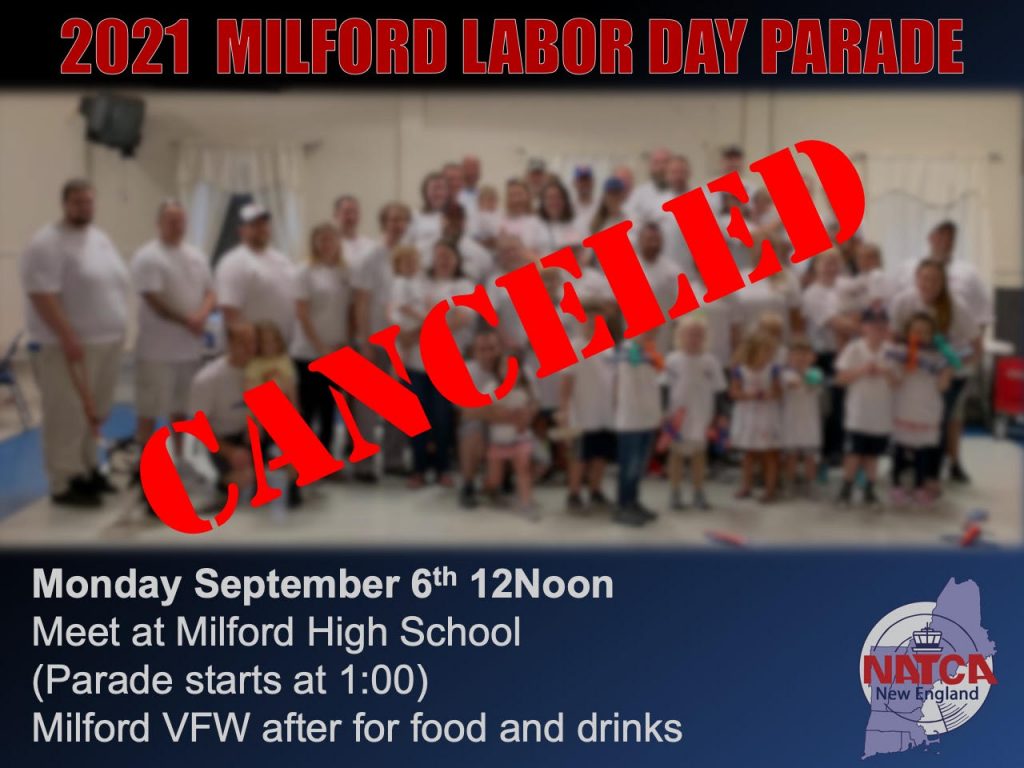 COVID is making a comeback with the new Delta variant, which is far more transferrable than the original Alpha variant. Once again, nobody in NATCA claims to be a scientist, we are strictly moving in a direction that is in compliance with CDC Guidelines. I wouldn't be surprised if we saw a return to mask-wearing for all BUEs, regardless of vaccination status, as the CDC is moving back in that direction. The National Executive Board is dusting off the playbook created over the last sixteen months and getting prepared for the inevitable. Rumor has it that the fall will be worse than any previous months of COVID we have seen. The NEB will continue to do whatever it takes to protect our membership the way we have done for all of COVID.
As new CDC guidance comes out and the rapidly changing COVID rules begin to show back up, we are preparing to host another Town Hall so we can discuss directly with the membership and hear directly from you as well. These Town Halls have been well received and we will continue to utilize them as another platform to communicate.
I really wish the second half of this email was talking about the preparations we were making for our Houston Convention, but we don't have that luxury anymore. We must be prepared for whatever fight we have in front of us, and COVID is unfortunately that next fight again. Please be professional, be prepared, and most importantly, be safe.
---
From Scott Robillard, NATCA New England ARVP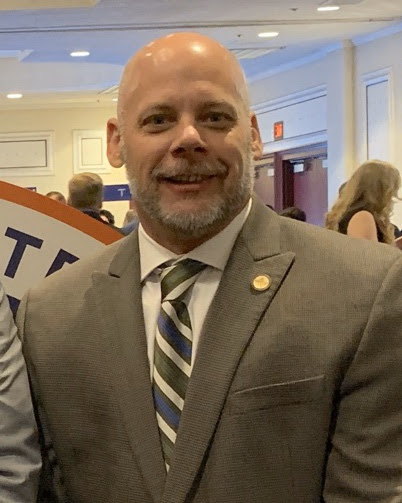 Hello New England, For NATCA New England, July was the month of preparation. We initiated assistance to the New England FacReps in getting ready for the 2022 MOU negotiations, we started preparing for the third quarter Pre-Arbitration Review (PAR) and we developed and scheduled some ongoing education for NATCA Representatives.
MOU Negotiations: While each facility develops its own bargaining proposals, the region does assist with advice and counsel as well as help in strategy and approaches to achieve the NATCA locals goals.
3rd quarter Pre-Arbitration Review (PAR). As it stands, New England will be bringing several cases. However, we do have a dispute resolution sit-down with the district and the service area on September 3rd. The intent is to try and resolve the issues without the cost of a neutral evaluator (arbiter). But we also use it to test their winnability. If they can't be resolved, but show or demonstrate to be winnable, they will be pursued through Pre-Arbitration Review (PAR).
At Pre-Convention, the 3 attending ARVPs conducted a class for the attendees. The class was to look at how discipline cases are prepped at the regional level. We covered how the change in Executive Orders changes how a resolution is approached; more facility-based to start.
On August 9th, New England will continue with the next phase of this training. We will focus on what representation in a meeting looks like, we will show examples of witness statements that could have been done better, we will discuss how to make those adjustments, and we will discuss why it is so important. We will close by looking at how a FacRep can look at a case, break it down, and give the member the best chance at success.
To protect your rights, you must know your rights!
Situation: There is an investigation into a broken driver's door window of an Operational Supervisor's (OS) car. The location where the OS parks is NOT covered by the security cameras. The Agency knows the incident occurred between 7:30 am and 1:30 pm. You worked a 1:30 pm to 9:30 pm shift and the Agency has decided to interview you. You are the first to be interviewed.
Q: Are you a witness or a subject?
Q: Are you entitled to a Representative?
Q: How do you get a Representative?
Q: Can you refuse to participate?
Q: Do all the Agency's questions have to be based on facts?
Read next month's update for the answers!!
---
Labor Management Relations
From Kyle Szary, NATCA New England LR Coordinator, ZBW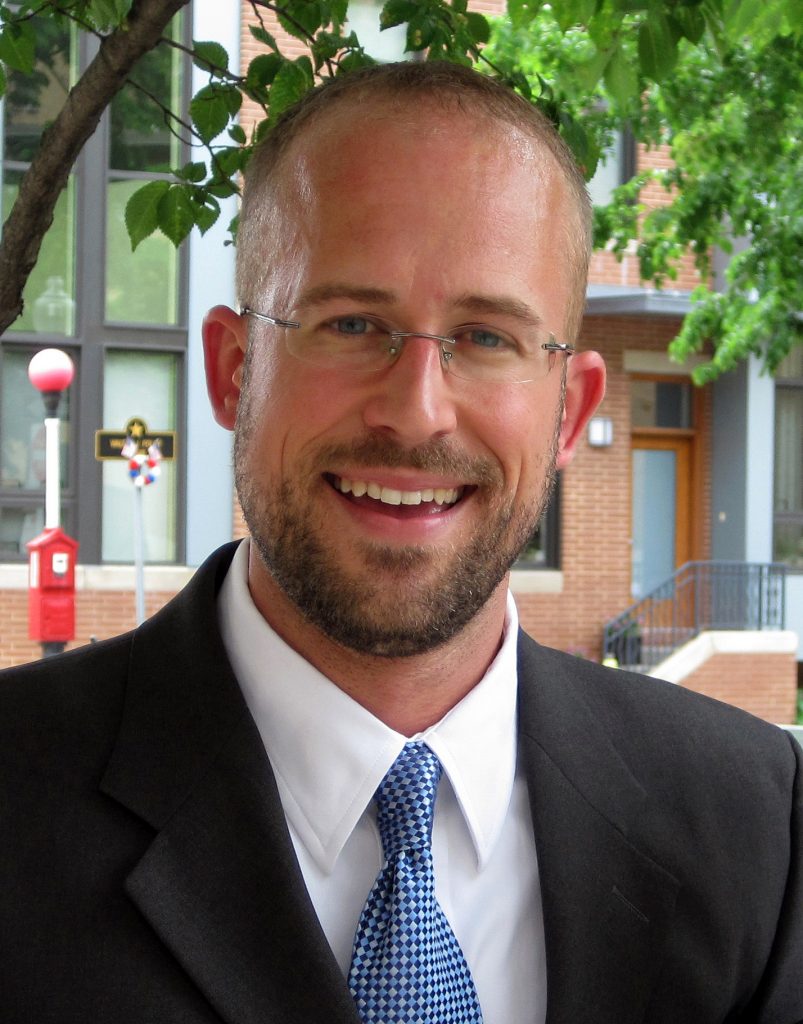 All regional holiday pay grievances concerning a NATCA-identified deficiency in CASTLE, the Department of the Interior's payroll software, have been resolved. The Region no longer has any outstanding 2020 holiday pay issues.
The current Regional PAR grievance snapshot is as follows:

1 grievance remanded back to the facility level pending resolution5 grievances slated to be addressed during the third quarter Pre-PAR hearing
6 TOTAL (+1 from July update)
2021 Kansas City Pre-Convention Meeting

On July 19-21 I traveled to Kansas City, Mo., to participate in the pre-convention meeting jointly sponsored by NATCA's New England and Central Regions as well as Region X. At the meeting, I was a co-presenter in a forum discussing Labor/Management Relations impacts with regard to recent Presidential Executive Order changes. The forum also included a primer on collaborative versus traditional bargaining, dispute resolution, and various LMR case studies.
2021 Q3 Pre-PAR
The New England Region third quarter Pre-PAR meeting will be held on Friday, Sept. 3 at Boston TRACON. NATCA representatives will include ARVP Scott Robillard, ARVP-elect Bryan Krampovitis, myself, as well as observers Nick Marangos (A90 FacRep) and Steve Brown (PWM FacRep). Grievances not resolved at this meeting will proceed to the official Pre-Arbitration Review (PAR) hearing, which is tentatively scheduled for the last week of September.
Did you know?
The Slate Book contract provides for a multi-step dispute resolution process, including the following:
1. Step-1 Grievance (filed on behalf of an employee)
2. Step-2 Grievance (filed on behalf of NATCA)
3. Pre-Arbitration Review ("PAR")
4. Arbitration
The New England Region takes dispute resolution, in the spirit of collaboration, one step further, by implementing a Pre-Pre-Arbitration Review ("Pre-PAR"). This meeting supplements the contractual Article 9 grievance/dispute resolution process and provides the Parties (NATCA and the Agency) with an additional opportunity to resolve grievances before spending money on a neutral arbitrator.
If grievances are unable to be resolved at the Pre-PAR level, the Parties select from a standing panel of three regional neutral arbitrators, each of which has been vetted and agreed upon jointly by the Parties. Presently, these neutrals consist of Mary J. Tufano, James M. Litton, and Sherrie R. Talmadge.
Those issues not resolved at the PAR level proceed to national arbitration. In 2020, the New England Region elevated one grievance to arbitration, which was ultimately settled in favor of NATCA prior to hearing.

---
Critical Incident Stress Management
From Jennifer Dickinson, NATCA CISM Rep, BOS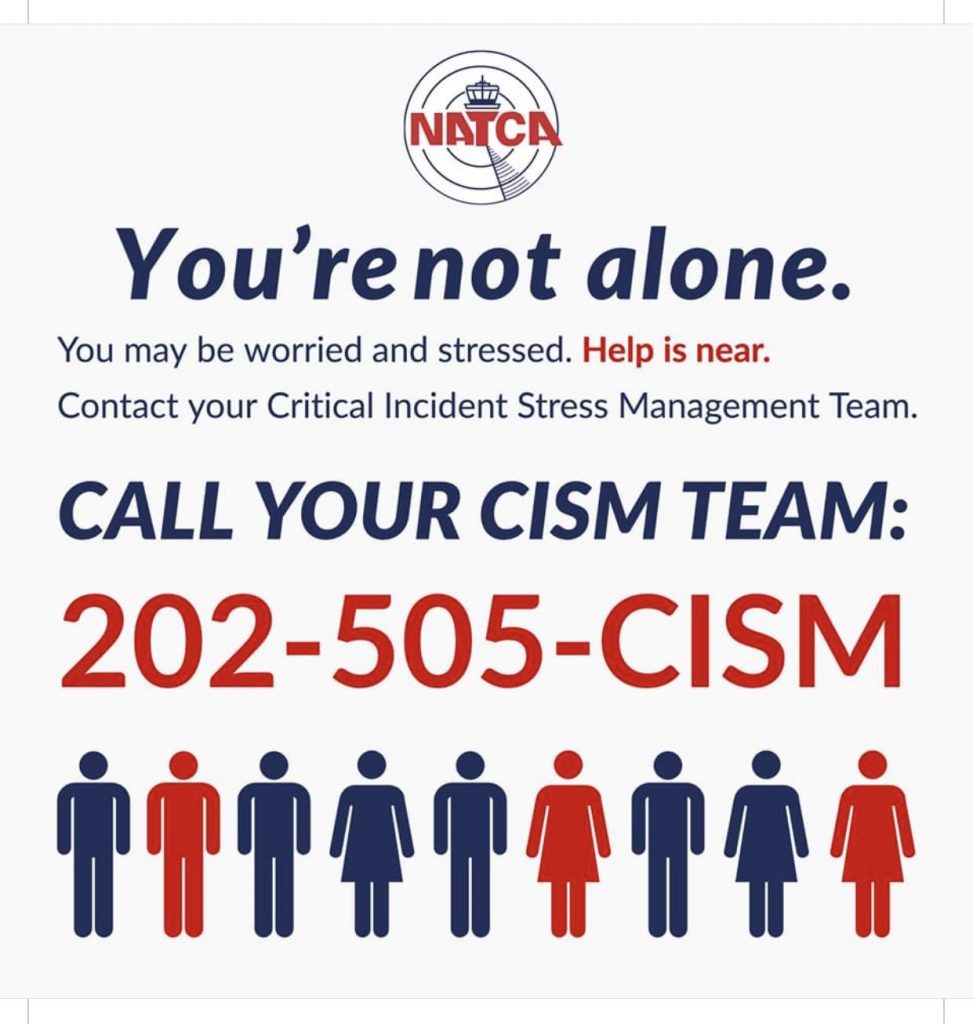 By now we have all hopefully settled into our normal schedules and made adjustments as needed to accommodate the demands of our everyday lives. Everyone's situation is different so it is possible that the adjustment has been more difficult for some than it has been for others. It is also possible that you are working side by side with someone who has been struggling for a long time or has had some life events happen this last year that have contributed to their lives becoming increasingly difficult. It is normal to feel anxious as traffic levels begin to increase while regaining proficiency. It is also normal to feel overwhelmed with the return of regular schedules and for some six-day workweeks. Whatever the situation may be, please always remember to take care of one another. Additionally, the CISM Committee is an excellent resource available to all of you 24/7. The conversation is confidential and the individual on the other end of the phone is a controller balancing real-life demands just like you. The CISM committee is equipped with many tools and resources that can help you navigate the things that you may be struggling with. Please don't hesitate to reach out we are ALWAYS here for you. I hope you all enjoy the rest of your summer!
Never regret a day in your life. Good days give you happiness and bad days give you experience.
---
Training Information
From Lisa Fulford, NATCA New England Training Rep, A90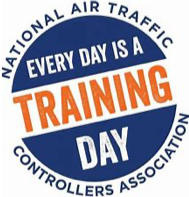 The National Training Initiative (NTI) is starting back up on August 1st. Although we have been training since last October, there was no national "expectation" in place during this time. There will be 2 reports generated weekly to capture OJT taking place within a facility. The Monday weekly OJT report and the Thursday weekly OJT Impediment report. The data always reflects the previous administrative workweek (Sunday-Saturday).
The NTI workgroup's goal is to provide information that assists the parties in collaboratively working towards a robust training program that best suits the needs of the facility.
The ATM (or their designee) will enter all training impediments for any trainee that does not reach the weekly national expectation. For trainees who do not maintain currency, the expectation is 15-18 hours per week, while for trainees who do maintain currency, the expectation is 12-15 hours per week. Once the ATM has submitted the data, a report will be generated by Friday each week. This report displays the amount of OJT hours achieved compared to the amount of OJT hours that was expected to have been achieved based on NTI expectations.
NATCA and management should look at the weekly Impediment report and have collaborative discussions regarding training. The percentages will also be reviewed by the district and service area, which may bring attention to issues within a facility. The ATM MUST provide the NATCA FacRep a post impediment data excel sheet. This data should be used to make collaborative decisions that improve training within a facility. How does this impact you if you are a trainee?
The district and service area will be tracking and looking at the number of hours of training you receive, and changes should be made collaboratively within your facility if you (or the facility) are not meeting expectations.
You may be asked to keep track of your hours daily or your activities outside of training daily.
Talk to your training rep when there are issues with your training. Speak up and try to be part of the solution.
Ask to see the impediment reports to verify if the impediment selection is accurate.
How does this impact you if you are an OJTI?
You and your trainee should be training at least 4 to 5 hours/day, so if that is not occurring tell your training rep.
You may be asked to track the training you are providing.
You may be asked to provide guest training more often, depending on who is available to train and the number of trainees that need an OJTI
If you have ideas or suggestions for ways to improve the training program, talk to your training rep. They are there to help improve the training program as well as bring up issues to the facility Training Administrator (or ATM). The training rep may not be aware depending on the facility size OR their schedule. You are always able to reach all of the New England Region training reps by emailing: TEBWtraining@gmail.com OR talk to your FacRep if you do not know how to reach your training rep.
If you have any questions about the NTI please email us at: TEBWtraining@gmail.com OR the NTI workgroup: OJThours@natca.net
---