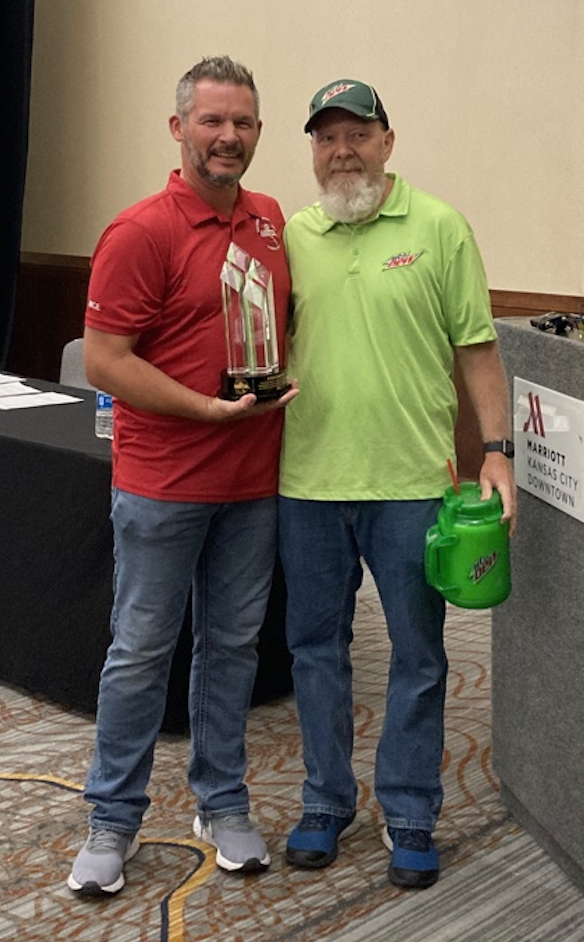 Retired Member Steve Hartsoe Presented with Dale Wright Award
On July 20, NATCA President Paul Rinaldi and Executive Vice President Trish Gilbert were honored to virtually join an award presentation at the joint regional meetings for the Central Region (NCE), New England Region, and Region X in Kansas City. NCE Regional Vice President Aaron Merrick presented Steve Hartsoe with the Dale Wright Award for Distinguished, Professional, and Exceptional Career Service to NATCA and the National Airspace System.
NATCA first presented the award to Wright at our 14th Biennial Convention in Denver in 2012. Wright was NATCA's former director of safety and technology. The award honors an extraordinary, positive impact made on our ability to call the U.S. National Airspace System the world's safest. It symbolizes a career devoted to service to NATCA and safety. View the previous winners here.

Hartsoe started his Federal Aviation Administration (FAA) career in 2000 at Cedar Rapids ATCT (CID), where he served as FacRep for a brief time. He moved to St. Louis TRACON (T75) in March 2003 and worked there for the remainder of his career before retiring at the end of 2019. Hartsoe was in the Air National Guard when he got hired by the FAA. Hartsoe's best friend, retired T75 member Chad Wilson, was in the Guard with him and was already a controller with the FAA. Wilson always talked about NATCA when the two men were together. So when Hartsoe got hired, he said there was no doubt he wanted to be a part of an organization that Wilson spoke of so highly.

Hartsoe was a part of the National Drug and Alcohol Team and was a national finance rep for the Central Region. He was part of national training teams, teaching for the NATCA Academy on drug and alcohol issues. He also worked on the National Collaboration Team; took part in the Terminal Automation Modernization and Replacement Team; and was a regional drug and alcohol lead, a regional Training Review Board (TRB) lead, a local Professional Standards rep, and was a local secretary and treasurer for four years.

It is in the area of training where Hartsoe really made a difference for NATCA. With his passion for training, Hartsoe worked tirelessly on getting the NATCA/FAA TRB course developed and played an integral role as the lead cadre instructor for NATCA in the initial rollout of the course. Hartsoe wrote a lot of the TRB's standard operating procedures. He had previously written training plans for the Air Force bases at which he was stationed. National Training Representative Jamaal Haltom said he recognized Hartsoe's willingness to work and his desire to share information. Hartsoe's knowledge and way with people always stood out even amongst other outstanding subject matter experts, and because of that, he was instrumental in making the TRB course the success that it is.

Those who know Hartsoe best say he is very thorough and very fair and has always been committed to ensuring that people are successful. He is easy to talk with, has a pleasant demeanor, and was a good ambassador for NATCA and liaison between controllers and the Agency.

Congratulations, Steve, for this well deserved honor. And thank you for your service to our great Union.