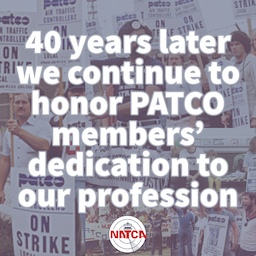 Honoring the Sacrifice of PATCO Members 40 Years After the Strike
On Aug. 3, 1981, the men and women of the Professional Air Traffic Controllers Organization (PATCO) were fighting for a safer work environment, reliable equipment, adequate staffing levels, and fair work and pay rules. They began a strike for their dearly loved profession, and 11,000 of them were fired as they stood up for what was right. NATCA continues to honor their resolve and dedication.

PATCO controllers made a great personal sacrifice in standing together. We recognize the members' extraordinary level of commitment and their collective goals to each other. Those of us who came after them still reap the benefits of their sacrifice: NATCA's original members organized to continue PATCO members' fight for better working conditions and dedication to the safety and integrity of the National Airspace System. After 40 years, we continue to thank you and remember your sacrifice, PATCO members. 
NATCA National Office staff member, En Route Technology Representative Mark Prestrude was a PATCO controller that was fired and rehired in 1997. Prestrude is retiring next month from his role on NATCA's staff. We thank him for his continued service to our Union!  

"Without NATCA, very few PATCO controllers would ever have had the opportunity to get their dream job back," said Prestrude. "The most rewarding part of being a member of NATCA's staff is to work for the membership of an organization that gave me the chance to complete a great career in the FAA."