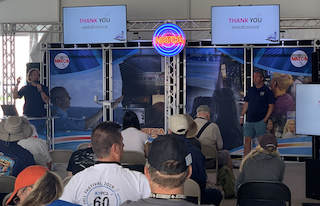 Members Participate in EAA AirVenture
Since it started nearly 60 years ago, EAA AirVenture Oshkosh has become the world's largest and greatest aviation celebration and air show. In late July, a team of NATCA members once again volunteered their time at this event to represent the very best of our profession to the general aviation (GA) community. In all, NATCA members participated in 24 presentations, pilot briefings, and workshops to advance outreach to pilots. AirVenture attendees attended NATCA sessions, ranging from "Communicating with Confidence and Clarity" to "How to Make the Most of Flying VFR," and even "A Day in the Life of a Controller."

NATCA members also participated in EAA Radio interviews about GA trends through the global pandemic and the importance of GA pilots staying in communication with air traffic control. Because of the continuing pandemic, NATCA participants took care to protect themselves at this event by wearing masks and social distancing whenever possible.

Special thanks to NATCA members and staff Rushelle Arbogast, Chattanooga ATCT (CHA), Erich Chouinard, Seattle Center (ZSE), John Goebel, Northern California TRACON (NCT), Karoline Gorman, New York Center (ZNY), Dawn Johnson, Atlanta Center (ZTL), Christian Karns, ZTL, Richard Kennington, Portland ATCT (PDX), Evan Munro, Miami Center (ZMA), Bob Obma, Indianapolis Center (ZID), Kerri Phillips, Fort Worth Center (ZFW), Kelly Richardson, NATCA Deputy Director of Public Affairs, Carrie Uphus, St. Paul ATCT (STP), Carlton Wickstrom, Phoenix TRACON (P50), and Tara Zeck, Houston D.W. Hooks ATCT (DWH) for volunteering their time and sharing their air traffic control knowledge with attendees, working to make the NATCA events at EAA AirVenture Oshkosh a success.
See more photos from Oshkosh 2021 here.