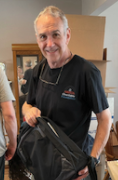 NCF and NATCA National Office Deliver 100 Backpacks for Community of Hope
Top left picture: NATCA Terminal Technology Rep Bill Geoghagan. Top right picture, from bottom left, clockwise: NCF volunteers Nitzy Montanez, Jennifer Tyre, Carrie Knox, Matt Knox, Alex Geoghagan, Phillip Gardner, Anika Gardner, and Jessica Haecker. Bottom right picture: NATCA Terminal Technology Rep Bill Geoghagan and NCF volunteer Denise Geoghagan.
As students in some school districts are beginning the new school year, local NATCA members, National Office staff, and NATCA family members worked with the NATCA Charitable Foundation (NCF) to provide school supplies for Community of Hope's annual back-to-school backpack drive to aid underserved families in Washington, D.C. Thanks to generous charitable and community support, Community of Hope this month will once again give away hundreds of backpacks filled with supplies to school-aged children.