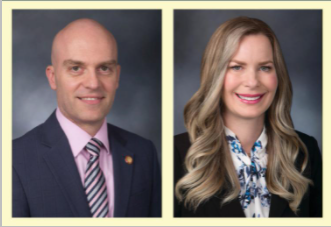 Honoring Paul Rinaldi and Trish Gilbert for Their Legislative Activism
By Richard Kennington, Chair, National Legislative Committee and
Trisha Pesiri-Dybvik, Vice Chair, National Legislative Committee
In this legislative update, we look at the legacy of two of NATCA's activists who got their start the way all legislative activists do. They committed to building a relationship with their member of Congress and then put in the effort to make that happen. Those relationships still exist today. President Paul Rinaldi and Executive Vice President Trish Gilbert went on to fill the biggest roles in our organization, but they never lost sight of the most influential person in NATCA's legislative efforts: the member activist.

As they retire from their current roles in NATCA in coming days, they are leaving a legacy of commitment, hard work, and success. During their time in office, NATCA's status on Capitol Hill has grown significantly. Members of Congress, who have addressed our membership at NATCA in Washington, have spoken about how respected our organization is because of Paul and Trish's leadership. Other aviation and labor groups, much larger than our own, have approached NATCA to try and understand why we are so strong, active, and successful.

If you ask them, they will tell you that they are not responsible for all the successes. The membership is. And they are right. While both of them attended fundraisers, took meetings with members of Congress, and testified on Capitol Hill, what matters most was everything they did to empower member activists to get involved, build relationships, and educate their elected officials. It is that relationship building and education that explains NATCA's legislative successes. Importantly, the legislative work will continue, and victories will be won long after they are gone, because of the strong foundation created during their tenure.

How do you honor two people who have served the membership so well for years? We feel that the greatest honor we can give them is to emulate them and continue to advance the status, professionalism, and working conditions of all air traffic controllers and other aviation safety-related professionals.

Paul and Trish have provided a roadmap that we can all follow to leave our own meaningful legacy. We may not hold the titles they did, but we can hold the most important one of member activist. We simply need to commit to building a relationship with our member of Congress and then put in the effort to make that happen. We accept the challenge to build upon the incredible legislative foundation and legacy that these two member activists leave behind.