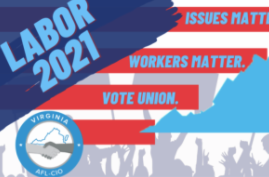 Grassroots in Local Districts: Virginia
BOTG members John Carr, Margaret Summers, and Bob Zabel have officially started their full-time assignment to assist the Virginia AFL-CIO with their Labor 2021 member-to-member program. Carr and Zabel are the zone leads in Northern Virginia, while Summers is the zone lead in Eastern Virginia. 

The offices on the ballot this year in Virginia are Governor, Lieutenant Governor, Attorney General, House of Delegates, as well as a few local offices. The first day of in-person early-voting in Virginia starts Sept. 17, with Election Day being Tuesday, Nov. 2.  

If you have questions or would like to know how you can volunteer to help this or any other BOTG effort, please contact Boots Program Manager Tom Thompson at thomas.thompson@natca.net.