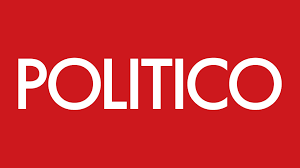 Politico: Top leaders at NATCA step down
BY ORIANA PAWLYK

The top leadership for the leading labor union representing air traffic controllers are departing from their roles after 12 years on the job.
Paul Rinaldi, the president of the National Air Traffic Controllers Association, and Trish Gilbert, NATCA executive vice president, are stepping down from the AFL-CIO affiliate effective Sept. 1, according to an announcement.
"NATCA's solidarity, unity, and collective spirit has seen this Union through good and bad, each time learning, adjusting, and gaining strength to move from good to great," Rinaldi and Gilbert said. "Together, we withstood forces that sought to divide us and generated the momentum to fuel the fire in our bellies to engage the membership and we are stronger and more united for it."
The context: NATCA has been a key player in several high-profile issues under their leadership, including an instrumental role in navigating the 35-day government shutdown during the Trump administration that spanned from 2018 into 2019.
Controllers reached breaking points of exhaustion and stress, buckling the enterprise, Rinaldi said at the time, which pushed the administration to reverse course amid mounting flight delays and for worry of eroding safety practices.
Rinaldi and Gilbert also presided over a period where the union threw their support behind an effort to separate air traffic control operations from the FAA. Ultimately the idea died in Congress after a protracted interindustry fight.
What's ahead: Following national elections in April, NATCA announced Rich Santa would become the organization's seventh president, and Andrew LeBovidge as its eighth executive vice president.
Rinaldi and Gilbert noted rising challenges such as the resurgence of Covid, limited staffing and training, and FAA funding uncertainty on the horizon, which Santa and LeBovidge undoubtedly will have to tackle.
"We are confident that their stalwart support for NATCA members will drive the organization to new heights," Rinaldi and Gilbert said. "They understand the importance of union activism, front-line involvement, and sacrifice for the betterment of our membership."