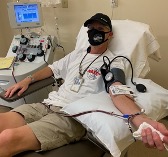 Central Region: T75 Member Honored by Union Plus as a Union Member Going Above and Beyond
St. Louis TRACON (T75) member Pete Seddon is among a select group of winners of the Union Plus "Unions Power America" contest, honoring extraordinary union members who are going above and beyond at home, work, and in their communities to help power America and continue to build it back better.
Seddon is one of only 100 union members from around the country chosen as winners from more than 4,000 applicants. He will be receiving a check for $1,000.
"I am very proud to have won," Seddon said.
Seddon was nominated by his wife, Elizabeth. Here is what she wrote:
"NATCA air traffic controller Pete Seddon gives back and gets America working and moving again, not just by helping to get airplanes off and on the ground and thousands of passengers safely through the skies, but by donating lifesaving platelets to those in need.
"Every 2-3 weeks for the past eight years, Pete spends over two hours hooked up to a centrifuge as his platelets are separated and collected from his blood. These platelets are then donated to patients fighting cancer, chronic illness, and major injuries. Prior to platelet donation, Pete was a routine whole blood donor. One time while giving blood he learned about the critical need for platelets and the essential role they play in the lives of those who need them.
"When COVID-19 hit, Pete kept with his regular donation schedule as he knew overall donations would be down but the need would still be high. His platelet donations have allowed many to regain strength and return to work too. So, whether through planes or platelets, Pete Seddon assists in helping to power America."
Members, you can check out unionplus.org and learn about the savings and benefit programs that are available exclusively to you as union members. Union Plus is a non-profit organization whose sole mission is to help union members and their families. Any money earned from its programs goes back into contests like these and other benefits for union members.