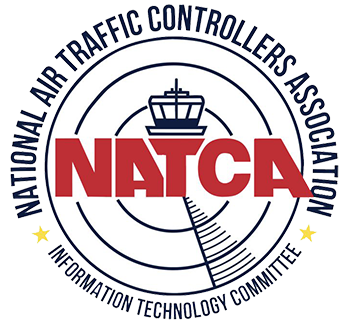 IT Committee Meets to Discuss Array of Ways to Improve Service to Members
The Information Technology Committee (ITC) held a full, three-hour-long meeting on Tuesday, Oct. 12. During the call, ITC members addressed an array of issues including updates to NATCA's website, ways to help NATCA reps nationwide better communicate using Microsoft Teams and upgrading technology and equipment at the National Office. The ITC also talked about the progress it is making to increase member engagement through a support system to answer questions on the website and plans to roll out upcoming improvements to the ways that members access the website, the NATCA Store, and soon, our new membership database.

In the photo (top to bottom, left to right) are David Towell (Greater Cincinnati ATCT, CVG), Doug Church (NATCA staff), Jason Michaud (Boston TRACON, A90), Pamela Rusk (Engineer/Central Region, ECE), Phil Yanchulis (NATCA staff), Matt Heer (NATCA staff), John Tornatore-Pili (San Francisco ATCT, SFO), Matthew Fritz (Andrews Air Force Base ATCT, ADW), and Committee Chair Jason Doss (Jacksonville ARTCC, ZJX). Do you need IT support? If so, click here. Reach our live chat support here.