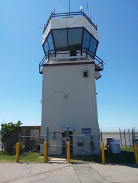 Groton, Conn., FCT is Newest Member of NATCA Family
NATCA is excited to welcome Groton, Conn., (GON) Federal Contract Tower (FCT) to the NATCA family. The airport is a public-use, publicly owned general aviation airport, located seven miles from New London's city center in the southeastern corner of the state. It is situated in the Mystic Region, a popular area for visitors.
"We at GON are very pleased to now be represented by NATCA. As was the case while we were employed by the Federal Aviation Administration (FAA), having a strong union to protect employees from being taken advantage of is so very important," said GON FacRep Eric Knight. "Issues with pay raises, sick leave, annual leave, and most recently the COVID-19 policy have not only been resolved but also improved once NATCA took the helm."
"Our FCTs are thriving, involved, and well represented," said NATCA New England Regional Vice President Mick Devine. "The proof is in the pudding. They keep calling NATCA to get them represented." View a list of all 118 NATCA-represented FCTs here.