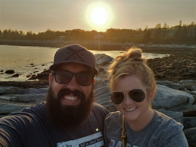 Staff Employee Spotlight: Brianna Deaver
We have an amazing National Office staff that our membership can be very proud of. They work hard every day and are committed to providing our members with the very best service and representation in organized labor. Today, we feature our new Safety and Technology Administrator, Brianna Deaver. Brianna is an experienced customer service and administrative specialist, and she brings a comprehensive set of organizational and communication skills to our Safety and Technology Department's service to our members. Welcome to the NATCA family, Brianna!
Where are you from, or what places have you lived?
I was born and raised in Las Vegas. I have lived in Kansas City, Mo., Oceanside, Calif., and now beautiful Virginia.
How did you come to work at NATCA?
I was referred by my good friend Meagan Roper (NATCA's Senior Social Media Representative) when Matt Sullivan retired, and NATCA was hiring for the Safety and Technology Administrator position.
Do you have family members who are involved in unions?
Yes, my father retired from the Laborers' International Union of North America Local 872 in Las Vegas. Also, most of my father's family was a part of the culinary and bartenders' union in the '80s and '90s.
What's the most rewarding part of being a member of NATCA's staff? What's the most challenging?
I began working for NATCA in August, and the people I have had the pleasure of interacting with thus far have been wonderful. The most challenging part is just getting up to speed, but the Safety and Technology team is making my orientation very easy.
Do you have any hobbies or any other activities you enjoy outside of your work for NATCA?
I love dancing, drinking tea, hiking, walking, and spending time with friends and family.
Has there been a favorite moment for you while at NATCA?
I felt truly special when (Chief of Staff) Dean (Iacopelli) took time to come say hello and check in with me on my second day at NATCA.
My favorite quote is: "I've learned that people will forget what you said, people will forget what you did, but people will never forget how you made them feel." ― Maya Angelou
My favorite comfort food is: Ice cream
My favorite sport is: Hockey
My parents always told me: "I love you, baby girl!"
The strangest food I have ever eaten is: Duck tongue tacos, but so worth it.
Pictured: Brianna Deaver and her spouse, Paul Deaver