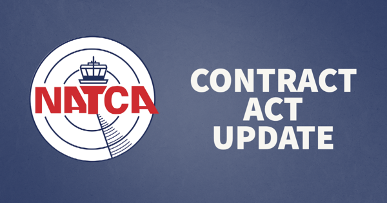 CONTRACT Act Update – Markup in Senate Committee Nov 3
On Wednesday morning, Nov. 3, the Senate Committee on Homeland Security & Governmental Affairs is scheduled to mark up S. 419, the Continuity for Operators with Necessary Training Required for ATC Contract Towers Act of 2021 – known as the CONTRACT Act for short. 
NATCA strongly supports this bill, which would provide an incentive for retired federal air traffic controllers to continue working as controllers at the 256 airports that participate in the Federal Aviation Administration's (FAA) Contract Tower Program. NATCA represents controllers at 118 of those towers (view our full list here).
If enacted, this legislation would allow controllers who retire from federal service to work as controllers at contract towers without their federal annuity supplement being reduced or eliminated entirely. This would allow these experienced controllers to continue to contribute to the safety of the National Airspace System after they retire from the FAA without sacrificing a portion of their earned retirement benefits.
NATCA's Government Affairs Department and the National Legislative Committee have been advocating for the past six months in strong support of the bill and encouraging co-sponsorship in both the Senate and in the House of Representatives, which has a companion bill, H.R. 1283. If the bill passes the Senate Committee on Homeland Security and Governmental Affairs, it would be a strong signal of support and a step in the right direction for the bill's success. However, the bill's legislative path after committee consideration is unclear at this time.