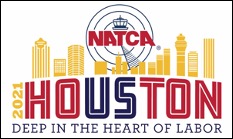 Convention Update: Hotel Reservation Deadline Nov. 22
For members planning to attend the 18th Biennial Convention at the Marriott Marquis in downtown Houston, Dec. 9-10, the deadline to reserve your hotel room is Monday, Nov. 22. Please click here to make your reservation.
Convention registration is a two-step process. In addition to hotel reservations, registration for the convention itself is also required. Please click here to register if you have not already done so.
Get all your convention news and information here. You'll find links to everything from proposed amendments and resolutions to Robert's Rules of Order, information about the hotel, and much more.
REFUNDS FROM POSTPONED DATES: NATCA members who registered for the convention before it was postponed to December will receive a refund. The NATCA Accounting Department will be processing these refunds. To initiate the process, please fill out the ACH form here.
SAVE THE DATE: The 19th Biennial Convention will be held June 20-22, 2023, at The Diplomat in Hollywood, Fla.