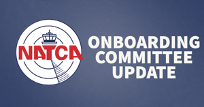 Onboarding Committee Update
The Onboarding Committee develops methods to assist new facility representatives (FacReps) in transitioning to their new roles. These methods provide the reps initial guidance and direction so that they have the necessary tools to begin their journey as new reps. This direction begins with the fundamentals that they must accomplish such as advising all concerned that they are the new representative for that local, taking over the finances for the local, and receiving all local passwords.
The Onboarding Committee recently met and discussed many things including updating materials for briefing new FacReps as well as best practices for the onboarding process. For more information, please visit https://www.natca.org/committees/onboarding/.