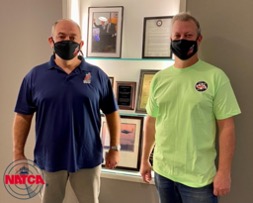 RVPs Aaron Merrick (NCE), Brian Shallenberger (NEA), Mick Devine (NNE), and Brad Davidson (NRX) working in National Office
Central Regional Vice President (RVP) Aaron Merrick, Eastern RVP) Brian Shallenberger (pictured left), New England RVP Mick Devine, and Region X Vice President Brad Davidson (pictured right) worked in the National Office during the weeks of Nov. 8 and 15. The National Executive Board currently is having 2-3 RVPs work in NATCA's Washington, D.C., headquarters each week. The RVPs work with President Rich Santa, Executive Vice President Andrew LeBovidge, and some members of the staff in addressing many key issues. They also are available to handle any issues that arise unexpectedly, helping the NEB to begin tackling them. While here, Davidson and Shallenberger worked on a wide variety of planning and logistical issues for our upcoming convention (Dec. 9-10, Houston Marriott Marquis).
Merrick and Devine concentrated on working with Santa and LeBovidge on improving the Article 114/subject matter expert solicitation process from beginning to end. Revising the process will result in giving the RVPs better, more detailed insight to the volunteers for new positions, allowing them to make the best decision for NATCA as to who will represent the Union when working with the Agency on issues that affect our members.
"We are asking members that apply for the various roles to provide background information that more readily identifies the knowledge, skills, and abilities a member has to assist the NEB in making the best selection," Santa said. "The new process will also allow FacReps to provide information about how active the member is at the local level. This will give us a broader perspective of member candidates applying to a solicitation."