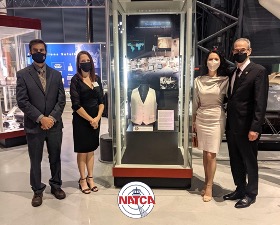 NATCA attends Smithsonian Event Honoring 2021 Michael Collins Trophy Recipients
NATCA leaders joined the Smithsonian National Air and Space Museum and other community members last week in honoring the winners of the Museum's 2021 Michael Collins Trophies for Current Achievement and Lifetime Achievement. The Museum established the Trophy in 1985 to recognize extraordinary achievements in aerospace science, technology, and history.
The Museum presented the Lifetime award to Eugene F. "Gene" Kranz, chief of NASA's Flight Control Division. Under Kranz's leadership, the Apollo 13 team successfully avoided disaster after an explosion to bring the crew home safely. The Current Achievement award was presented to SpaceX, honoring a new era of space travel with the launch of its commercially built and operated spacecraft, the first crewed mission in an American rocket launching from the United States since the previous space shuttle mission in 2011.
The Smithsonian National Air and Space Museum is undergoing a complete renovation, including its exhibit about our nation's air traffic control system. NATCA is one of the supporters of this exciting project, which will connect and inform the public, as well as spark the imagination of the next generation who will lead future innovation in air and space.
Pictured (left to right): NATCA President Rich Santa, Potomac TRACON (PCT) FacRep Amy Lark, Anna LeBovidge, NATCA Executive Vice President Andrew LeBovidge. Krantz wore this white suit vest during Apollo 13, the third planned lunar landing mission. As leader of Mission Control's "white team," Krantz wore a different white suit vest for each mission from 1966 to 1972, all hand-sewn by his wife, Marta.