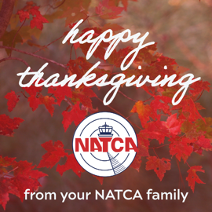 Happy Thanksgiving from NATCA!
We want to take a moment to express our thanks for so many things this week as NATCA members and staff celebrate Thanksgiving in our homes as well as in break rooms and common areas with our colleagues.
Thank you to our 16,000 dues-paying members, who have continued throughout the global pandemic to provide the best professional services to the flying public, especially those working during this holiday. Thank you to our NATCA reps and volunteers who give their time and talents to maintain and grow our great Union, the professions it represents, and the National Airspace System. Thank you to the NATCA staff, who work hard every day and are committed to providing our members with the very best service and representation in organized labor. Thank you for our NATCA family that is built on a commitment to the power of our solidarity.
We are honored by your dedication. We are proud to represent you. We thank each of you for your support and solidarity. We wish you a happy and safe Thanksgiving holiday with your family and friends.