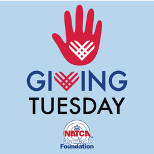 Celebrate Giving Tuesday by donating to NCF
Started in 2012, GivingTuesday has become a day when millions of people do good by making contributions to nonprofits serving their communities. NATCA members can join the effort and give through the NATCA Charitable Foundation (NCF).
NCF is a nonprofit 501(c)(3) corporation that works to make a difference in the lives of many. NCF's philanthropic efforts stretch across the country. NCF seeks out areas of need that go un-funded or are missed through other donor drives. It seeks out smaller charities that help the underserved in the communities where NATCA members live and work. Across the country, through NCF, NATCA members and their family and friends give and volunteer to make a big impact and help bring smiles to those in need.
GivingTuesday always takes place on the Tuesday following Thanksgiving. This year, it takes place on Nov. 30. On GivingTuesday, make a difference and donate to NCF. Learn more here.