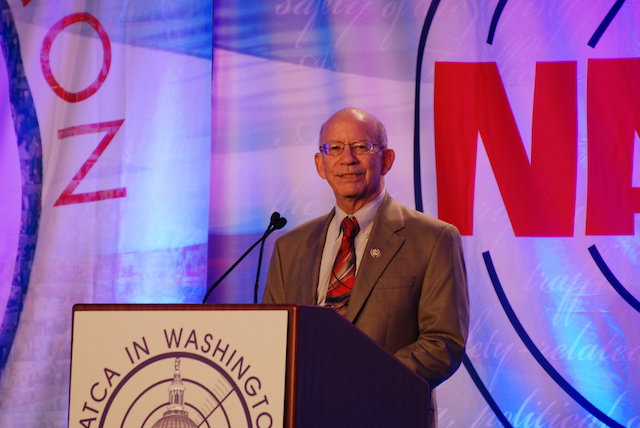 NATCA Thanks Transportation Chairman DeFazio for More Than Three Decades of Leadership to Improve Aviation Safety
WASHINGTON – The National Air Traffic Controllers Association (NATCA) thanks and congratulates Oregon Congressman and House Committee on Transportation and Infrastructure (T&I) Chairman Peter DeFazio, who for more than three decades has been a passionate advocate and fierce champion for aviation safety, transportation labor, and the front-line workers who power the engine that drives our nation's economy. DeFazio announced Wednesday that he will not seek re-election in 2022.
Chairman DeFazio has proudly served his constituents in Oregon's 4th congressional district since 1987, the same year that NATCA was certified by the National Labor Relations Authority as the exclusive bargaining representative of Federal Aviation Administration (FAA) air traffic controllers.
"The 20,000 aviation safety professionals that NATCA represents owe a tremendous debt of gratitude to Chairman DeFazio, who has had their backs at all times, fighting for them and for the safety of the National Airspace System," NATCA President Rich Santa said. "Our relationship with him goes back to our earliest days of advocacy. He has always understood the power of the word union and his intense curiosity always led him to seek a deeper understanding of how our members do their jobs and what our most important issues are as we have continued to try and make the system safer and make our members' lives better."
In 2008, NATCA presented DeFazio with the James L. Oberstar Sentinel of Safety Award, which is named for the late Minnesota congressman who served as T&I chairman from 2007 to 2011. It is NATCA's highest award for those outside the Union and honors aviation leaders who have displayed outstanding achievement in the advancement of aviation safety. DeFazio was honored, in part, because of his unwavering support of NATCA members from 2006-2009 in which the FAA imposed work and pay rules on NATCA's members. He stood with NATCA and our membership during the fight, and he was also one of the key leaders on legislation to amend Title 49 of the U.S. Code that ultimately provided a fair collective bargaining process for FAA employees.
Most recently, DeFazio fought tirelessly on behalf of NATCA members and all federal employees to speak out against a government shutdown that lasted a record 35 days from Dec. 22, 2018 to Jan. 25, 2019 and degraded aviation safety. He spoke at NATCA's rally on Capitol Hill on Jan. 10, 2019, stating, "So when are we going to end this damn thing? Today! I am sorry you have to be here. This is ridiculous."
DeFazio followed that up with swift action, convening a hearing on Feb. 13, 2019 to examine the effects of the shutdown and how it put the safety of U.S. aviation at risk. Later that year, he joined with T&I Aviation Subcommittee Chair Rick Larsen, D-Wash., and Reps. Bob Gibbs, R-Ohio, and Brian Fitzpatrick, R-Pa., in leading the introduction of H.R. 1108, the Aviation Funding Stability Act of 2019, bipartisan legislation that would protect FAA programs and personnel and the U.S. aviation system from the effects of future shutdowns. Earlier this fall, DeFazio led an effort to re-introduce the legislation – now named the Aviation Funding Stability Act of 2021 (H.R. 4042) – in the 117th Congress. NATCA strongly supports the bipartisan bill, which would authorize the FAA to draw from the Airport & Airway Trust Fund for 30 days in the event of a government shutdown, ensuring the system continues to operate safely and efficiently.
DeFazio has spoken several times at NATCA's legislative advocacy conference, NATCA in Washington. During one notable appearance, he stated, "Our aviation system is the largest, busiest, and safest system in the world. Thank you for your work, keeping millions of passengers safe on a daily basis. Aviation is critical in the U.S.; 12% of the U.S. economy links us to the rest of the world. And if we didn't have you as aviation safety professionals doing your jobs efficiently, we wouldn't be able to fly."
"NATCA today expresses that gratitude by saying a heartfelt thank you to the incomparable Chairman DeFazio," Santa said.
MORE INFORMATION: Doug Church, Deputy Director of Public Affairs; 301-346-8245, dchurch@natcadc.org.
# # #
The National Air Traffic Controllers Association (NATCA) is a labor union and aviation safety organization in the United States that represents nearly 20,000 highly skilled air traffic controllers, engineers, and other aviation safety-related professionals. NATCA was certified in 1987 by the Federal Labor Relations Authority to be the exclusive bargaining representative for air traffic controllers employed by the Federal Aviation Administration. Today, NATCA is one of the strongest labor unions in the federal sector and represents a range of aviation safety professionals in 15 FAA bargaining units, 5 Department of Defense air traffic facilities, and 122 federal contract towers. These air traffic controllers and other aviation safety professionals make vital contributions to the U.S. economy and make modern life possible by coordinating the safe, orderly, and expeditious movement of nearly one billion aviation passengers and millions of tons of freight within the National Airspace System each year. NATCA is headquartered in Washington, D.C., and is affiliated with the AFL-CIO.