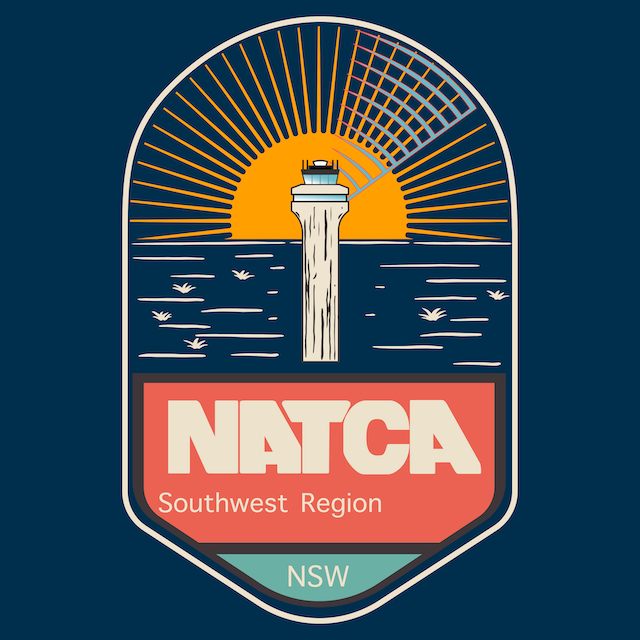 Spotlight: NATCA's Southwest Region
The Southwest Region and Houston-area NATCA locals welcome you to the 18th Biennial Convention, deep in the heart of Texas. What makes the local facilities around the convention site so interesting and an integral part of our NATCA Family? Here are some fun facts:

1. Beaumont Port Arthur ATCT (BPT)
This year marks 80 years since ground was broken to construct the airport. Originally named Jefferson County airport, this facility has served area residents since the World War II era. Jefferson County Commissioners purchased land to build the airport in 1941, and its development, which included three runways, a taxiway system and apron facilities, began the following year, with initial construction completed in early 1944. Eastern Airlines conducted the first scheduled flight in March of that year. During the War, the airport also served U.S. Marine Air Corps Dive Bomber Squadron No. 931 as a base for advanced training. Pilot trainees used floating targets in the Gulf of Mexico off Sabine Pass for gunnery and dive-bombing practice.
In one 12-month stretch, the facility went through a serious Exxon Mobil plant explosion within 10 miles of the facility) and Hurricane Laura in 2020. A different plant in Port Arthur, the Motiva refinery, is the largest oil refinery in the U.S, located just outside of the class delta airspace.
2. Conroe Federal Contract Tower (CXO)
Conroe-North Houston Regional Airport — formerly known as Lone Star Executive Airport — is a public-use airport in Conroe, Texas, 37 miles north of the Houston central business district. The control tower is part of the Federal Contract Tower program (FCT) and is one of the 116 FCTs represented by NATCA.
CXO is an all-weather airport, hosts over 300 aircraft, 240 hangars, two FBOs, a general aviation terminal building, a U.S. Army Reserve Aviation unit and more than 20 businesses and several government agencies. It is also an International airport with a U.S. Customs and Border Protection Federal Inspection Station to serve the needs of corporate and business travelers arriving from outside the United States.
3. Tomball D.W. Hooks ATCT (DWH)
Located 30 miles northwest of downtown Houston, not far from IAH, DWH Tower is an FAA facility on a 100% private airport. It started as a man-made grass strip and evolved into a three-runway airport.
DWH is one of a very few FAA-controlled airports in the U.S. with an active sealane/waterway runway.
4. Galveston Federal Contract Tower (GLS)
Scholes International Airport (GLS) in Galveston is located 45 miles southeast of Houston via Interstate 45. As a general aviation reliever airport, GLS serves as a valuable asset in meeting the needs of businesses, private pilots, and aviation enthusiasts.
The airport began service as Galveston Municipal Airport in 1931. Then in 1942, the airport was expanded and re-designated for use by the Army for World War II. In 1945, the federal government deactivated the airport and turned it over to the City of Galveston. The original airport terminal opened in 1950 and was considered the most modern of its type in the Southwest with fancy amenities such as air conditioning. The 10,000 sq. ft. terminal building was renovated and reopened on April 7, 2011.
5. Houston Hobby ATCT (HOU)
A NATCA local was formed at Hobby in 1986. It currently has 18 bargaining unit employees.
HOU has three runways — 13R/31L, 13L/31R, and 4/22. The current tower was completed in 1998 and the cab floor sits at an elevation of 125 feet AGL. Hobby Airport was briefly named Howard Hughes Municipal Airport in 1938. It only was named as such a few months, as the city realized it would not qualify for any federal grant money while it was named for a living person.
6. Houston TRACON (I90)
The I90 workforce has a strong military background – 72% are veterans.
It is the ninth-busiest TRACON in the National Airspace System (NAS) and surpassed one million operations in 2019 with a whopping 5.8 percent increase from 2018.
7. Houston Intercontinental ATCT (IAH)
IAH in 2017 became the first airport in North America to have non-stop flights to every inhabited continent. It's currently the 10th-busiest tower in the NAS.
The old tower was turned into a piece of art back in 2018. It was designed by world-renowned architect I.M. Pei and opened with the airport in 1969. The tower resulted from an effort by the Kennedy administration to improve modern design in federal projects. The FAA commissioned Pei's firm to create "the most contemporary, state-of-the-art control tower" as a permanent symbol of air safety. Architect James Ingo Freed conceived a flared, five-sided tower in four heights to be used at airports across the country. Twenty-three of the Pei/Freed control towers were constructed.
8. Sugar Land Federal Contract Tower (SGR)
With six members, SGR has sustained 100 percent NATCA membership since its inception as a Union local. Two members have also worked previously at HOU and IAH.
Sugar Land Regional Airport originated as "Hull Field" in 1952, named for Dr. Donald "Doc" Hull, an oral surgeon. He established a dental program for the Texas Department of Corrections, Southern Region and spent countless hours commuting across southeast Texas to provide dental care at prison units. The airport began as a grass strip on farmland and was developed to a 3,200′ asphalt runway in 1963, then 4,475′ in 1978, and finally expanded to the current length of 8,000′ in 1985.
SGR handles more than 80,000 annual operations. It's designated as a "reliever airport" for HOU and IAH, reducing their corporate and general aviation traffic, allowing them to further concentrate on commercial air travel. It had a major role supporting search and rescue operations after Hurricane Harvey in 2017.
9. Houston Center (ZHU)
ZHU is the home facility of former Executive Vice President Trish Gilbert, former Southwest (NSW) Regional Vice President and current Executive Vice President Andrew LeBovidge, and former NSW RVP Rich Phillips.
The facility is unique from all other "Zs" in that First Lady Lady Bird Johnson took an interest in how federal buildings were not "employee friendly" and took part in the design back in the 1960s. She added many courtyards and a more employee-friendly layout, thus making ZHU the only Z that is remarkably different than all other centers.
"ZHU is proud of our 94% membership percentage, remarkable for residing in a deep red state and a true testament to our workforce's belief in NATCA!" ZHU FacRep and Alternate NSW RVP Chris Parris said.