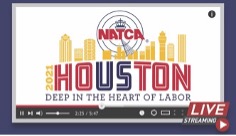 18th Biennial Convention Starts Today at 1 p.m. CST; Live Stream Available
The 18th Biennial Convention in Houston will be live streamed here on this website beginning on Thursday, Dec. 9 at 1 p.m. CST. The live stream will be on the members-only side of the website and requires a password. If you have already registered for MyNATCA and can log in to the members side of the website sing the directions announced a few weeks ago, you won't need to take any additional steps to access the live stream. However, if you have not registered for MyNATCA to obtain your new login credentials for both that resource and the members side of the website, you will need to do so in order to view the live stream.
For more information and registration instructions, click here.
If you need assistance, click here.
All video from the convention will be available to view on demand after the event. More details on that will be announced next week.
For link to the live stream and all news and information about the convention – before, during, and after the event, click here.