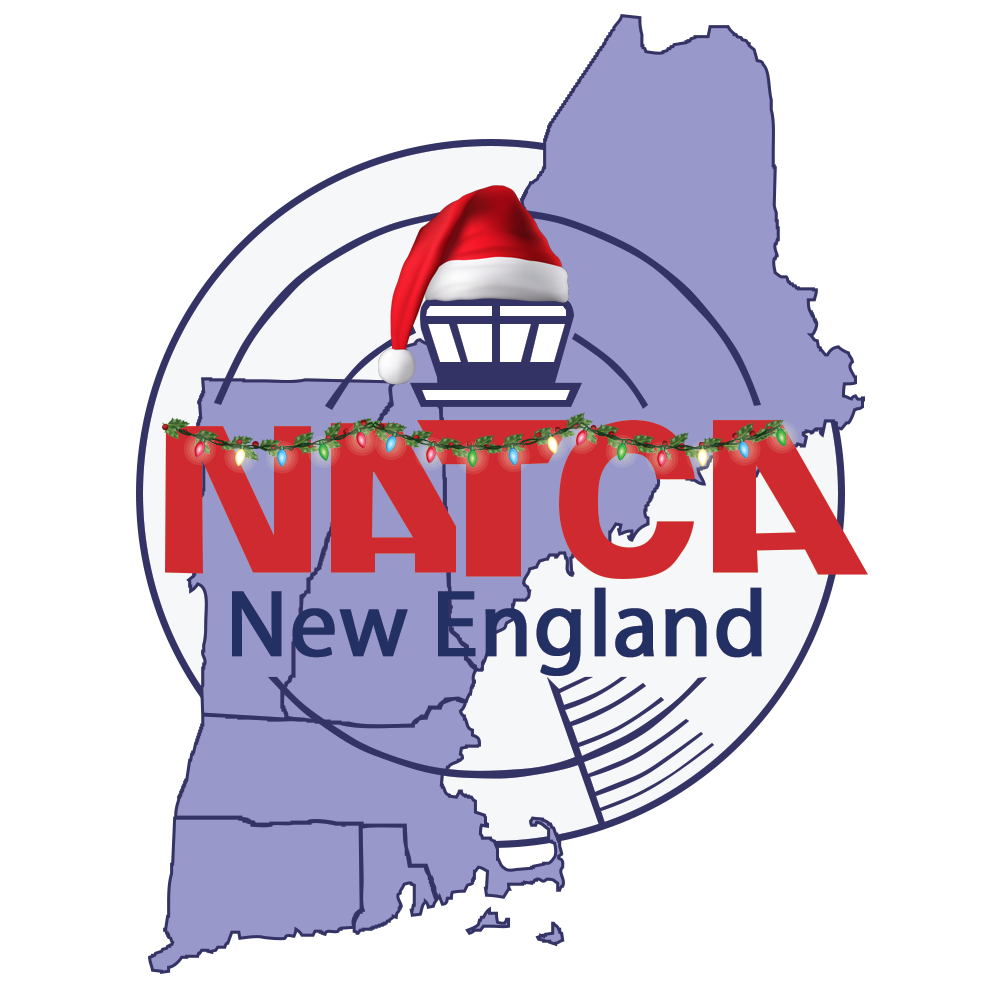 December 2021 New England Bi-Monthly Regional Update #2
From Bryan Krampovitis, NATCA New England ARVP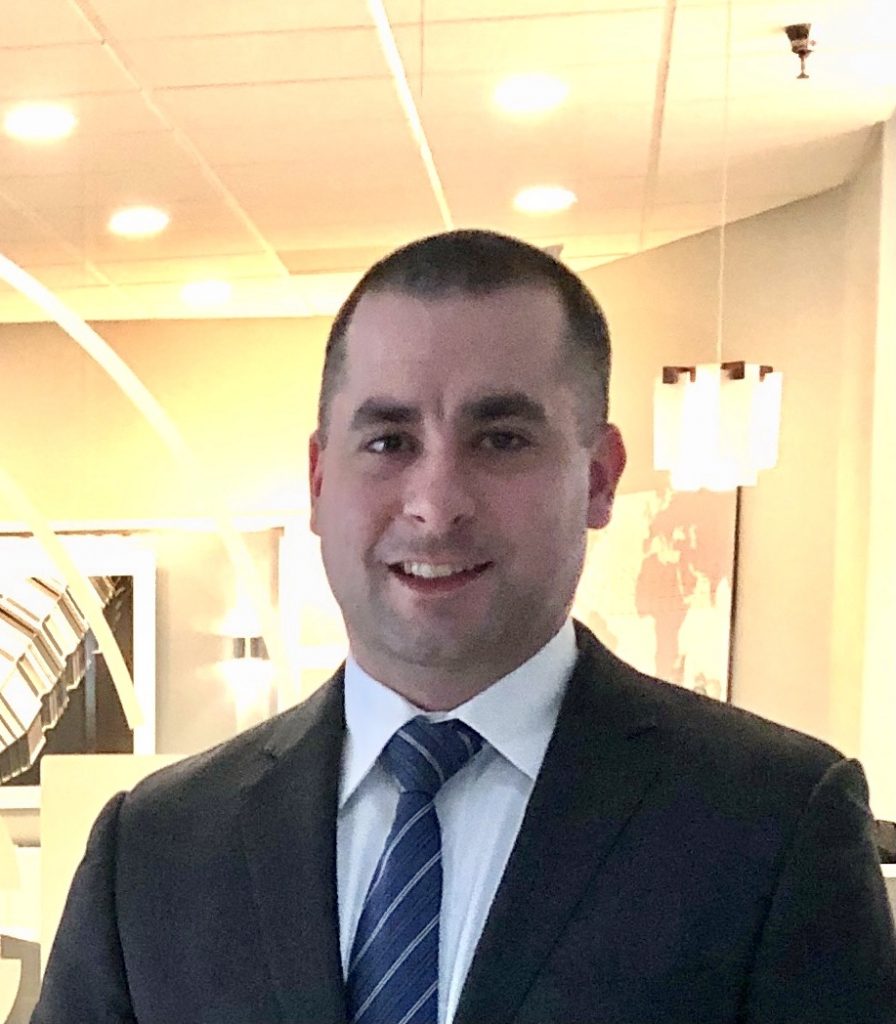 As convention wraps up, I wanted to take a minute to give a recap. This convention was a first in NATCA's history. We opened business at 1 pm on Thursday afternoon and wrapped up Day 1 around 9 pm. We returned back to the convention floor at 8 am Friday, and finished just before 1 pm with little time to spare. The intent was to cut out all of the extracurricular events that accompany convention and focus on the business of the union.
Our delegates had a robust debate on many issues important to not only facilities in New England, but to our union on the national level. I won't go into detail on some of the administrative changes made to our constitution, but I will briefly go over some of the amendments passed which are significant changes to our locals:
We have tasked a committee to evaluate our constitution, and change all the "he/she's" to "they/theirs" wherever appropriate, without changing intents and meanings.
We appropriately blocked an amendment that wanted to change the order of our organization's objectives. The amendment looked to put "safety of air traffic" before "promoting and improving the working conditions of air traffic controllers". While our constitution doesn't order them by priority, changing them would have sent a message that we were a safety organization before a union, and this is not the message we wanted to send out. We are, first and foremost, a union.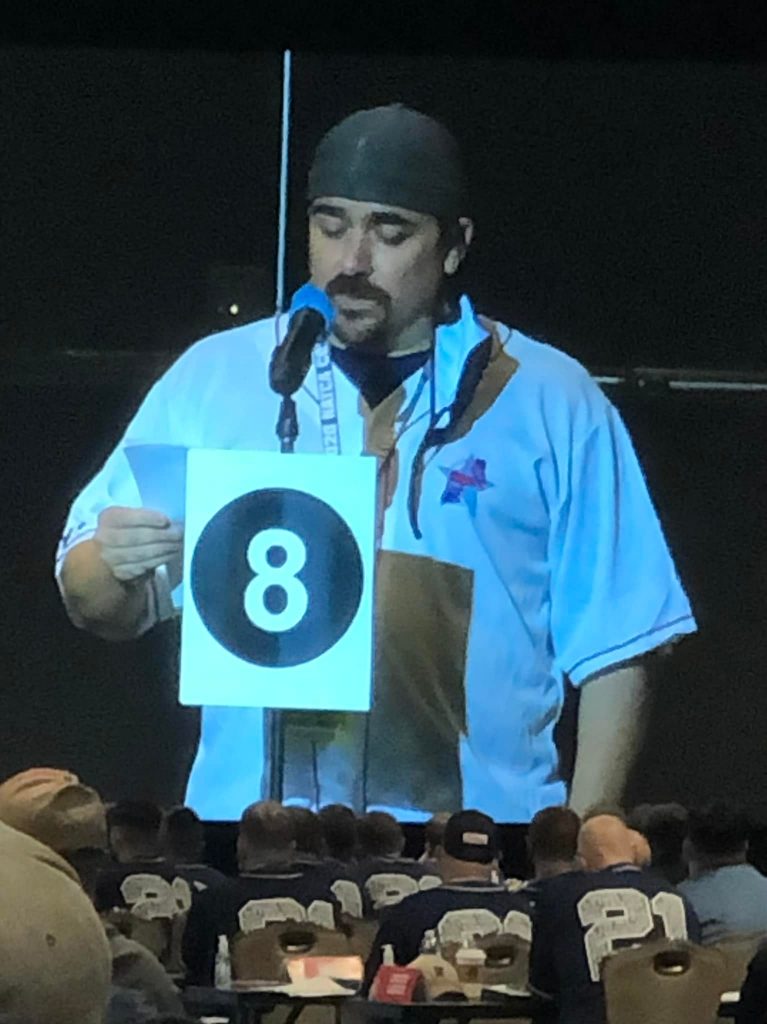 As usual, there were multiple proposals to amend the way seniority is calculated. I am happy to report that none of these amendments were debated at length and most were not heard at all due to not having a second stand up on the floor. It seems like we might be turning a corner and finally putting seniority, or the idea of changing it, to bed for good.
A major change to our education reimbursement policy was approved. Currently, NATCA will reimburse its members up to $2,500 a year for qualified education expenses. This amount was increased to $5,000 a year, with a national cap of $50,000. It was brought to the attention of the convention body that only about $19,000 a year of this $50,000 was regularly taken advantage of. If you are currently pursuing higher education, please look into this policy or talk to your FacRep.
A huge change was adding convention to the list of national events that have a lodging policy in place for "SFR-12" facilities. The change allows NATCA National to cover rooming expenses for delegates of smaller level facilities. This change should allow these facilities the ability to send more than one person to convention in the future.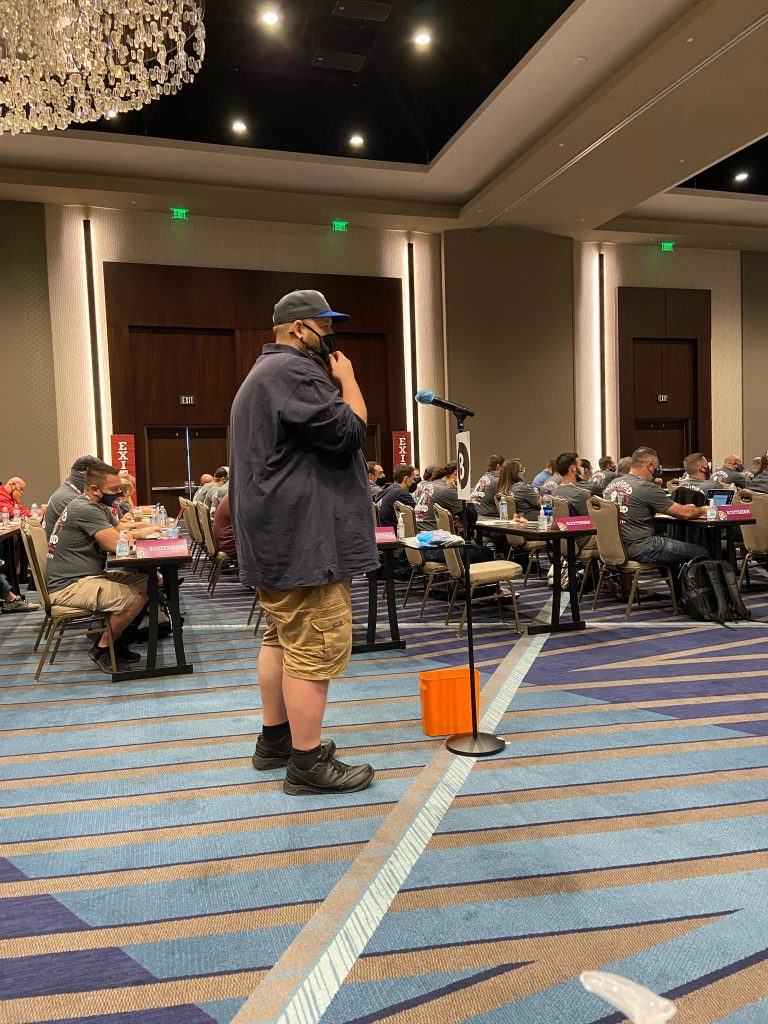 There was also an amendment passed to restrict national officers from holding a position on the National Executive Board into retirement. The new language does not allow anyone that is not in a NATCA bargaining unit the ability to hold national office.
One last change is an amendment for the local internet reimbursement to be increased to $80 a month. Currently, smaller level facilities can receive internet reimbursement up to $50 per month. This change was made due to the increasing cost of internet, and NATCA's increased reliance on remote work needing to be accomplished within our union. Hopefully, this increase in reimbursement will allow your locals to reallocate this money to send more people to NATCA national events.
NATCA New England really shined at this convention. If microphone time was measured, I am positive NATCA New England would win most time at the mic. Matt Morgan (BOS FacRep) was the MVP of the New England delegation. It was an ongoing joke that mic 8 belonged to Matt Morgan. He passionately represented New England and ensured our members' interests were protected. I also want to give a shout-out to Steve Brown PWM FacRep. This was Steve's very first convention and he got up to the microphone to represent his members' interests. Great job to all!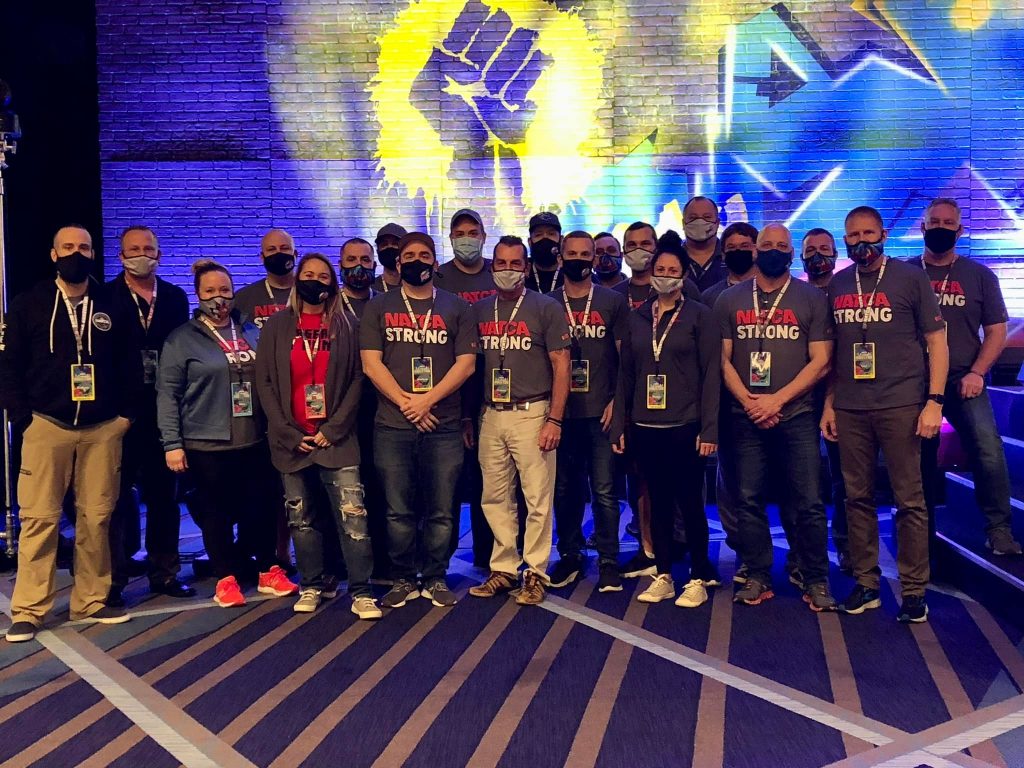 ---
Collaboration
From Curt Fischer, Collaboration Facilitator, Eastern Service Area North, A90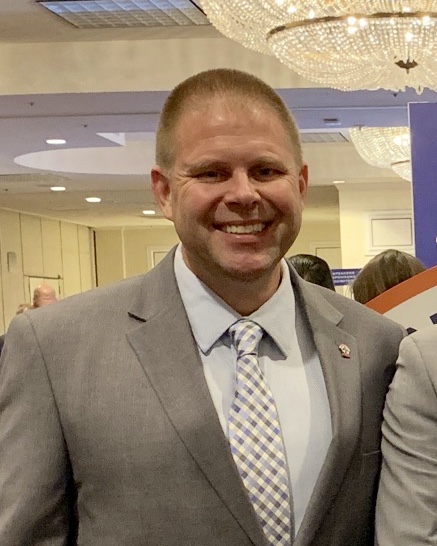 Your NATCA New England Leadership Team wishes our members and volunteers all the best this holiday season. We have accomplished so much this very difficult year and we could not have been as successful without the efforts of so many. We built our teams, prepared them, and gave them opportunities to succeed. Our success has been built on the shoulders of those that made the choice to make a difference for our Union.
Your New England Leadership teams placed constant communication at the core of the plan to move NATCA New England forward. Our Regional Update, which you are reading, expanded to twice a month in 2021. We hosted numerous in-depth regional town hall-style meetings. Your Regional Leadership Teams as well as all FacReps met weekly all year long with regional leadership to ensure constant changing information was disseminated, and equally as important, that your representatives had ample opportunity to provide us with feedback from the members in every building. Regional Communication Teams, Labor Relations, Training, Legislative, Safety, FCTs, and OSHA all grew and developed their respective teams over this past year.
This combined year-long effort paid dividends this past week at NATCA's 18th Biennial Convention. In Houston, on December 9th and 10th, NATCA delegates gathered from all across the country. Your New England representatives were as prepared and engaged on the National stage as I have ever witnessed in previous NATCA conventions. NATCA New England took a strong, vocal, and educated role to our Union's supreme body with a goal of guiding our Union forward to a better tomorrow.
We will continue to innovate and improve our service to our Union brothers and sisters. On December 21, we will be conducting a newly-developed negotiating workshop for our FacReps. This will be an opportunity to review previous negotiating techniques and grow our abilities together as a team. We look forward to resuming in-person classes and meetings across the board in the coming New Year. Remember, we need you to make our Union work. Raise your hand, find your passion, and make a difference in your Union.
---
NCEPT Information
From Jake Detwiler, NATCA New England NCEPT Rep, ZBW
The date for the next NCEPT panel has been finalized; Wednesday, February 16, 2022. NATCA is very happy to be back to a 3-month schedule between panels. The rules will be finalized and announced in the coming weeks (in lieu of the temporary modifications that had been made for the recent NCEPT panels).
Here is the timeline for the February NCEPT:
Monday, 17 January – Holiday
Tuesday, 18 January – ERR submission deadline
Friday, 21 January – Facility Update to SWB
Tuesday, 25 January – HR Staffing Workbook entries completed
Wednesday, 26 January – Facility Priority Placement Tool
Thursday, 27 January – NCEPT data executed
Monday, 31 January – HR resume upload begins
Friday, 4 February – HR resume upload complete
Monday, 7 February – Manager Ranking List published (Opened)
Friday, 11 February – Manager Rankings completed (Closed)
Monday, 14 February – P21 prepares data for NCEPT board
Wednesday, 16 February – NCEPT convenes/adjourns
If you have any questions, feel free to reach out to me at Jake.Detwiler@natca.net
---
Critical Incident Stress Management
From Jennifer Dickinson, NATCA CISM Rep, BOS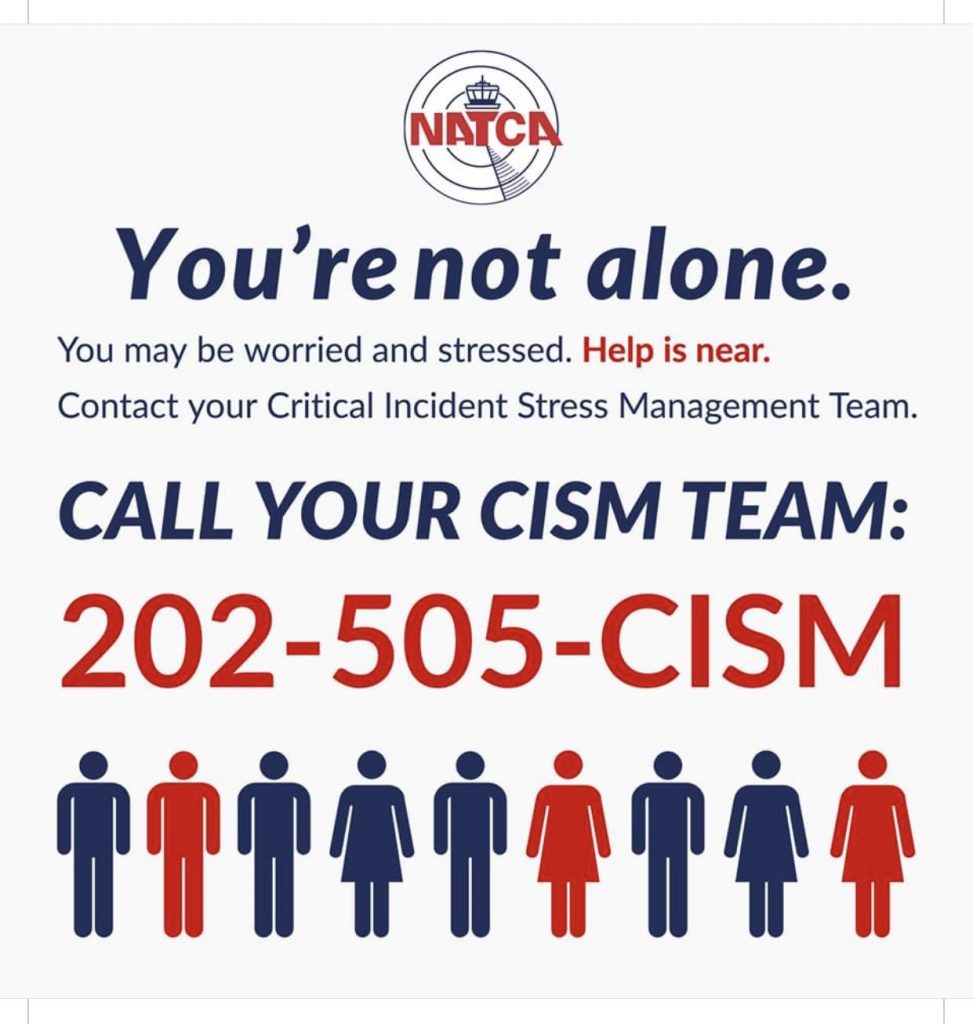 'Tis the season of ugly sweater parties, Christmas movies, family traditions, cookie decorating, and gift-giving. As amazing as that sounds we also know that the holiday season can be an extremely stressful time filled with financial pressures, increased family conflict, and at times sadness from loved ones that may no longer be with us. As a result, we begin to feel like the holidays are a high-pressure deadline instead of "The most wonderful time of the year".
One of the most important things for avoiding holiday chaos is realistic expectations. As air traffic controllers we always need a plan in order to maintain a successful operation. The holidays are similar in that they require a game plan that balances the things you have to do and the things you want to do. Positive actions such as maintaining perspective, delegating, setting a budget, pacing yourself, focusing on what is important, realizing that done is better than perfect, unplugging, and being active can all contribute to an enjoyable holiday season instead of one of dread.
Showing kindness to others in need can also help bring about feelings of positivity and hopefulness during the holiday season. The most important thing at the end of any day or at the end of any season is ensuring that the people in your life know that you love them, are grateful for them, and appreciate them. Those are the gifts that keep on giving and yield the greatest return. I wish you and your families a very Merry Christmas and a Happy New Year. Please always remember that CISM is always here for you 24 hours a day, 7 days a week. You are never alone!
During this season of giving let us slow down and cherish the simple things. -Unknown
---
Safety Management
From Seth Myers, NATCA New England Safety Rep, ZBW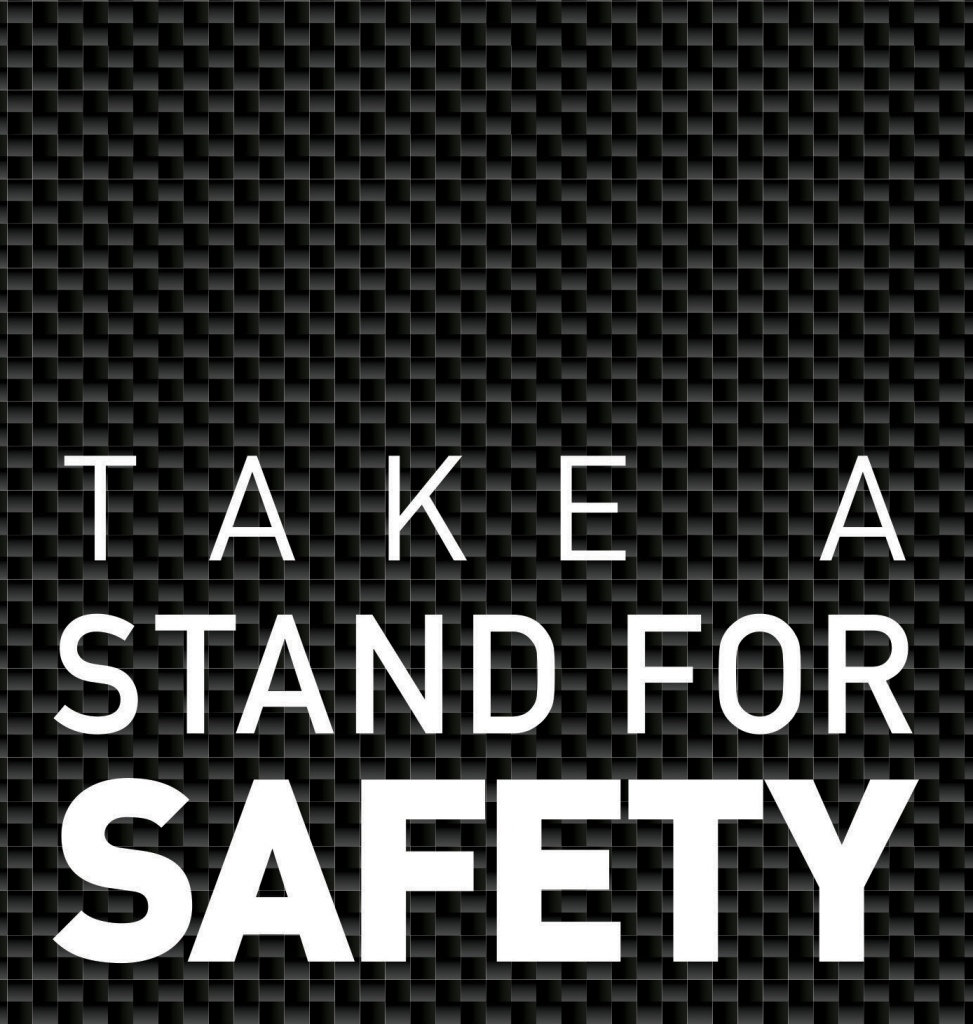 NATCA ASI's would like to remind you that when there is an accident/incident at a facility there is help and guidance available. In the unfortunate event that your facility has an accident/incident, a checklist is readily accessible for you to reference. Checklists provide details for every step in a process. It keeps one organized, ensures nothing is missed and that all steps are completed.
The Aircraft Accident/Incident Checklist should be readily available at your facility. Here are some examples to raise awareness and make it available:
Post a hard copy in the union office.
Review the checklist at your next local union meeting
Upload the checklist to an easily accessible place like your phone, Google, or Dropbox files
Where you keep this information is just as important as understanding that you and your facility have support. NATCA ASI's are always available to help you and your facility. If you would further like to see how the process unfolds after an accident/incident, go to the ASI committee tab on the NATCA website and click on "what to expect during NTSB investigation".
Checklist Links
NATCA Air Safety Investigations Committee
Email: asi@natca.net
Web: https://www.natca.org/committees/asi/
---
National Finance Committee
From Bill Cudney, NATCA Finance Committee, ZBW
Did you know that different documents from your Locals have different retention periods?
The DOL and IRS each have their own requirements for organizations to keep all records pertaining to your Local. NATCA has published our own internal Document Retention Policy which meets or exceeds the DOL/IRS guidelines.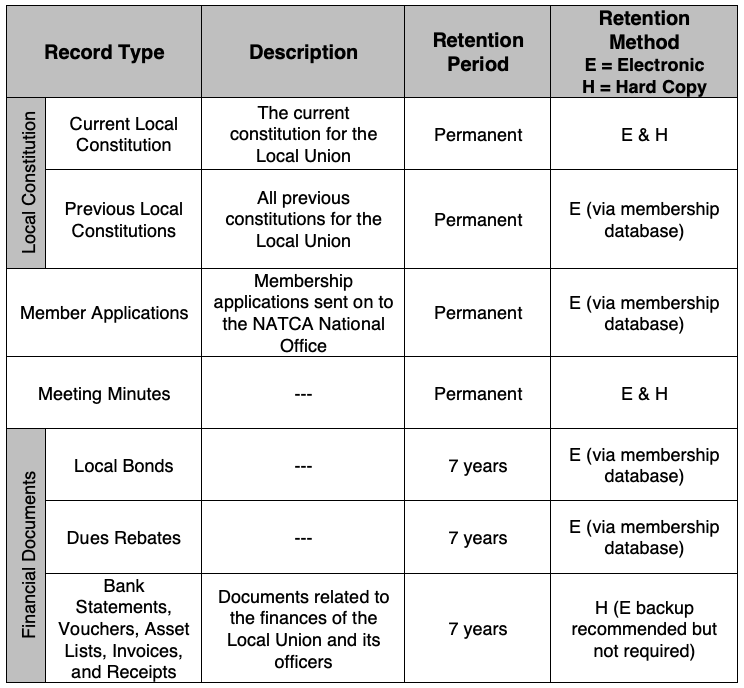 The above chart highlights some of the document retention requirements NATCA has put in place for locals to comply with.
The DOL is charged with making sure that a Local spends its money in the best interest of its membership. They perform periodic audits of Unions across the country to check for compliance with all DOL regulations. ZID was recently notified that they have been selected for an audit, so they are working with NATCA National and the National Finance Committee to make sure they have all the appropriate information gathered for the DOL. Several NATCA facilities have been audited over the last few years, with no major issues discovered.
The National Finance Committee completes an internal audit of every Local every three years. In 2021, ZBW, BDL, PVD, OWD, LWM, BVY, and A90 have either been audited or are in the process of being audited by myself or Mike DiFalco (BOS). In these audits, we look at all the financial records of the Local and make sure all DOL/IRS regulations are being complied with and documentation is correct.
---
Welcome to the Family!
Recently, 2 FAA Contract Towers, Danbury (DXR) and New Bedford (EWB), voted to have NATCA represent them as their union. We'd like to welcome them to our NATCA New England family!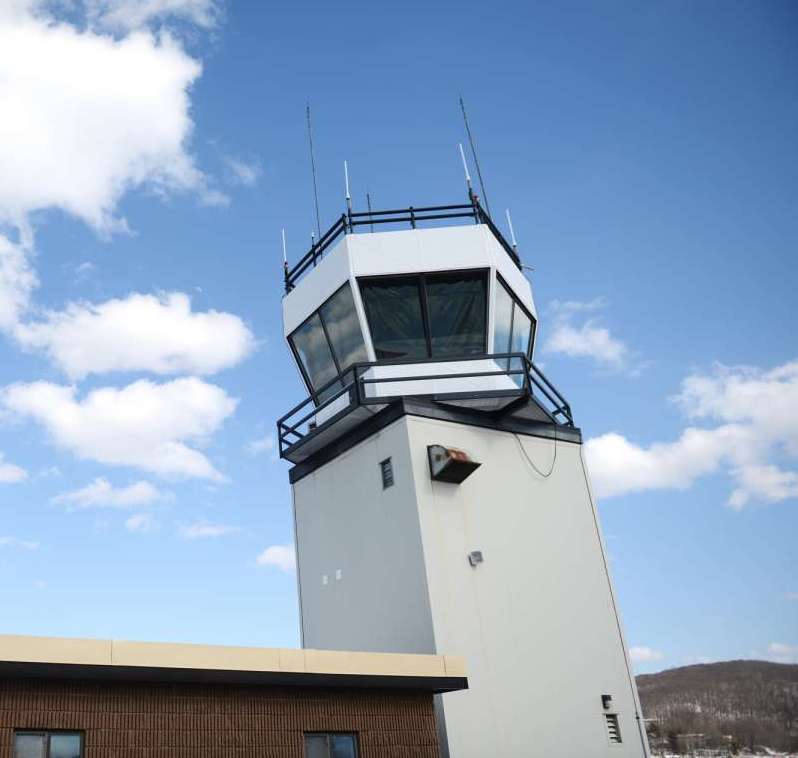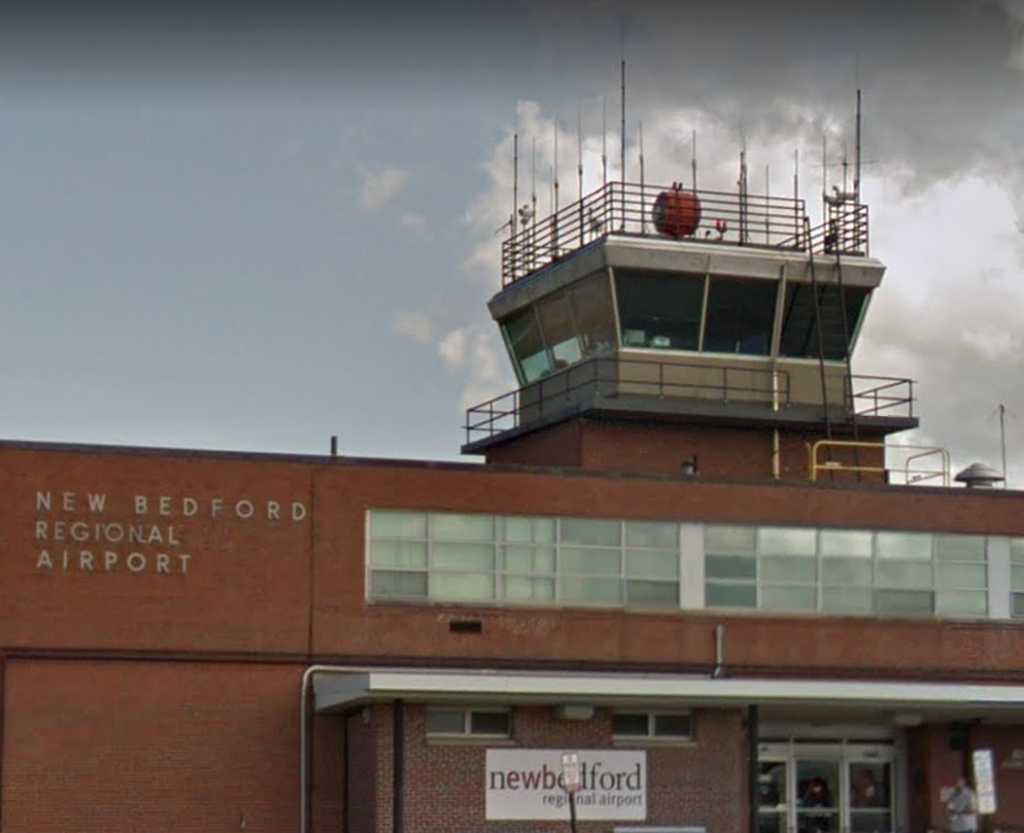 ---