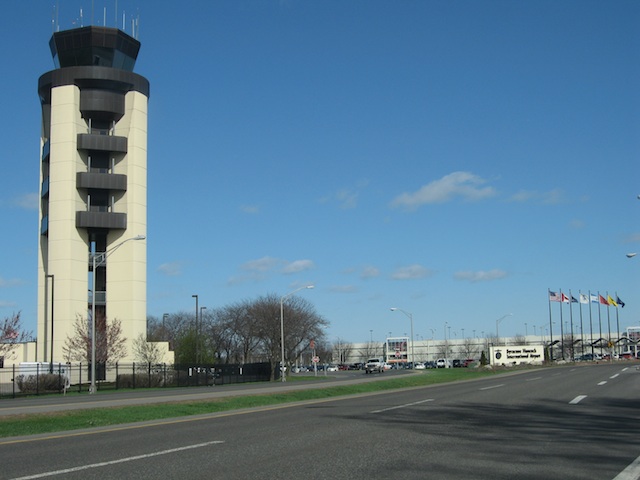 August 10, 2012 // Facility Spotlight: Syracuse, New York
You may not want to get on the bad side of the controllers at Syracuse Air Traffic Control Tower (SYR) – they've got the New York Air National Guard (NYANG) on their side. Although, six months out of the year you may not be able to locate either beneath the heavy lake-effect snow that afflicts the city and presents a challenge for the controllers at the 100 percent NATCA facility.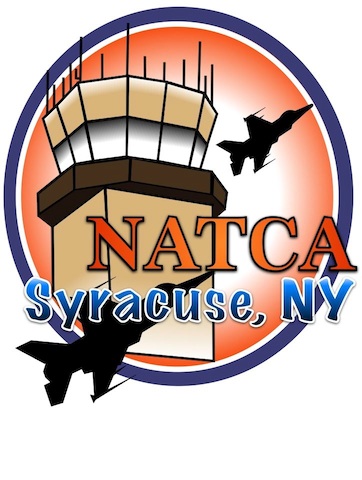 SYR NATCA SYR member Brendan Cowley designed the current SYR NATCA logo, paying tribute to the Guard's F-16s. The F16s were replaced by the MQ-9 Reaper Drone, which has taken flight over central New York and around the globe.
SYR is a 24-hour, level six tower/approach facility located in central New York. The facility was consolidated with Griffiss Approach Control (Rome, N.Y.) in February 2010, which resulted in double the amount of radar airspace for SYR controllers to work. The SYR NATCA members consist of 19 Certified Professional Controllers (CPCs) and nine trainees. Due to the Imposed Work Rules implemented in 2006 under former FAA Administrator Marion Blakey, SYR lost about 11 senior controllers in one year and has since been a training facility.
The city of Syracuse averages 121 inches of snowfall per year due to lake-effect snow that comes off of Lake Ontario, making it the snowiest large city in the United States. The snowfall presents quite a challenge for the SYR controllers, as zero visibility from driving snow sometimes lasts for a day or more. SYR doesn't have any surface detection equipment, and during the heaviest of snow squalls Facility Representative Andy Flynn says it's difficult to see well when looking out the tower windows.
SYR is home to a mix of traffic from heavy cargo jets, to air carriers, to general aviation of all kinds. It's the divert airport of choice for airlines inbound to the New York City metro area. Military tanker/cargo aircraft visit SYR and Rome (RME) airports frequently for practice approaches and tower pattern work.
The current SYR tower was commissioned in January 2000. The airport was one of two initial test sites for Standard Terminal Automation Replacement System (STARS), and it was recently selected as one of five midsize airports nationwide to receive Required Navigation Performance with Authorization Required (RNP AR) approaches.
Flynn says that NATCA members at SYR take advantage of the abundant outdoors activities of central New York. The surrounding lakes and waterways provide a great opportunity for NATCA members to fish and boat during the warmer months, and ice fish during the winter. Ten feet of annual snowfall is a boon for members who also like to snowmobile and ski. Flynn added that when schedules permit, quite a few of the members get together after evening shifts and play pick-up hockey games at a local rink.
The SYR NATCA local has also started a tradition of having a yearly Christmas party for its members and guests.
Of working at SYR Flynn says, "My favorite part about working at Syracuse Tower is doing the job I love in the city I was born."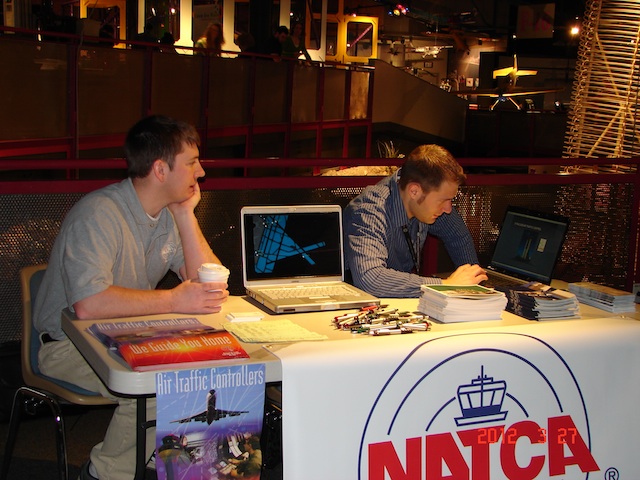 SYR NATCA members Darrick Anderson (left) and Chris Schrieber (right) put together a great display for a local area high school career day this past March.