NATCA Charitable Foundation (NCF)
Welcome to NCF!
The NATCA Charitable Foundation (NCF) is a nonprofit 501(c)(3) corporation that works to make a difference in the lives of many. NCF has no paid employees and continues to be a 100% volunteer organization of all ages and professions. This keeps costs down and helps ensure donations make a difference to those most in need. NCF's philanthropic efforts stretch across the country. NCF seeks out areas of need that go un-funded or are missed through other donor drives. It seeks out smaller charities that help the underserved in the communities where NATCA members live and work. Across the country, through NCF, NATCA members and their family and friends give and volunteer to make a big impact and help bring smiles to those in need. Find out more about us and Help us make a difference and donate today!
Our Programs
NCF to seek out areas of need that go unfunded or are missed through typical donor drives. We seek out organizations that help the underserved. Across the country, NATCA members, friends, and family volunteer to help bring smiles to those in need. Please contact us with any questions about our programs.
View our 2020 Charities by State

Alaska
Mountain View Boys and Girls Club

Arizona
Empowerment Through Sports

California
Shelter to Soldier
River Oak Center for Children
Assistance League Palm Springs
Trevor Project

Colorado
Denver Rescue Mission
Project C.U.R.E.
St. Vrain School System

Delaware
Food Bank of Delaware
Delaware Breast Cancer Coalition, Inc.

Florida
Angel Flight SE
Family Resources
Fish with a Hero
Folds of Honor
Foar From Home
ChildNet

Georgia
Charlie Bates Astronomy Foundation
Barbells for Boobs

Hawaii
Kapi'olani Health Foundation
Rotary Club of Pearl Harbor

Illinois
Camp Quality USA Illinois

Indiana
Special Olympics Indiana
Angel Anonymous of Indiana

Iowa
Knox Blox Foundation

Kansas
Kids TLC

Louisiana
DesOrmeaux Foundation
Hearts of Hope
Faith House
VFW of Louisiana for Louisiana DCFS

Massachusetts
National Multiple Sclerosis Society
Woburn Council of Social Concern
Catie's Closet
Forgotten Angels Shelter, Inc.

Michigan
Fisher House Michigan
Children and Family Services of Michigan, Inc.
The National Society of Daughters of the American Revolution-Rebecca Dewey Chapter

Minnesota
ZMP Childcare Board
Crescent Cove
Finnegan's Community Fund
Children's Defense Fund Minnesota
360 Communities

Mississippi
East Mississippi Veterans Memorial Foundation

Nevada
Three Square
The Nature Conservancy
Project 150

New Hampshire
End 68 Hours of Hunger
Girls Inc.
Nashua Children's Home
Family Promise of Greater Nashua at Anne Marie House

New Jersey
Cuddle Me Program
Community Food Bank of NJ
Just One Neighborhood Program

New York
National Hemophilia Foundation
Lustgarten Foundation
Island Harvest
Branches Long Island
The Butterfly Project

North Carolina
The Bicycle Man
Victory Junction
CROSSED: The Youth Law Center
The Salvation Army of the Sandhills Region
Friends of Hamlet
First Ward Community Fund
Parkton Presbyterian Church Backpack Drive

Ohio
Maryssa's Mission Foundation
Stowe Mission of Central Ohio
Downs on the Farm
Neighborhood Alliance
Honor Flight
Toys for Tots
Summit County Children's Services

Oklahoma
Challenge Air

Oregon
Sunshine Division
Paws Assisting Veterans (PAVE)
Schoolhouse Supplies
Oregon Dog Rescue

Pennsylvania
Big Brothers Big Sisters Independence Region
Alpha Bravo Canine
Toys for Tots
Horses with Hope

South Carolina
Justin Pepper House

Tennessee
Forrest Spence Fund

Texas
Houston Food Bank
El Pasoans Fighting Hunger
Riding Unlimited
Snowball Express
Purple Heart Elementary
National Ovarian Cancer Coalition
BEAR (Be a Resource for CPA Kids)
El Paso Children's Foundation
6 Stone
Kids Matter International
Montana Vista Elementary School
Child Advocates

Utah
Sippy Cups & Chardonnay

Vermont
The Family Place

Virginia
Winchester Rescue Mission
Guidance Resources for Independent People (G.R.I.P.)
K-9 Caring Angel

Washington
Leap for Lupus
Bonney Lake Community Resources
Santa's Posse
Ronald McDonald House
American Legion Northport
Communities in Schools of Puyallup
Communities in Schools of Washington

Wisconsin
Salvation Army Manitowoc

Puerto Rico
Hogar Cuna San Cristobal
Golitos Foudacion

District of Columbia
USASOA
K-9 Caring Angel
Community of Hope
Our Sponsors
Sponsorship Levels: Diamond Sponsor – $5,000 | Platinum Sponsor – $3,000 | Gold Sponsor- $2,500 | Silver Sponsor – $1,500 | Bronze Sponsor – $750
Our Diamond Sponsors

Fort Worth Center (ZFW)
Leidos
NATCA National
Raytheon
SAIC
Seattle Center (ZSE)
SkyOne FCU
Our Platinum Sponsors

Boston Center – ZBW
Butch and Betty Cooper
John and Trish Gilbert
Houston Center (ZHU)
Indianapolis Center (ZID)
Kissimmee FCT (ISM)
Kristen Laubach
Los Angeles Center (ZLA)
Miami Center (ZMA)
Minneapolis Center (ZMP)
New York Center (ZNY)
John and Illeana Olinger
Paul and Debra Rinaldi
The Rhodes Family
Kelly and Amanda Richardson
Washington Center (ZDC)
Our Gold Sponsors

Aireon
Betsy Beaumont
Chris and Becky Boughn
CSSI
Jeff and Yevette Woods
Our Silver Sponsors

Atlanta TRACON (A80)
Corrie Conrad
Denver Center (ZDV)
Houston TRACON (I90)
Jacksonville Center (ZJX)
Kansas City Center (ZKC)
Andrew and Anna LeBovidge
Miami ATCT (MIA)
Northern California TRACON (NCT)
Prospect ATCOs' Branch U.K.
David Romano
Brad and Kristena Starkey
Jeff Wonser
Our Bronze Sponsors

Anchorage Center (ZAN)
Jason Arnold
Matthew and Peach Baugh
Kimberly Beckett
Jason Boyde
Devin Carlisto
Jimmy and Miriam Clouse
Dallas/Fort Worth ATCT (DFW)
Denver TRACON (D01)
Scott and Dina Earl
Bob and Robin Hill
Natalie Foster
Lisa and Rick Fulford
Sean and Tara Groceman
Joshua Hollands
Dion Johnson
Los Angeles ATCT (LAX)
Aaron McCrea
Kyle McHugh
Randy L. Moore Jr.
John and Erin Murdock
Jerry and Elena Nash
New Bedford Panoramex (NBP)
Oakland Center (ZOA)
Ashley and Annie Olsen
Southern Insurance Group
Sandra Tighe
Travis Weber
Wilmington ATCT (ILG)
Host a Charitable Event!
Through individual donations and fundraising, the NCF has funded a variety of projects and programs in our continued mission to assist and benefit the underserved of the communities in which we live. Follow the link provided below for the request form for marathons, runs, concerts, and other event Sponsorships. We appreciate your suggestions and review each request received.
About NCF
Who We Are

NCF – Get to know us!

The NATCA Charitable Foundation thrives on seeking out areas of need that go un-funded or are missed through typical donor drives. We seek out organizations that serve a similar purpose, to help the under-served. Across the country, one program at a time, NATCA members, friends and family all volunteer to help bring smiles to children and adults in need. Our programs vary from year to year. This link reflects a list of our most current programs. The smiles and cheers from the many we assist make any number of volunteer hours a worthy endeavor. Please contact us with any questions about current or new programs. We love to hear from our supporters as we continue to make every dollar count!

Executive Board/NCF Team

Directors:
Kimberly Beckett
Jason Boyde
Trish Gilbert
Bob Hill
Elisa Muise

Officers:
Corrie Conrad – President
Robin Hill – Vice President
Kristen Laubach – Secretary
Betsy Beaumont – Treasurer

Events Committee:
Jason Boyde – Chairman
Jackie Babenco
Kimberly Beckett
Kaitlynn Cornett
Kristen Lewandowski
Victoria Taggio

**Please email NATCA Charitable at natcacharitable@natca.net for any questions regarding financial information.**
NCF News
Purchase NCF COVID-19 Relief Coins
At the end of last summer, with crazy schedules and uncertainty regarding the future of aviation, Houston TRACON (I90) member Andrew Stachowiak began to think about the impact that COVID-19 has had on us all. He recognized a need to honor the hard work and dedication that has pulled the aviation community through this pandemic. Whether at home or at work, everyone played a role to help keep each other safe.

Stachowiak thought the best way to capture this moment of pain, suffering, sacrifice, and loss in a positive and hopeful light would be through a challenge coin. The idea being that anyone who purchases one of these coins will reflect on it with ultimate pride and reverence.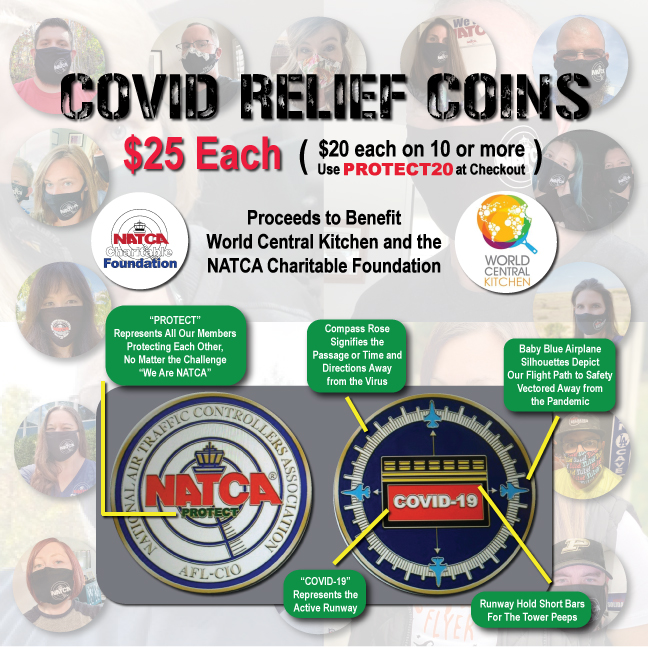 To help make a difference in the lives of others who were not able to keep their jobs or are struggling to meet their basic needs, proceeds from the purchase of this coin will benefit the NATCA Charitable Foundation and World Central Kitchen.

May this memento remind you of NATCA's continued unity and symbolize our ability to persevere, even through the toughest of times.
Click here to purchase your Challenge Coin.
NCF Concludes Successful Steps Challenge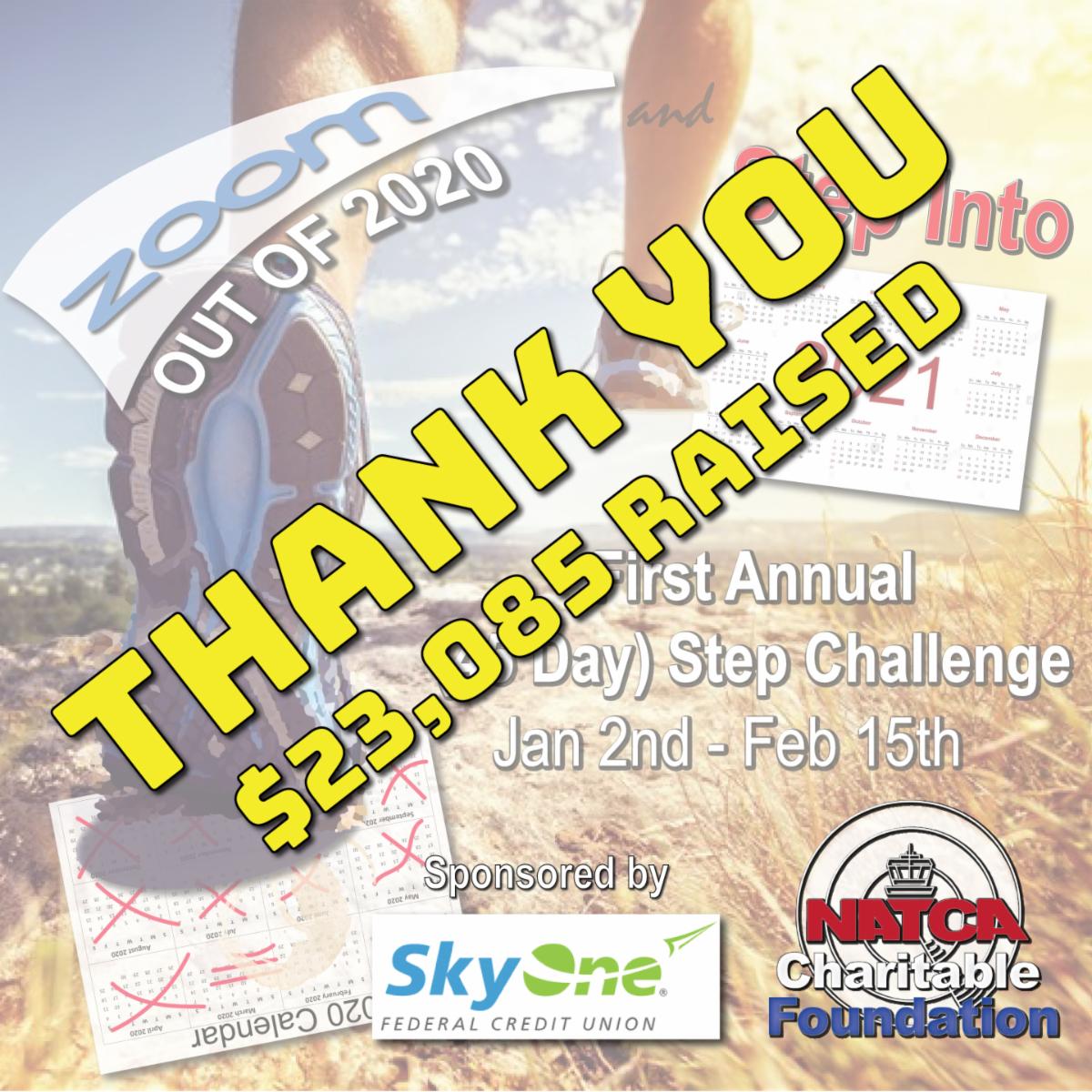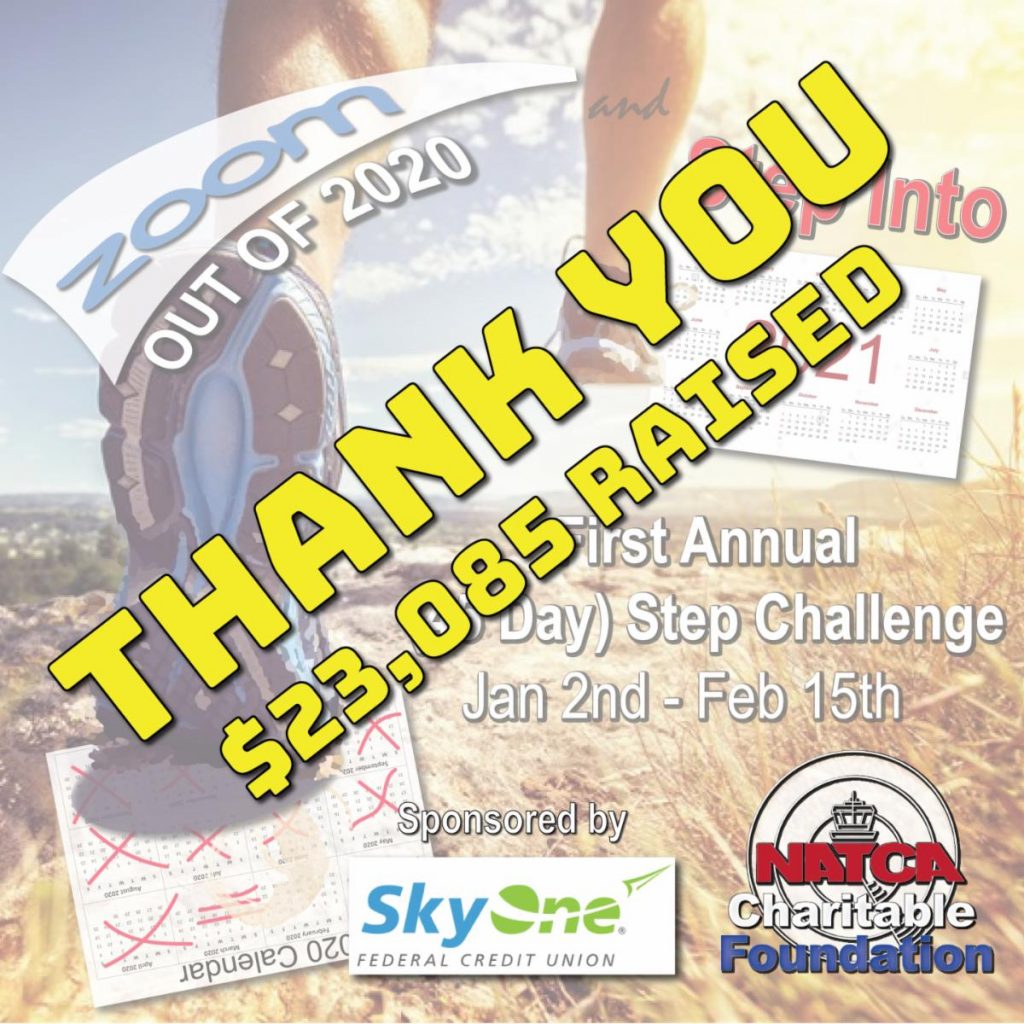 The NATCA Charitable Foundation's (NCF) First Annual Step Challenge ended on Monday, Feb. 15. Thank you to everyone who participated to support NCF. We raised over $23,000 and had over 800 steppers in this challenge. Steppers walked a total of 360,035,584 steps and 164,701.22 miles. We had 45 steppers walk over one million steps in 45 days. "When we set up the challenge and capped the steps at 40,000 per day, we never imagined people would not only meet this challenge, much less exceed it every day for 45 days," said NCF President Corrie Conrad.
Two steppers – Atlanta TRACON (A80) member Yuri Force and Fort Worth Center (ZFW) member Chris Thompson – walked over 40,000 steps every day of the step challenge (the maximum allowed per day) and tied for first place. Since a tie-breaker was not announced, both steppers are receiving the first place prize, a $600 Visa gift card. Congratulations to Force and Thompson, who each totaled 1,800,000 steps. The third-place stepper – El Monte ATCT (EMT) member Nastran Yousefi (1,795,420 steps) – was not far behind and will receive a $200 Visa Gift Card.
Seventy-two teams competed against one another in friendly competition for top average steps per day.
Congratulations to Spokane ATCT (GEG), taking first place in the Team Challenge, with an average step count of 26,650 per day. They will receive $2,000 to donate to their charity of choice, a trophy to try to defend in 2022, and major bragging rights.
Congratulations to A80 for taking second place with an average of 17,611 steps per day. They will receive $1,000 to donate to their charity of choice along with bragging rights.
"Thank you to everyone who participated and donated," said Conrad. "And thank you to SkyOne Federal Credit Union for sponsoring the Step Challenge. We are looking forward to the NCF's next Step Challenge in 2022!"
NCF Announces its Elena Nash Community Volunteer of the Year Award Winner, Krissy Lewandowski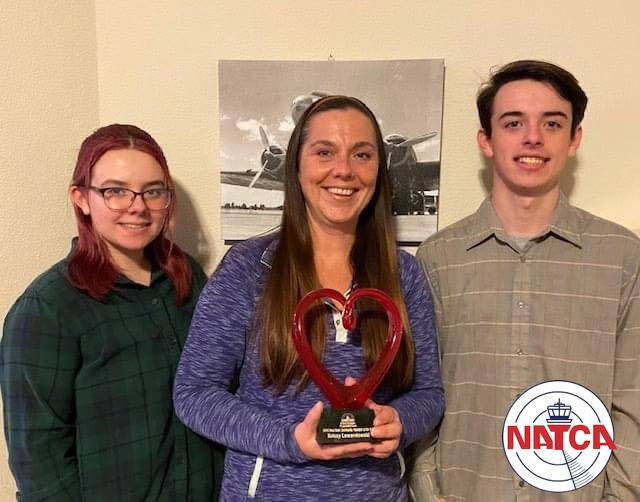 The NATCA Charitable Foundation (NCF) created the Elena Nash Community Volunteer of the Year Award in 2018, in honor of its former president. This award is given to a deserving individual who volunteers and helps make a difference in his/her community and in the lives of others.

Congratulations to Portland TRACON (P80) member Krissy Lewandowski. Prior to the ongoing pandemic, she and her family volunteered at least once per month at different charities around Portland, Ore. and Vancouver, Wash. She and her husband, Steve, teach and instill these thoughtful actions and values into their two children, Clara (18) and Nate (16). They help organize and participate in every backpack and holiday program P80 hosts.

"Not only is she amazing and compassionate, but she continues to be an incredible example of the importance of giving back to the community and so many others," said NCF President Corrie Conrad. "It is for this reason that the NCF Board voted unanimously to choose Krissy as the Elena Nash Community Volunteer of the Year."
NCF Announces its Cathy Meachum Volunteer of the Year Award Winner, Kim Beckett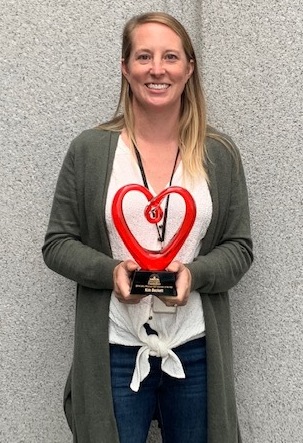 The NATCA Charitable Foundation (NCF) was founded Aug. 15, 1994, by a small group of dedicated volunteers in Fort Worth, Texas. They had a passion for helping others and making a difference to those in need. Nearly three decades later, that vision lives on. NCF could not do this amazing accomplishment alone.

The Cathy Meachum NCF Volunteer of the Year Award recognizes someone each year that embodies everything the charity represents. NCF is a volunteer army, and this award recognizes a volunteer who goes above and beyond for NCF throughout the year.
"When the NCF Board met last year, there was no question who was deserving of this award," said NCF Chair Corrie Conrad. "This individual shows up at the beginning of an event and is one of the last to leave. She consistently asks, 'What can I do? Is there anything else that needs to be done? Does anyone need help?' She works tirelessly with a ridiculous work ethic, while constantly making us laugh. Her infectious laugh can be heard across the ballroom at events. She reminds us that even when we are exhausted, there's always time to smile. She has a heart of gold with concern for the success of this charity. She is always focused on how we can be better and how NCF can leave a positive print on our world. We are blessed to have this amazing woman volunteering her time, energy, and passion, to further the cause of NCF, making a difference.

"It is with great pleasure that we recognize Portland TRACON (P80) member Kim Beckett as NCF's Volunteer of the Year. Congratulations Kim!"
History

In August 1994, Darrell Meachum, a Fort Worth Center controller, hoped to pool the efforts of many NATCA locals that ran charity fundraisers and bring recognition to the air traffic control profession. His wife Cathy, a dental hygienist with a background running auctions for the American Cancer Society, shared his passion.

Their solution? Form an organization that highlighted the incredible charitable work air traffic controllers were already doing and give them an avenue to expand. They called it the NATCA Charitable Foundation (NCF). Originally incorporated in Texas, the organization expanded to Florida in 2001, and to Georgia the next year. The long-term goal was to make it a nationwide entity, but in measured steps to prevent a good idea from "crumbling under its own weight due to poor implementation," said Darrell, who also served as NATCA's Southwest Regional Vice President from 2003-09.

Darrell and Cathy Meachum

That type of far-flung expansion is something some never imagined possible when he envisioned the foundation, but just six years after its creation, the foundation raised more than $17,000 at the 2000 Biennial Convention in Anchorage. As NCF President, Cathy Meachum would go on to mentor Elena Nash, who served as NCF President from 2011-2017, only recently passing the baton this year to new NCF President Corrie Conrad.

NCF quickly became a success and NATCA officially recognized Cathy's ongoing efforts with an honorary lifetime membership. It was the first time NATCA bestowed the tribute on someone wholly outside the air traffic control profession. Cathy, who'd been an associate member for 7 years, was in shock, saying it is an honor beyond expression.

"They're amazed at how far we've come and how much we've accomplished," Cathy Meachum said. "They didn't think it was feasible to get a bunch of people to do all this work by volunteers only."

The absence of paid staff members enables NCF to donate nearly 96 percent of the money it raises. In the 1990s, a core group of about 20 volunteers ran the organization, including satellite offices in Houston, Texas, Jacksonville, Fla., and Peachtree City, Ga. In 2001, the foundation gave $43,000 to more than two-dozen charities and families across the country. NCF income has grown steadily since then — with a total of $153,575 in charitable donations by the end of 2001 to $200,000 of charitable donations in 2016 — focusing on areas that aren't being met by other charities.

For the Meachums, giving back to their communities was always the driving force behind everything they did.

Shortly before Christmas 2000, Darrell Meachum and a colleague hefted a dilapidated table up a flight of stairs to a two-bedroom apartment in a low-income suburb northeast of Fort Worth, Texas. Cathy and their volunteer helper had driven 40 miles to retrieve the item from the donor's outdoor porch. Its weather-beaten condition made them shake their heads in dismay. Grime covered the white Formica top and splotches of rust were corroding the metal trim and legs.

It belonged in a dump.

But the trio did their best to wipe off the dirt before setting out to deliver it to a single mother and her three young boys. They were one of several families "adopted" that holiday season by the NATCA Charitable Foundation, a tradition that continues today at many facilities across the country.

While maneuvering the table into the apartment, they noticed that the only furniture outside the bedrooms consisted of a shabby couch and a small television sitting atop a nightstand. They made three more trips to lug in a donated microwave, pots and pans, a laundry basket full of toiletries, and two armloads of holiday gifts — under the ecstatic gazes of the youngsters and their mother.

As soon as the table and four vinyl-padded chairs were positioned in front of a window near the kitchen, the boys jumped onto their newfound seats. Beaming, they set their hands on the table as if holding forks and knives.

"Look, ma, a table," they exclaimed.

"Can we have a meal at our table?"

The mother was speechless.

Such scenes are one of the most rewarding aspects of the NATCA Charitable Foundation. Cathy Meachum said recipients "inevitably are crying because they're so happy and we're just beside ourselves."

NCF volunteers at Communicating For Safety 2017 with NCF Cathy Meachum Volunteer of the Year award winner Dina Earl. The award was named in honor of Cathy in recognition of her lifelong support of NCF.

NCF has always put in a lot of effort in choosing which charities to support, hoping to make the biggest impact. A Dallas-area shelter for abused women, which regularly needs undergarments, towels, and art supplies for children, who often use creative outlets to deal with their emotional trauma was an early beneficiary of those efforts. NCF also favors helping children who are disadvantaged, disabled, and terminally ill, along with national charities such as the American Heart Association, Cystic Fibrosis Association, and Habitat for Humanity.

Visiting terminally ill children and disadvantaged people surviving on the edge of poverty can be uncomfortable, Darrell Meachum said. But, he adds, "You know that you've done something for the good of the community and that you've given something back in the name of your profession and your union."

Cathy Meachum noted that persuading detail-oriented controllers to donate is sometimes a challenge.

"They want to know the full picture before they commit to anything," she said. "But once they see it, they jump in full body. They are overwhelmingly generous."

From its humble beginning, the Meachum's legacy continues to be felt and honored today, with NCF naming it's annual Volunteer of the Year Award after Cathy, awarded at Communicating For Safety every year.

NCF is a non profit 501(c)(3) Corporation with supporters and programs across the country. Today, it continues to be a 100 percent volunteer organization with volunteers of all ages and professions. They are proud that their operating expense ratio has remained below five percent since being established in 1998.