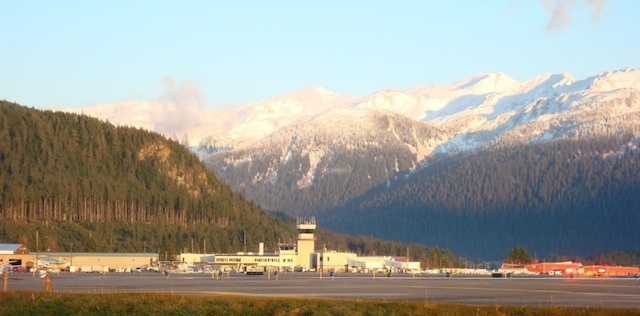 August 31, 2012 // Facility Spotlight: Juneau, Alaska
Located in the capital city of Alaska, Juneau Tower (JNU) is a facility with 13 members, which is constantly changing due to the high turnover rate. But don't let this small 100 percent NATCA facility fool you; these members have their work cut out for them.
Juneau is a city of about 30,000 people, but multi-day cruises bring in a third of their population, with tourism drawing 10,000 visitors daily. The glaciers in Juneau are one of city's most popular attractions, and tourists can visit these ancient accumulations of floating ice by traveling in helicopters that come in and out of JNU frequently throughout the day.
Complete with a runway for airplanes, Juneau International Airport also has a small pond for floatplanes. Floatplanes are a common form of air travel in Juneau.
"Although our pond is not as busy as Lake Hood in Anchorage, a decent amount of our traffic comes from there," said JNU Facility Representative Scott Lenord. "The planes take off and land in the center of the pond and taxi out on the edge."
Like most cities in Alaska, there are periods of weather that are sometimes impossible to fly in. Juneau's mix of snow and rain makes for some difficult weather, complete with heavy fog and slippery grounds. The worst of their weather season is from November to March, and during that time, traffic is very slow.
Between 300-700 flights fly in and out in the summer, and up to 150 in the winter. And with winter fast approaching, traffic will eventually begin to die down at JNU. After winter passes, JNU and seasonal pilots get together annually for a dinner party to get acquainted with one another as aviation professionals.
"We try to do this sometime in April or May, and we always have a really good time," said Lenord. "It's nice to put a name to a face and voice. We're looking forward to our next one."