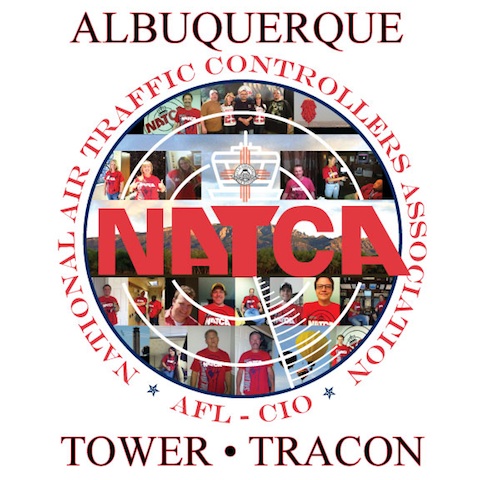 September 14, 2012 // Facility Spotlight: Albuquerque, New Mexico
Air traffic controllers working at the Albuquerque Tower/TRACON (ABQ) deal with a lot of hot air. That is, hot air balloons.
Every October, the 35 NATCA members at ABQ take on a unique air traffic control challenge that possibly no other facility in the country encounters. They have to guide aircraft around as many as 750 hot air balloons during the 10-day Albuquerque International Balloon Fiesta.

NATCA ABQ Facility Representative Andreas Sanchez said, "It is a view like no other when working the tower!"
The five trainees and 30 Certified Professional Controllers (CPCs), including a member of the ATSAP Analysis team and a member of the Regional LMR team, say that ABQ has other unique challenges. These include guiding aircraft away from the terrain at the end of the departure runway and managing general aviation aircraft during the several visits a year ABQ receives from President Obama and other VIPs.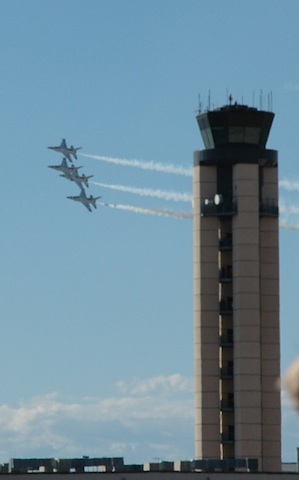 ABQ is a level 8, 24-hour facility. It's open 24 hours largely due to the fact that the airport is shared with Kirtland Air Force Base, making for a wide variety of aircraft arriving and departing each day. Military aircraft includes fighter jets such as F-16s, F-18s, and T-38s. Also based at ABQ are H-60s, UH-1s, military helicopters, CV-22 Osprey, C-17s, and C-130s. ABQ is also home to a few companies of lifeguard planes and helicopters.
In addition there are also two flight training schools at the airport, which have general aviation Cessna planes. Last, but not least, ABQ works with air carriers, including B-737s, B-747s, B-757s, MD-80s, MD-90s, A-320s, E-170s, and E-190s.
When they aren't studying all the different types of aircraft they work with, NATCA ABQ members try to get together as often as possible. Recently the facility held a "NATCA Day" at a ballpark, where members and family came out to enjoy a game together.
In their free time, NATCA ABQ members partake in many activities the Albuquerque High Desert has to offer, including hiking, marathons, rodeo, trail riding, and sport fishing.
Sanchez said that ABQ is an "awesome facility" to work at because everyone respects and helps each other out when it's needed, and there is an all around collaborative attitude, including from upper management.
"Having the opportunity to be the FacRep here has given me an insight to our Union and how great it truly is!" Sanchez said. "I think every member should get active at some point in their career."
"Even if it is to go to a convention or even better, a NATCA training," he continued. "You see that our Union is so much more then just the local."