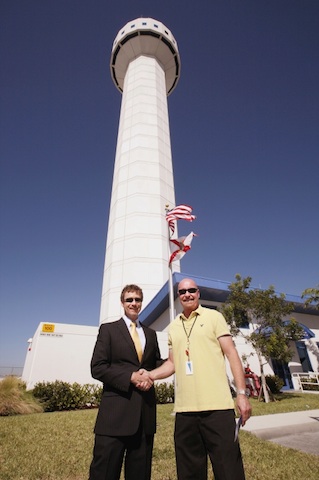 October 18, 2012 // Facility Spotlight: Opa-Locka, Fla.
The five NATCA members at Opa-Locka Federal Contract Tower (OPF) are preparing to leave.
On November 1, they are scheduled to move from their small, 40-foot temporary tower to a new tower that is 226 feet tall. They've been in the temporary tower for six years, so the move-in date can't come soon enough.
NATCA OPF Facility Representative Rick Price said, "A special thanks to NATCA, and in particular to NATCA Executive Vice President Patricia Gilbert, for helping to make the move more comfortable."
Five of the seven fully certified air traffic controllers working at OPF are NATCA members. Based on operation numbers, OPF is approximately an ATC-Level 6 facility, although Price says it's difficult to quantify the facility level as the Federal Contract Tower (FCT) program has a "one size fits all" system. OPF operates from 7 a.m. until 9 p.m., seven days a week. The controllers work almost exclusively with controllers at Miami Approach Control, with some coordination from controllers at Miami Center (ZMA), and at NATCA FCT Hollywood-North Perry Tower (HWO).
OPF handles a wide variety of aircraft. There are several flight schools located at the airport, thus the most significant amount of OPF's daily traffic consists of small, single-engine traffic. Additionally, OPF controllers handle numerous corporate jet operations, many of which are international flights to the Caribbean and South America. Everything from large, air carrier-type aircraft to the smallest experimental planes fly at OPF. Also, the busiest U.S. Coast Guard Station in the country is located at OPF.
OPF is located approximately six miles north of Miami International Airport and about 12 miles from the Atlantic Ocean. Due to its location, OPF deals with many special events that call for "all hands on deck" responses. Miami and Fort Lauderdale are popular vacation destinations, and November through April is a significantly busy time for OPF. The Fort Lauderdale and Miami boat shows add to OPF traffic, along with the occasional NFL Super Bowl and college football's annual Orange Bowl. Additionally, this year's college football 2013 Bowl Championship Series (BCS) National Championship game will add a huge amount of traffic.
Weather challenges for OPF include thunderstorms, torrential rains, high winds, and the occasional hurricane. The OPF airspace is about a five-mile circle around the airport and up to 2,000 feet. The biggest challenge for OPF controllers is the mix of fast jet traffic with helicopters and slow training aircraft. The language diversity of the many foreign pilots is also a challenge.
Located so close to the ocean, the city developed by aviator Glenn Curtiss and originally named "Opa-tisha-wocka-locka," offers a wide variety of activities for OPF members, including boating, golfing, fishing, and beach excursions.
As for NATCA-related activities, Price said that the nature of the FCT system makes it difficult for the OPF local to hold get-togethers since typically two of the five NATCA members are off work at any given time. But, Price said the NATCA Facility Representatives at Miami Tower (MIA) and ZMA are great about inviting the OPF local to their events.
Price said, "Props to Jim Marinitti and Steve Wallace!"
Price truly enjoys working at OPF, and he feels privileged to be the NATCA Facility Representative.
"I retired from the Atlanta TRACON in 2006 and have been involved in NATCA since it's inception," said Price. "We have an awesome group here. Our manager, Gary Barton, is great to work with as well."