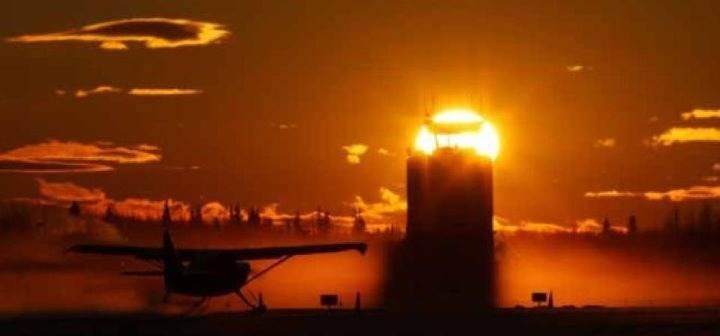 November 29, 2012 // Facility Spotlight: Fairbanks, Alaska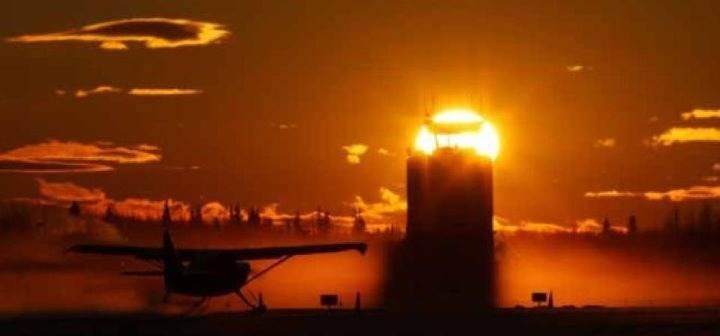 Located in the largest city in the interior region of Alaska, Fairbanks Tower (FAI) is a 100 percent NATCA membership facility. There are 22 NATCA members, comprised of 15 Certified Professional Controllers (CPCs), six trainees, and one Staff Support Specialist. FAI NATCA Facility Representative Brett Lystad said that although the facility is reaching a sustainable CPC level, they are still shorted-staffed, something that has been an issue for a long time at FAI.
"We currently have five CPCs getting released over the next year, and we should be able to certify seven," said Lystad. "The summer of 2013 should be the first since the White Book days that we will not need TDY (Temporary Duty) controllers. We dipped to nine CPCs at our lowest staffing."
This Level 7 up/down tower is open 24 hours. The FAI NATCA members work with Anchorage Center (ZAN), Fairbanks Automated Flight Service Station (AFSS), Eielson Air Force Base (EIL), and Ladd Army Airfield (FBK). FAI controllers see a diverse mix of aircraft in the traffic they guide, with general aviation (GA) being about 60 percent of all air traffic, air taxis being about 30 percent, and air carriers being about 10 percent. They also guide FBK Kiowas, Blackhawks, and Chinook helicopters along with EIL's F16s and KC135 air refuel tankers.
Controllers at FAI see a heavy flow of traffic in the summer, but traffic drops during the coldest winter months – December to March. Lystad said polarized traffic flows and closely spaced parallels compound the busy summer months; FAI's air traffic services many cities and villages to the west of Fairbanks, and the airport has an air carrier runway, a GA runway, a float pond, and a gravel strip. Lystad said controllers at FAI are constantly mixing large and heavy aircraft with Piper Cubs, which are small, simple, and light aircraft. Lystad said that hunting season is without a doubt the busiest time of year for FAI. The season typically begins in August and runs through the end of October.
"Every hunter with a plane begins preparations no later than August," said Lystad.
As a city with a climate typically classified as "subarctic," it's not surprising that Lystad said Fairbanks is an extreme place. In the summer, there are nearly 24 hours of daylight and hot weather. Even after sunset in a Fairbanks summer, it is still bright enough for daytime activities. In the winter, there are 20 hours of darkness and extremely cold temperatures. During the winter solstice, Fairbanks sees less than four hours of sunlight and it gets so cold that the air cannot absorb additional moisture, so the water freezes into microscopic crystals that suspend in the air, forming ice fog.
"Its negative 30 degrees Fahrenheit as I type," said Lystad.
With the Chena River winding through the city until it empties into the Tanana River, and the White Mountains towering just north of the city, Fairbanks offers plenty of recreation – besides hunting – for FAI NATCA members. To name a few, they can hike, bike, run, ski, snow board, cross country ski, snowshoe, rent a dog sled, snowmobile (referred to in Fairbanks as "snow machine"), or curl. They can also sit back and watch the aurora borealis, appearing on average more than 200 days per year in the Fairbanks area.
Lystad said there is always something to do in Fairbanks, and always someone who will join you for the activity. Making friends is a priority for the NATCA members working at FAI.
"Fairbanks is a tight-knit community, something easily learned if you have car trouble at negative 50," said Lystad.