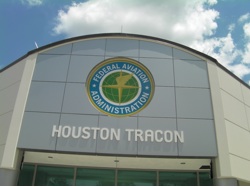 December 13, 2012 // Facility Spotlight: Houston TRACON
Everything's bigger in Texas, and the airspace this TRACON covers is no exception. One of the unique things about Houston Intercontinental TRACON (I90) is that it's one of the only stand-alone TRACONs in the country with airspace that is nearly 200 miles across.
"Because of the size, we use STARS radar data in fused mode," said I90 Facility Representative Dylan Hodgson. "This FUSION display allows us to provide terminal separation from multiple radar sources on one display."
I90 boasts 105 employees and 100 NATCA members. There are 73 Certified Professional Controllers (CPCs), 20 trainees, five Traffic Management Coordinators (TMCs), five Staff Specialists, and one full-time Article 48 Temporary Duty DC.
I90 NATCA members work with controllers at Houston-Hobby Tower (HOU), David Wayne Hooks Memorial Airport Tower (DWH), Lone Star Executive Airport Tower (CXO), Scholes International Airport at Galveston Tower (GLS), Sugar Land Regional Airport Tower (SGR), Ellington Field Airport Tower (EFD), and Easterwood Airport (CLL). They also work with Austin Approach (AUS), Lake Charles Approach (LCH), Killeen-Fort Hood Approach (GRK), Dallas Fort-Worth Center (ZFW), and Houston Center (ZHU).
Hodgson said much of the facility's air traffic is scheduled air carrier operations, but because of the facility's location on the Gulf Coast, I90 receives a fair amount of general aviation traffic following the coast. The majority of I90's air carrier traffic is from United Airlines and Express (Boeing 737s, 747s, 757s, 767s, 777s, 787s, the Dreamliner, E145s, E135s, A319s, 320s). They also work with the Lufthansa A388 on a daily basis, along with Southwest Airlines, which has a hub at HOU. He also said that they work every imaginable business jet, and since NASA has a training base at EFD, I90 controllers work many T38s and WB57s for them.
Located on the Gulf Coast, I90's weather is mild to hot year-round. Hodgson said the summers are filled with almost daily severe thunderstorms, which build and dissipate rapidly, and the winter mornings sometimes begin with heavy ground fog. Luckily, I90 rarely encounters icing issues.
Hodgson noted a few unique aspects of working at I90, beyond being one of the only stand-alone TRACONs to handle such a large airspace. He said that since petroleum production is the biggest business in Houston right now, every major company in the industry has several private jets flying in and out of Houston daily.
"About one-third of our traffic is international," said Hodgson.
Hodgson added that I90 NATCA has a team working on the Optimization of Airspace and Procedures in the Metroplex (OAPM). By next year controllers will be working Optimized Profile Descents (OPDs), and in a new TRACON building.
"The FAA is in the final stages of constructing our new home," said Hodgson. "We will be moving into a new building, located nearby, next September."
The workload for I90 NATCA members can be challenging throughout the year, as Houston has professional football, baseball, basketball, and soccer teams, four Division I universities in its airspace (University of Houston, Texas A&M, Rice, and Texas Southern), and the TRACON borders and has tower/en route operations with Austin (University of Texas) and Waco (Baylor). Adding to their impressive resume of air traffic, I90 NATCA members have directed traffic through a Super Bowl, a World Series, a Final Four tournament, several college bowl games, Houston's annual Offshore Technology Conference, and a booming annual hunting season. Hodgson said that the oil industry trade show brings hundreds of extra flights per day and that hunting is such a popular pastime that the first few weekends of deer season are among the busiest all year for general aviation.
Beyond the sports teams and hunting season, there is plenty for I90 NATCA members to do while living in the fourth largest city in America. To name a few, there are several world-class golf courses, a theater district, a museum district, NASA's Space Center Houston, the Houston Zoo, and the downtown aquarium. Outdoor enthusiasts can enjoy one of the over 300 parks Houston offers, along with fresh and salt-water fishing, and camping. Hodgson said there are miles of bike and running trails around town and that the fine dining and nightlife are as good as any in the country.
When they're not enjoying Houston's many outdoor activities with family and friends, I90 NATCA members are the company of their brothers and sisters at I90, along with those working at ZHU and at George Bush Intercontinental Airport Tower (IAH). Hodgson said last year all three NATCA facilities' locals partnered and hosted the first annual Houston Area Crawfish Boil.
"This was a great success with over 100 attendees and 600 pounds of mud bugs meeting their demise," Hodgson said.
Hodgson also noted that I90 NATCA members have a good time at the facility, in part due to the young workforce. There are currently 25 controllers in training and about 50 percent of the controllers at I90 have less than 10 years with the FAA.
"Their energy and enthusiasm has helped our recovery from "White Book Blues," said Hodgson. "As soon as someone checks out, they come to me to ask what they can do for NATCA. "
Hodgson added that the enthusiasm of I90 members continues to be so high because the NATCA National Executive Board is committed to encouraging, motivating, and keeping future NATCAvists.
"We send several people per year to NATCA training," said Hodgson. "Last year we were able to send nine to CFS, seven to convention, and two to rep training."