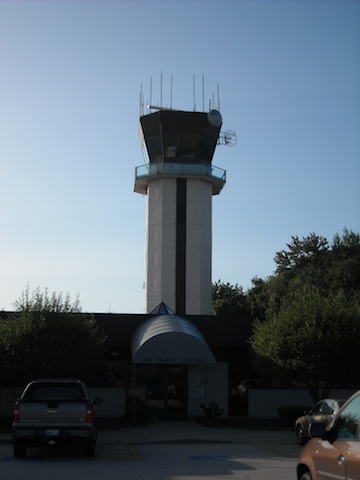 January 17, 2013 // Facility Spotlight: Providence Tower/Approach Control
Providence Tower/Approach Control (PVD) is a 100 percent NATCA membership facility on the controller workforce side. In addition, PVD has three staff specialists, of whom two are members.
The level 7 facility, located at T.F. Green Airport in Warwick, R.I., is open 5:30 am to 12:30 am EST, seven days a week. There are three facilities in PVD's airspace and in its control: Groton-New London Airport (GON), Quonset State Airport (OQU), and New Bedford Regional Airport (EWB). PVD air traffic controllers also work with those at New York TRACON (N90), Cape TRACON (K90), Boston TRACON (A90), Bradley TRACON (Y90), and Boston Center (ZBW). PVD Facility Representative Mark Bonvouloir said most of PVD's airspace is over water, so PVD air traffic controllers feed aircraft to many surrounding area airports along with Cape Cod and surrounding islands. PVD airspace has a large range of aircraft that fly through it, from Cessna 150s to Boeing 757s and everything in between.
Bonvouloir said there are numerous things for PVD NATCA members to do in southern New England. Officially nicknamed, "The Ocean State," Rhode Island has great beaches and offers many water activities. While the facility is located in Warwick, it's only 12 miles south of downtown Providence. The city offers many historical activities and museums as well as outdoor recreation, including the John Brown House Museum, the Governor Henry Lippitt House Museum, WaterPlace Park, and India Point Park, an 18-acre city park overlooking Narragansett Bay. Bonvouloir added that Providence is situated between Boston and New York City, so there are many cultural, educational, and social activities for everyone.
To keep solidarity running strong, Bonvouloir said once a month all members wear the gray "NATCA 25th anniversary" t-shirt.
"The NATCA atmosphere is positive," said Bonvouloir. "We just had our fourth quarter meeting and 75 percent of the membership attended. I believe we are going in the right direction getting the younger members involved."