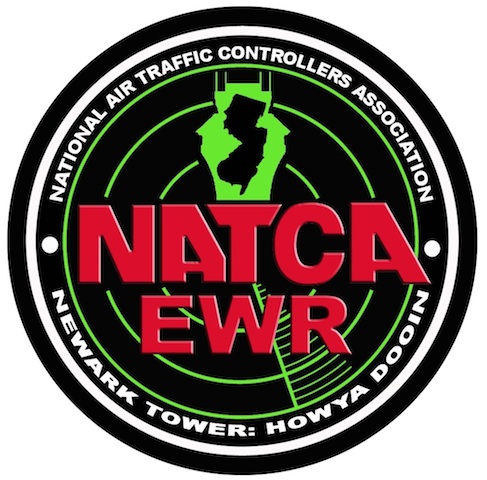 February 14, 2013 // Facility Spotlight: Newark Tower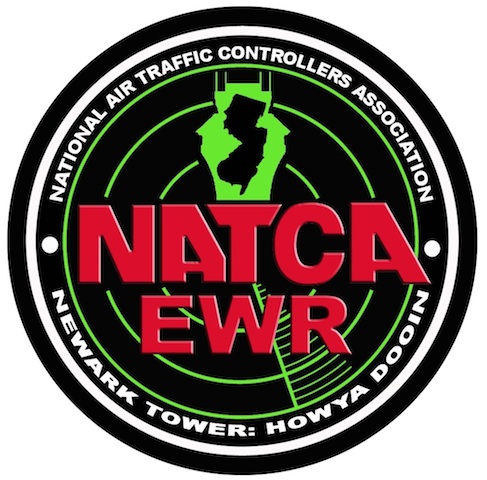 The 325-foot tall structure known as Newark Tower (EWR) is a 100 percent NATCA membership facility, housing 25 Certified Professional Controllers (CPCs) and nine developmentals. Commissioned in 2003, this level 11 facility operates 24 hours a day, 365 days a year.
Newark is known as one of the "big three" airports in the New York City (NYC) metroplex, along with John F. Kennedy (JFK) and LaGuardia (LGA). EWR NATCA controllers work closely with those at New York TRACON (N90), LGA, JFK, and Teterboro (TEB) tower. EWR has seven satellite airports/heliports in its airspace, to and from which controllers direct Visual Flight Rules (VFR) traffic. EWR works mostly scheduled air carrier and air taxi service aircraft. Approximately 95 percent of the aircraft are large turbojets with the rest being large twin-engine props and corporate types.
EWR has three runways. Runways 4/22 Left (L) and Right (R) are closely spaced parallels separated by 900 feet from the centerlines. Each runway is approximately 11,000 feet long. The crossing Runway, 11/29, is 6,800 feet long, lays at the north side of the field, and intersects both parallels, although EWR's use of it is limited due to the surrounding airspace and proximity to Manhattan. According to the Port Authority of New York/New Jersey, Newark's Runway 4R/22L is the most heavily pounded runway in the nation, and likely in the world.
EWR is very different from many other large metropolitan towers as it is a geographically small-sized airport within close proximity to the other major and minor New York area airports, with each airport's traffic interfering with the others. EWR NATCA Facility Representative Ray Adams said EWR controllers move a large amount of traffic through that small space.
"In fact, within a 20-mile radius of Manhattan, which is six miles east of EWR, there are approximately 1.5 million annual Instrument Flight Rules (IFR) airport operations," said Adams. "We underlie what some call the busiest airspace in the country."
EWR operates all its runways with a single local controller, and its taxiways are controlled by a single ground controller. Controllers typically have flights land on the outboard and the crossing, while having flights depart from the inboard and sometimes the crossing, making EWR what Adams calls a "controller's airport," where nothing separates itself.
"Pound for pound, nobody works harder than controllers at EWR," he said.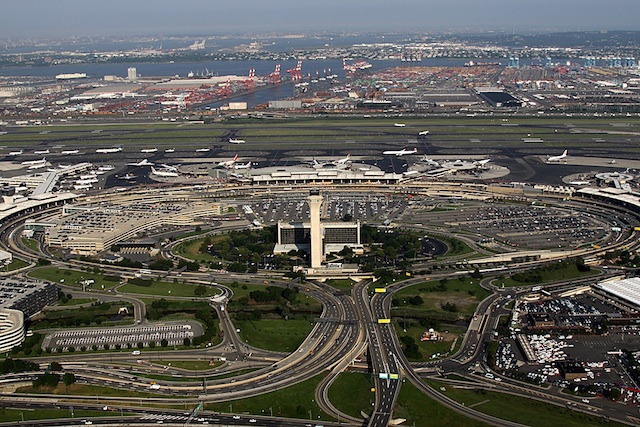 The NYC area airports share the same departure fixes and the majority of them go westbound to the rest of the U.S. Because of this, during high volume periods, EWR controllers encounter significant in-trail restrictions. This situation is only compounded during the summer.
Due to the topography of the eastern seaboard and the surface heating effects of NYC, the area is subject to a combination of rather large lines of intense thunderstorms moving west to east, usually referred to as "popcorn storms."
"These storms effectively seal off the westerly routes out of the N.Y. area and ground our departures," he said. "Unfortunately, the arrivals don't stop coming, and we end up with a large number of aircraft at the field with no gates and very congested taxiways."
EWR controllers also handle a large quantity of VFR operations in the tower's Class Bravo airspace. In 2012, the tower handled over 89,000 VFR operations solely in its airspace along with 430,000 IFR operations. All of the VFR operations are handled with a single Class Bravo Radar controller and no assist or handoff person. Initial radar identification is required on over 80 percent of those flights and EWR controllers routinely handoff traffic to LGA, JFK, and TEB.
The tower's airspace covers the west side of New York City along with the Hudson River, from the Verrazano Bridge to the Empire State Building. Adams said that is a very heavily traveled corridor, especially in the summer and on weekends as everybody who owns a small aircraft wants to see Manhattan up close.
Due to the congestion in the Hudson River exclusionary airspace, NATCA EWR members work a large number of aircraft in the tower's Class Bravo airspace. There is also a very large number of tour helicopters that depart from the Wall Street Downtown helipad and into the tower's Bravo airspace.
"It's like a swarm of bees sometimes," said Adams.
EWR also deals with a large number of Temporary Flight Restrictions (TFRs) around MetLife Stadium, home of the NFL's Giants and Jets, and Yankee Stadium, along with the United Nations.
Unfortunately, due to this high volume and complexity of the tower's operations and surrounding airspace, EWR has had an extremely high training failure rate over the past decade. Adams said they are constantly looking for skilled controllers who want to come to the New York area and join the EWR NATCA family.
"We are making changes to our training program that we hope will improve our success," he said. "In fact, we are looking to pick up five controllers right now. Any takers?"
Some of the many training program improvements include tower outreach to a local community college with a newly developed aviation curriculum and an internship program in an effort to provide subject expertise to the students; a EWR tower simulator that recently went online and is being worked into EWR's existing training program; and the recently new EWR FAA Manager and Adams collaboratively making bid selections based on certification potential.
"We recently got a new air traffic manager and the labor-management tone changed for the better," said Adams. "We do a lot of collaboration, and it's been very successful."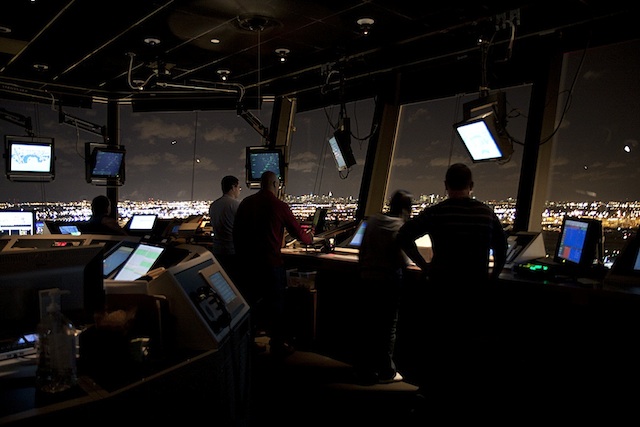 While New Jersey may not have the best reputation thanks to shows like "Jersey Shore" and "Jerseylicious," Adams assured that it is a great place to live and work. Since EWR is only six miles or so west of Manhattan, there is more to do than a person could ever imagine. EWR NATCA members have the option to live in the city, 30 miles outside the city in the suburbs, woods, or near the beach. But no matter where they live, the members always take advantage of what NYC has to offer. Restaurants, bars, theaters, museums, and more are only a short drive or train ride away. There are also a number of casinos nearby, in Atlantic City, Pennsylvania, and Connecticut.
While the EWR NATCA members have fun during their free time, Adams said the atmosphere in the tower is also fun but can become intense during busy periods. He said there is a split in ages that's probably representative of many places, with a big group of very senior controllers and also a large group of relatively new controllers. About a third of the members have less than five years in the FAA. Adding to the NATCA EWR solidarity is the local chapter's recent development of a NATCA facility logo and t-shirts featuring the logo for every member, which they wear with pride. The tower also has a Facebook page and Twitter feed, which the controllers manage, post, and answer questions from followers and friends.
"The best part about being the FacRep is that I get to represent who I consider to be the best controllers in the world," said Adams. "Our members love working traffic and do a great job, day in and day out. They get it done no matter what's thrown at them. I'm proud to have been elected by them to be their representative."