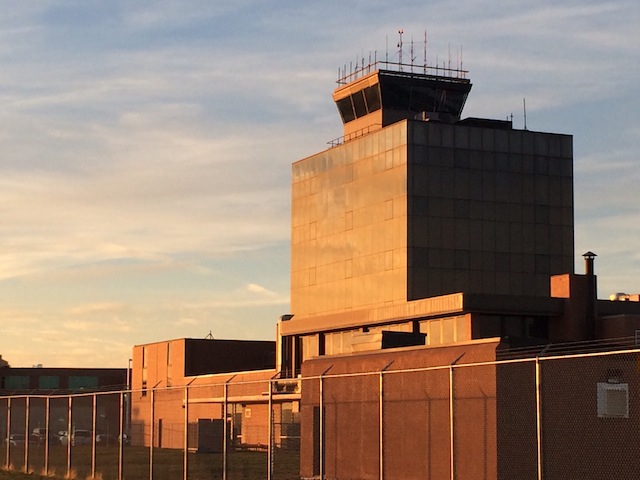 November 22, 2013 // Facility Spotlight: Peoria ATCT/TRACON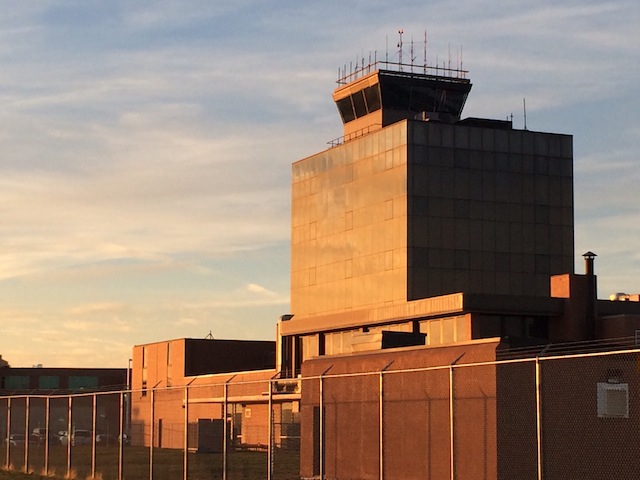 There are 18 controllers – 12 Certified Professional Controllers and six developmentals – at Peoria, Ill. ATCT/TRACON (PIA). The facility is 100 percent NATCA.
Located in the largest city on the Illinois River, this 24-hour, level 6 up/down facility is 81 feet tall and 54 years old.
The tower covers Class C "Charlie" airspace, which includes the surface up to 5,000 feet. The TRACON is responsible for approaches into PIA and Bloomington, Ill. (BMI), which is Class D "Delta" airspace. That's surface to 10,000 feet, and, according to PIA NATCA Facility Representative Matt Dresher, shaped like a sideways hourglass. It covers a 50-mile radius east and west of PIA and about a 25-mile radius north and south of PIA.
PIA's neighboring facilities include Chicago Center (ZAU), Champaign Approach (CMI), Springfield Approach (SPI), Kansas City Center (ZKC) and Quad City Approach (MLI).
Dresher said NATCA members at PIA handle scheduled commercial airline flights everyday from American, United, Delta and Allegiant, as well as scheduled cargo flights from UPS and FedEx. Their air traffic includes E145s, CRJ2s, MD80s, H/A306s, B757s, H/B767s and other various smaller cargo planes. Dresher said PIA also has two National Guard units, which are home to eight C130 aircraft and six CH47 helicopters. Caterpillar Inc. is based in Peoria with three CL60 aircraft and a GLEX. He said PIA is only a 25-minute flight from ORD so PIA air traffic also includes quite a few diverts when there is weather.
"There isn't a flight school at our airport," said Dresher. "However we get small planes from all over practicing here, along with military KC135 fuel tankers that practice in both tower and radar patterns after maneuvers in the nearby MOA before returning to their base airports."
Dresher said that what's special about PIA would "definitely be our C130 aircraft doing their practice tactical maneuvers in the tower and mixing that with other traffic."
"It gets really interesting at night when they turn their lights off and do 'Night Vision Goggle' operations," he said. "We close a runway and turn the lights down for use only by them. They land and depart the other crossing runway."
Traffic at PIA is affected by the occasional fly-in, though Dresher said nothing is usually scheduled. He said traffic does pick up every time Caterpillar hosts a meeting; traffic for those includes many G5s, Challengers, Citations and Falcons.
Dresher said the facility is "kind of short staffed" for being a 24-hour facility, so few people can attend any NATCA events they host. However, the local group still tries to have a cookout/barbecue about every other month.
"Sometimes we play paintball or have small golf tournaments in the summer," he said. "Basically we are a small family and a lot of us hang out every weekend or meet for dinner as much as we can. Not really an official solidarity event but it keeps us all together."
That kind of mentality shows at the facility, because Dresher said everyone helps in any way they can in order to be a part of NATCA and keep their local Union family strong. The mentality also shows in the way these local NATCA members collaborate with their FAA counterparts, which allows them to have their voices heard about their workplace.
"My primary FLM (Front Line Manager) and myself work great together on working issues and coming up with proposals that benefit everyone," said Dresher. "My ATM (Air Traffic Manager) also keeps me involved with everything that he sees so we are both on the same page, and a lot of times we already have a tentative plan when a change or order needs to take place."
He continued, "If I go to a NATCA event and see something that could benefit our facility, everyone is always willing to discuss it openly and try to apply it if it's possible."