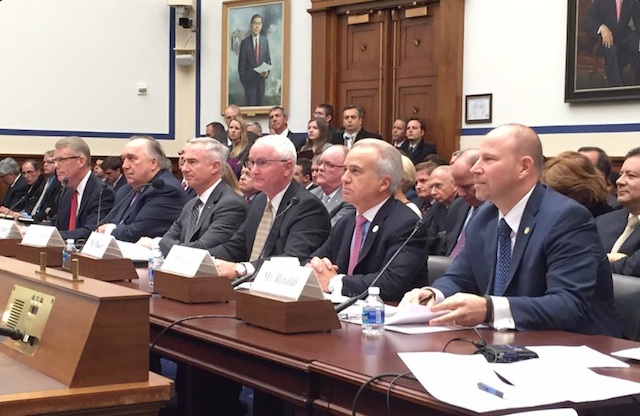 Nov. 20, 2014 // Rinaldi Denounces Sequestration, Calls for Aviation System Funding Certainty, at House Transportation and Infrastructure Committee Hearing on FAA Reauthorization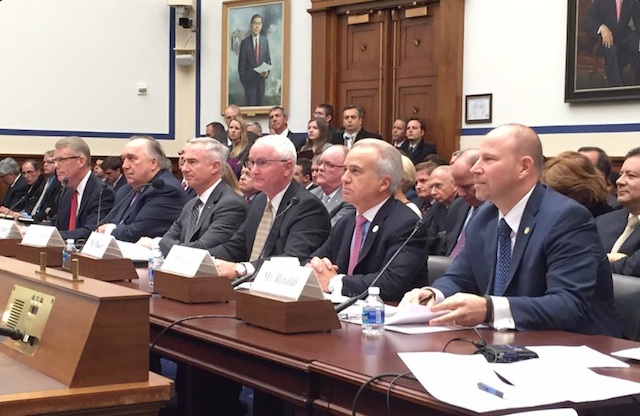 Sequestration is a danger to the National Airspace System (NAS).
That was the clear message NATCA President Paul Rinaldi delivered Tuesday, Nov. 18, to the House Transportation and Infrastructure Committee, at its hearing examining the upcoming FAA reauthorization and issues in modernizing and operating the nation's airspace. Rinaldi emphasized the urgent need for funding certainty, to ensure everything from effective NextGen implementation to adequate staffing of air traffic controllers.
"Sequestration cut nearly $493 million from the FAA's Operations budget, $142 million from its Facilities and Equipment budget, and $8.6 million from its Research, Engineering, and Development budget," Rinaldi testified. "These sequestration cuts were not the result of a research-driven strategy to increase safety and efficiency, but rather for the sole purpose of saving money."
Sequestration cuts have had many negative effects on the NAS, including massive flight delays that resulted from the FAA being forced to furlough FAA employees, including controllers, in 2013. "These funding cuts are problematic and will continue until Congress finds a way to end sequestration," Rinaldi testified. "Until then, our NAS is in jeopardy of falling behind on efficiency, capacity, and most importantly, safety."
While NATCA sees many other problems and challenges for the FAA, Rinaldi testified that funding is the primary issue to be addressed with the utmost urgency. The NAS is a 24/7 operation, and the FAA's aviation specialists and air traffic controllers must continue to run that system while simultaneously working on research, development, testing, and the implementation of technology modernization, as well as training new hires to become fully certified controllers (CPCs). Stop-and-go funding increases costs and creates delays for all modernization efforts.
Rinaldi's testimony outlined several consequences of unstable, unpredictable funding, including:
Operational and Redundancy Concerns
Inadequate Staffing
Hiring and Training Challenges
Delays in Modernizing the NAS
Continued Cuts to Federal Employee Pensions and Benefits
Potential Tower Closures
Potential Loss of Contract Towers
Negative Economic Impact
"The NAS and the FAA workforce are in a transition period," Rinaldi testified. "The FAA is working to implement NextGen modernization projects that will deploy new technology and equipment. In order to keep pace with these modernization projects and the rest of the world, the FAA needs to be properly funded and staffed, which can only happen with stable and predictable funding. We all have a stake in this economic engine, which contributes $1.5 trillion annually to our GDP and employs 12 million Americans. Congress, the FAA, and industry will need to work together to ensure that our NAS remains the safest and most efficient airspace in the world."
To see the full NATCA testimony, please click here.
Some other highlights of Rinaldi's appearance before the Committee, during the question and answer period:
"What are NATCA's thoughts on the current 'best equipped, best served' policy?"
Rinaldi: "The FAA is not doing 'best equipped, best served.' We're still on the 'first come, first served. Obviously, we're not going to put a Cessna flying at 110 knots in front of an Airbus 380 that's doing 170 on approach. We're going to move that Cessna out of the way because it's safe and orderly. 'Best equipped, best served' would work, Congressman, but the problem really comes when it's mixed equipage. If we don't have a high number of aircraft equipped, then we could have the greatest procedures in the world but we're going to have to reduce it to the lowest common denominator to continue to run a safe and efficient flow."
"NATCA, PASS, and the FAA worked collaboratively in a working group to identify recommendations to keep systems online (following the ZAU fire earlier this fall). But there is still a fix-on-fail strategy in place. I'm interested in learning more about these collaborative efforts, what recommendations have been made, and whether you believe the recommendations will be adopted, and whether NextGen will mitigate the deficiencies that may occur in the future?"
Rinaldi: "We were excited to participate on the panel with the FAA and PASS and other stakeholders. It's still in its infancy stage. We did put it all together and it's in the process of the review at the Department of Transportation at this time."
(Requesting thoughts from the panel of witnesses on the NextGen Advisory Committee (NAC) plan of implementation recommendations that were submitted to the committee earlier this year.)
Rinaldi: "We were part of the NAC initiatives. We agree with the initiatives. I will tell you changing major airspace and flows out of metroplexes is not an easy task. It's not something we can just develop in a sterile room and roll it out. It has to be tested, and developed, and continue to be tested with pilots and then tweaked. Once we implement it, we have to go back and re-test it and make sure we're capturing the efficiencies of it. It's not an easy thing to do. It sounds easy but it's certainly not. The one thing that will slow us down is the unstable funding. The second we have to fall back and don't have the funding to continue these initiatives, we stop all modernization projects and just focus on running the day-to-day operations to ensure the safe and efficient flow of airplanes."
Video of the full hearing in its entirety is available here.