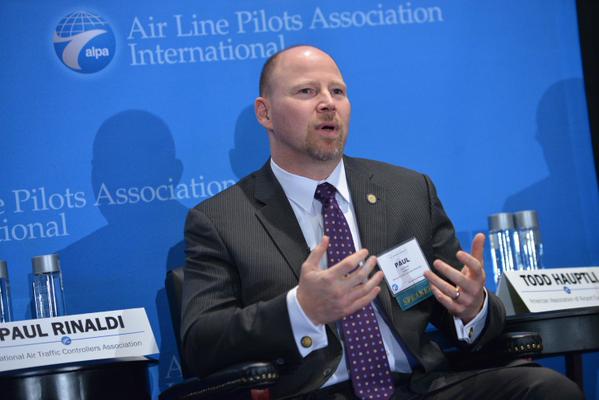 Dec. 11, 2014 // At ALPA Event, Rinaldi Offers Blunt Assessment of System Funding Situation, if Left Unchanged: "With Sequestration, the Future is Bleak"
NATCA has spent 2014 actively participating in the growing and critically important discussion regarding the FAA's air traffic control funding and structure issues. The goals: Prevent a recurrence of the negative effects created by sequestration and government shutdown in 2013, and emphasizing the urgent need for action and change in 2015 to set the stage for a brighter future for the National Airspace System.
On Tuesday, Dec. 9, the discussion continued with a panel about the upcoming FAA Reauthorization legislation at an event in Washington, D.C., hosted by ALPA entitled, "Positioning the U.S. Airline Industry For Success."
NATCA President Paul Rinaldi made an impassioned case, as he has at numerous other events this year, for why change is needed to ensure stable funding in order to keep the future of the NAS on solid footing.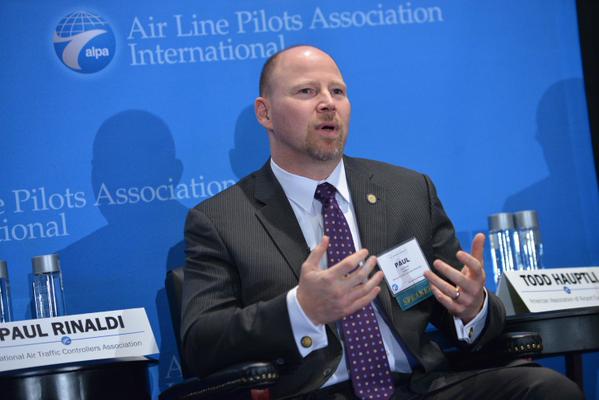 Here are the highlights from Rinaldi's opening remarks:
"Sequestration is the real danger. For the last 20-plus years, aviation seemed to be bipartisan. Funding was at appropriate levels. We were able to move the system together, and Congress realized that, at the end of the day, we have to fund our system.
"We are the world leader, and our goal is to remain the world leader. But we need to change to do that. This current system has served us well, but in October 2015 sequestration will come back. If there is another interruption in modernizing the system, and if there are drastic cuts due to sequestration, we are going to fall behind the rest of the world.
"The last time we saw cuts from sequestration [in 2013], the FAA had to look at closing 149 towers. They looked at furloughing controllers one day each pay period. They stockpiled critical equipment. There was a fix-on-fail policy for system maintenance. They pulled back on every modernization project. And it was not just four to five days, but we lost the better part of six months on our modernization projects, at a time when we were rolling out platforms for en route and terminal. They shut down the FAA Academy and training. All training.
"[Staffing] is a real concern at busy facilities, the ones the airlines make their bread and butter. We are struggling to get controllers off position to train on new technology because we have to focus on running the system.
"With sequestration, the future is bleak. If they shut down hiring in 2015, and if they have to make cuts in October 2015, they will have to look at scaling back the operation."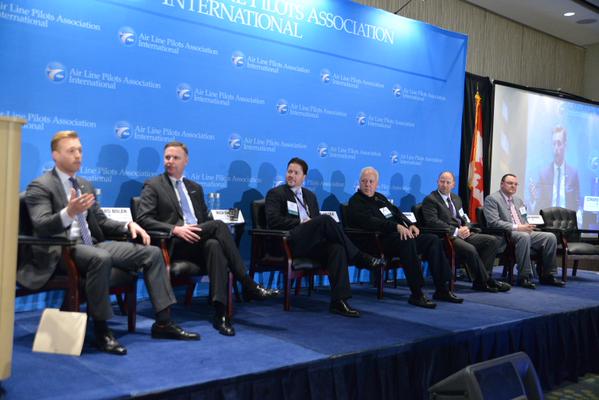 Other panelists echoed Rinaldi's concerns and offered thoughtful observations on both the negative and the positive aspects of the current system. A sampling of their highlights:
Rich Swayze
FAA Assistant Administrator for Policy, International Affairs, and Environment
"There is a lot of work that needs to be done [between] now and September 30, 2015. I think Congress has every incentive to avoid a shutdown before the 2016 presidential election, and I see them addressing it. That doesn't mean we're going to get all the funding we need. It will be very interesting to see how it's addressed for FY16. We all know sequestration is the law. There will be significant cuts to the agency under those levels. It's steeper than last time. And even if sequestration is addressed, I'm not sure how much of that funding situation will be solved."
David Grizzle
Former FAA ATO Chief Operating Officer, now CEO of Dazzle Partners, LLC
"We have at the FAA a tremendous group of professionals. The federal government is not doing its part to allow them to do their jobs. Three problems need to be addressed. First, the federal government is not able to keep its technical systems modernized, and that leads to increased delays. It puts at risk our global leadership position. Second, we are not able to get rid of obsolete equipment, and it results in reduced reliability. It also crowds out the budget for new technology. And the third thing is that we are not able to build or even maintain our human capital. We are experiencing a generational change in controllers, and we're behind the power curve in replacing them. These three problems cannot be addressed simply with funding of the FAA. These problems result from structural challenges in the federal government, or at least the way the FAA is structured in the federal government. That is what I am focused on and what the Business Roundtable is focused on."
Sean Kennedy
Senior Vice President, Global Government Affairs, Airlines for America
"The controllers are being held hostage by furlough politics."