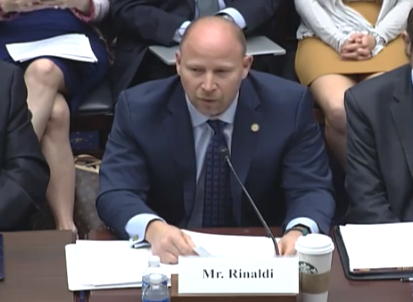 March 26, 2015 // Committee on Transportation and Infrastructure Subcommittee on Aviation Hearing "Options for FAA Air Traffic Reform"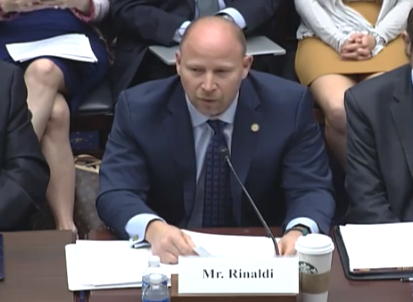 This Tuesday, NATCA President Paul Rinaldi testified before the House Committee on Transportation and Infrastructure Subcommittee on Aviation. Rinaldi delivered his remarks during a hearing about the upcoming FAA Reauthorization process and options for FAA air traffic control reform.
"Currently, we face many challenges in responding to the given problems of unstable budgets, including, but not limited to, the inability to finance long-term projects, the inability to grow the National Airspace System for new users, and the inability to modernize our aging infrastructure," Rinaldi said. "Currently we are struggling in maintaining proper resources and staffing at our busiest air traffic control facilities."
Rinaldi's testimony outlined the urgent need to maintain the largest, safest, most efficient, most complex, and most diverse air system in the world. "Our system is incomparable, unequaled, and unrivaled by any other country," he added.
An unpredictable funding stream has created multiple problems at the FAA that negatively affect the National Airspace System (NAS). Across the board, members of Congress and stakeholders alike are deeply concerned about the unstable funding and governance structures in place for the FAA.
The hearing included an evaluation of foreign air traffic control systems that have transitioned to alternative models, such as Canada, the U.K., and Germany. Representative Eleanor Holmes Norton, Delegate to Washington, D.C., shared perspective from Rinaldi's testimony on the unique challenges presented by the size of the NAS. "The U.S. controls 132 million flights annually, Canada 12 million," Norton said. "There are 21 centers in the U.S., seven in Canada. There are 315 towers in the U.S. compared to 42 in Canada. Do you consider that a non-profit approach would more likely than the others put safety first even if safety costs more?"
"We have eight of the top 10 airports in the world and 16 out of the top 30 in this country where Canada has one," Rinaldi said. "I love their collaboration… Controllers and engineers are working together developing requirements for what equipment would help them enhance the safety and efficiency of their system," Rinaldi said. "My biggest concern, is it scalable to the size of this system? We also want to make sure we continue the diversity of our system, which is providing services to rural America where they need aviation services."
Given the current challenges to stability of the NAS, there are concerns over air traffic control system restructuring. Rep. Rick Larsen, D-Wash. (2nd District), applauded the many accomplishments of the FAA but addressed concerns moving forward. "Today, no one would argue the airline industry is the healthiest it has ever been," Larsen said. "What bargaining protections would apply to employees in this new entity, and would they maintain federal benefits? Would small communities be guaranteed service as the new entity gains efficiency by closing towers?"
Rinaldi echoed these concerns. "Any change must allow for continued growth in our system and must be a dynamic system that continues to provide service to all segments of our aviation community," Rinaldi said. "We do not want to take a step backwards. Any new ATO must provide collective bargaining rights and retain federal pensions for air traffic controllers."
House Transportation and Infrastructure Ranking Member Peter DeFazio, D-Ore. (4th District), raised concerns that some of the proposed corporate reform models do not currently have a stable funding source. "Part of the reason we are here is because Congress isn't ponying up the money," DeFazio said of some proposed corporate models that rely on excess tax revenue, money that would still be subject to sequestration.
With looming sequestration in 2016 and the deadline for an FAA Reauthorization bill just six months away, there was deep concern over finding a solution to funding issues.
"End sequester," Rinaldi said. "It is not conducive to modernizing our system, running our day-to-day operations, and growing aviation, which is an economic engine. We need a predictable funding system so that we can enhance the NAS and continue to be the world leader."
Another cause for major concern revolves around the influx of retirement-eligible veteran controllers. With an insufficient number of new hires to replace those lost to mandatory retirement, Rinaldi addressed staffing as a top safety issue. "Our busiest facilities are experiencing staffing levels that are approaching uncomfortable for all of us. We have controllers working six-day workweeks, extended workdays. Fatigue is entering into our work environment."
Rep. Ryan Costello, R-Pa. (6th District), raised concerns over potential reforms that do not include the input of air traffic controllers. It is critical that the FAA includes air traffic controllers in developing its modernization programs and the same should be true of future reform efforts. "Currently we are working very collaboratively with the FAA when it comes to modernization," Rinaldi said. "Involvement of air traffic controllers is essential."
Rinaldi closed on the importance of the NAS succeeding moving forward. "Our national air system is a national treasure. We must continue to grow aviation, allow integration of new users, and maintain a competitive edge to continue to be the leader in the global aviation community."
Testimony was also given by Matt Hampton, Assistant Inspector General for Aviation Audits, US DOT; Doug Parker, Chairman, CEO, American Airlines Group, testifying on behalf of Airlines for America; Craig Fuller, Vice-Chairman, Management and Advisory Council, FAA; Bob Poole, Director of Transportation Policy, Reason Foundation; David Grizzle, President, Dazzle Partners; and Dorothy Robyn, former Deputy Undersecretary of Defense for Installation & Environment and Commissioner of GSA's Public Building Service.