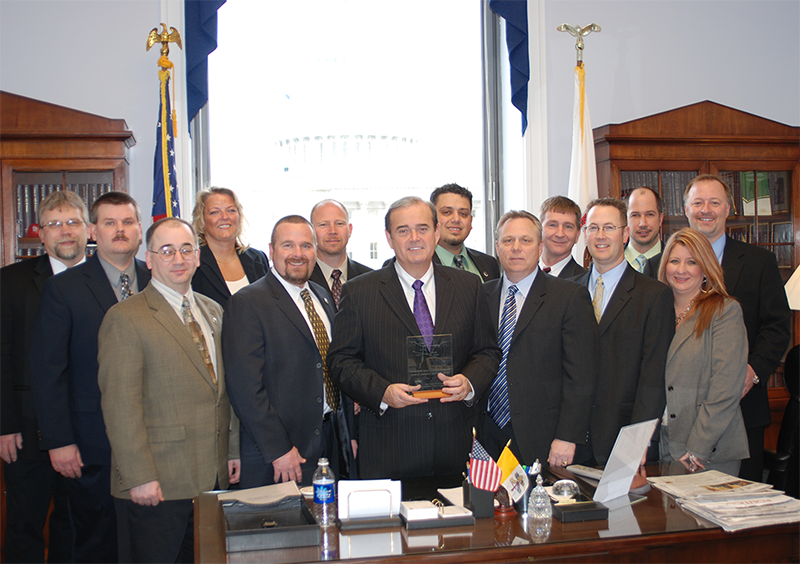 2007 Sentinel of Safety: Rep. Jerry Costello and Rep. Steven LaTourette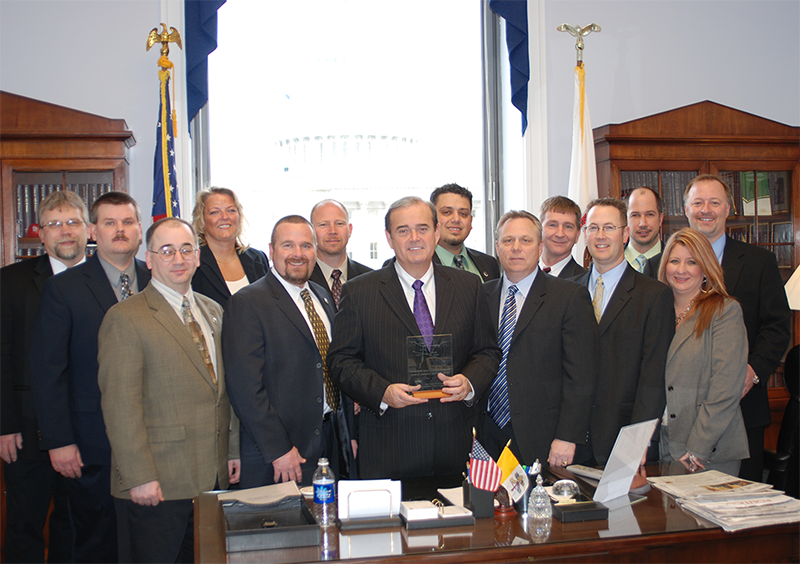 NATCA honored Rep. Jerry Costello, D-Ill., and Rep. Steven LaTourette, R-Ohio, with the third annual Sentinel of Safety award during each Congressman's respective appearances at NATCA in Washington 2007.
NATCA created the Sentinel of Safety Award as a way to honor a member of the aviation community who has displayed outstanding achievement in the advancement of aviation safety. The award is open to all leaders of the aviation community, with a special emphasis on those whose leadership on aviation safety issues has been historic, aggressive, and courageous.
"We are proud to present this year's award to Congressman Costello and Congressman LaTourette for their dedication to aviation and air safety and their strong and passionate support of every air traffic controller in this country," NATCA President Pat Forrey said.
Costello, a senior member of the House Transportation and Infrastructure committee and chairman of the House Aviation Subcommittee, has been a beacon for the aviation community throughout his tenure in Congress. Costello has fought to ensure that the United States continues to operate the safest and most efficient aviation system in the world. The language he has authored, the legislation he has introduced, and the oversight he has provided, have raised the bar for aviation safety in this country.
The list of Congressman Costello's accomplishments in the field of aviation safety is long and distinguished. It includes:
In 1996, he co-sponsored legislation to ensure that the primary responsibility of the FAA administrator was to enhance the safety and security of the commercial civil aviation industry.
Immediately following the events of 9/11, Congressman Costello co-sponsored legislation that required the screening of all passengers and property carried into the cabin of an aircraft be conducted by the federal government. In addition, this legislation provided for the expansion of the air marshal program on domestic and international flights.
In 2003, he co-sponsored legislation that would improve and standardize training for commercial aviation cabin crew members.
He co-sponsored a bill implementing the recommendations of the 9/11 Commission, which included significant improvements to aviation security.
In February 2006, with Congresswoman Sue Kelly, he introduced legislation that would amend Title 49 of the Federal Code to provide a fair collective bargaining process for FAA employees.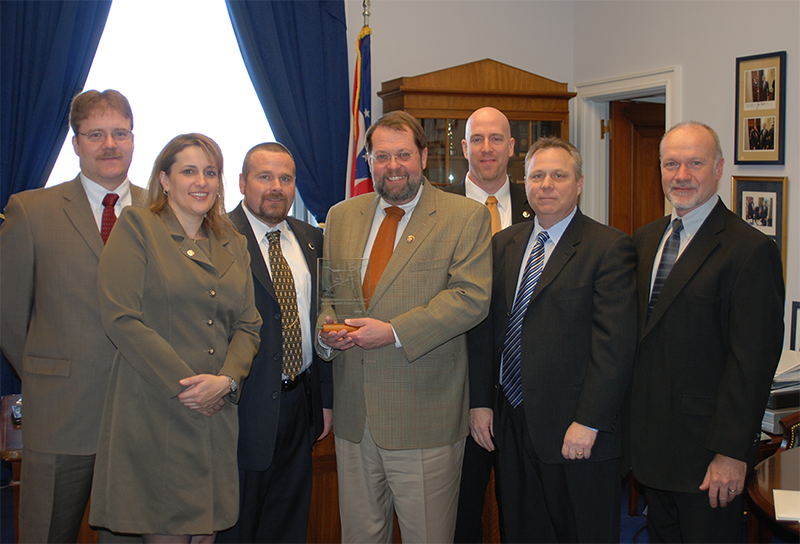 As a member of the House Transportation and Infrastructure Committee, Congressman LaTourette consistently introduced and supported legislation that makes aviation safety a priority. Throughout his 12 years in Congress, LaTourette has been a solid supporter of the nation's air traffic controllers.
In 2006, Congressman LaTourette led the fight to establish basic fairness and equity to FAA/union negotiations. He understood that a fairly negotiated and ratified contract would provide consistency and stability to the National Airspace System, thereby ensuring the safety and security of the flying public.
LaTourette and his bill's many supporters courageously and enthusiastically took to the House floor on June 6, 2006, during debate. LaTourette was especially critical of FAA Administrator Marion Blakey's move to impose work rules before the vote: "I am a pretty calm guy, but I really think that she just took her finger and stuck it in the eye of 268 members of this House (who co-sponsored the Kelly-Costello bill) and 75 of them happen to be Republican, 75 of them happen to be members of this President's party. I am insulted."
Congressman LaTourette's efforts in 2006 are but one example of his legislative accomplishments to improve aviation safety. Here are some other aviation safety advancement highlights from his career:
Co-sponsored Secure Transportation for America Act of 2001 which, among other things, established standards and responsibilities for the TSA.
In 2002, co-sponsored legislation that would allow pilots of commercial aircraft to carry guns to be used in the event of a terrorist attack or cockpit intrusion.