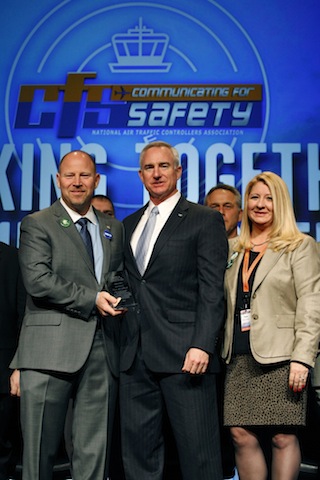 2014 Sentinel of Safety Award: Capt. Lee Moak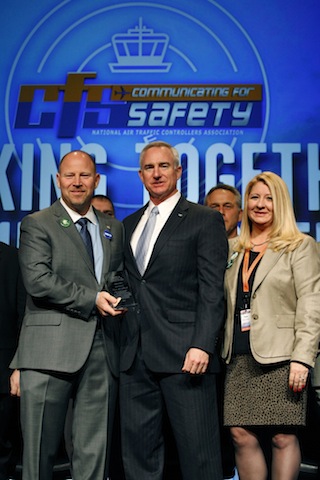 With the National Safety Committee onstage in support, NATCA President Paul Rinaldi and Executive Vice President Trish Gilbert presented Air Line Pilots Association, International (ALPA) President Capt. Lee Moak with the Sentinel of Safety award on March 25 to open the second day of CFS in Las Vegas.
The Sentinel of Safety award is NATCA's highest honor for those outside of the organization who have displayed outstanding achievements in the advancement of aviation safety.
"This award puts a special emphasis on those whose leadership on aviation safety issues has been extraordinary, aggressive and courageous," Rinaldi said during his introduction of Capt. Moak. "I can't think of any better adjectives to describe this year's award winner than extraordinary, aggressive and courageous."
Capt. Moak is at the forefront of aviation safety, fighting for both pilots and the safety of the National Airspace System. He was elected ALPA President in 2010, beginning his four-year term in 2011. Among the many notable initiatives he spearheads, Capt. Moak works with the FAA and NATCA to create pathways for NextGen, review runway modifications, and conduct weather research, all of which improve commercial air operations.
Much in line with NATCA's fatigue campaign, Capt. Moak is currently fighting to extend to cargo pilots the same rest requirements passenger pilots follow. Given the recent crash of a UPS cargo plane in Birmingham, Ala., it's "becoming more apparent that separate rest requirements for cargo and passenger pilots is unsustainable, unsupportable, and unconscionable," said Capt. Moak. "Pilots who operate in the same skies, take off from the same airports, and fly over the same terrain must be given the same opportunities for full rest, regardless of what is in the back of the plane."
Capt. Moak is also an advocate for the American aviation industry as many international airlines attempt to skirt regulations to gain unfair advantages in the market. Recently, Norwegian Air attempted to avoid regulation by basing different aspects of operation in different countries. Capt. Moak is fighting this in international court and has resisted their plans to fly to the U.S. Additionally, Capt. Moak is fighting for U.S. pilots as DHS plans a pre-clearance facility at Dubai International Airport, where no American carriers currently fly.
Before his award acceptance remarks, Capt. Moak went down the line and shook the hand of every member of the Safety Committee.
"When a passenger buys a ticket, nowhere on the ticket does it say, 'oh by the way, you're going to be flying in the safest airspace in the world," Capt. Moak said. "It should say it on there. This is the safest airspace in the world and it is that way because of the work that's done by this group, the work that we do when we have government, industry, and labor working together to improve safety.
"What you do is so important. At the Air Line Pilots Association, I am standing here with this award because of them, because of the hard work of our engineering and safety department. … We have a government affairs department and we have a communications department. Because of them, I am here to accept this award.
"This is truly an honor. Thank you."
---