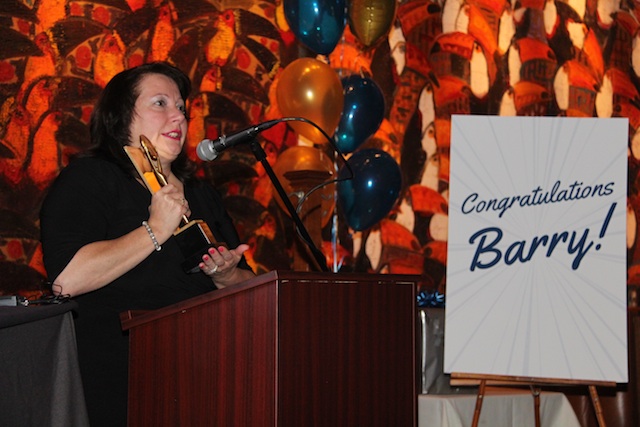 2014 Honoree (Presented at a special retirement celebration)
NATCA Honors Office Manager Sallie Sullivan With Timmy Award
Thursday, September 11, 2014
NATCA National Office Manager and former Eastern Regional Office Administrative Assistant Sallie Sullivan attended last week's retirement celebration for her husband, NATCA President Emeritus Barry Krasner, she assumed she would be joining an evening honoring Krasner's nearly three decades of devotion to the Union.
Little did she know, a surprise was in store for her. NATCA also proudly honored Sullivan's incredible devotion to the Union and its members by giving her a fitting retirement celebration as well, presenting her with one of NATCA's highest awards, the Tim Haines Memorial Award of Honor and Distinction.
"It's very rare that I'm speechless, as Barry can attest to," she said. "It's such an honor to be part of NATCA."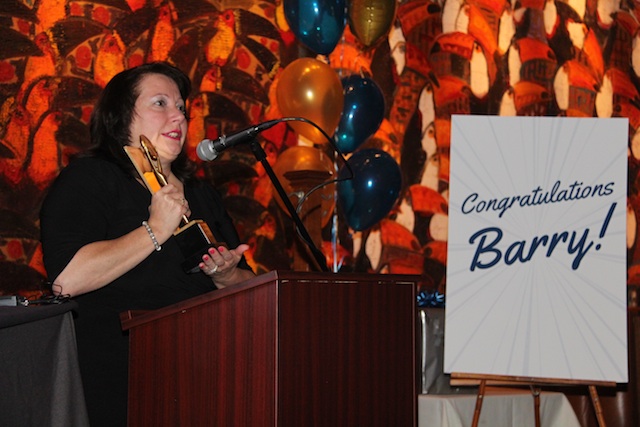 The Timmy Awards (formerly known as the Natty Awards) are named for the late Tim Haines, one of the true giants of NATCA's history, remembered for his great determination. His hard work and passion resulted in important triumphs such as controller pay reclassification. The award stands for commitment to NATCA.
When Sullivan first started dating Krasner, NATCA was in its formative stages. She spoke with humor and honesty about the plight many spouses of NATCA leaders and activists face due to the deep commitment of time and energy their loved ones devote toward work for the Union. Ultimately, Sullivan decided, "if you can't beat 'em, join 'em." So she did.
"I joined them, and they're in my heart forever, and it's my family," she said.
Sullivan began working for the Eastern Regional Office as the Administrative Assistant in 2001. In the spring of 2011, NATCA was searching for a candidate to fill its new National Office Manager position. Sullivan emerged as the perfect choice.
"We desperately needed someone at her skill level to come to the National Office," NATCA Executive Vice President Trish Gilbert said, "and help us get through things that we needed to structure better, establish processes that we didn't have in place, organize our staff, motivate our people, and welcome our members when they showed up to the NATCA building, which became a home away from home when they were working for us on their own time, and a lot of times on their own dime."