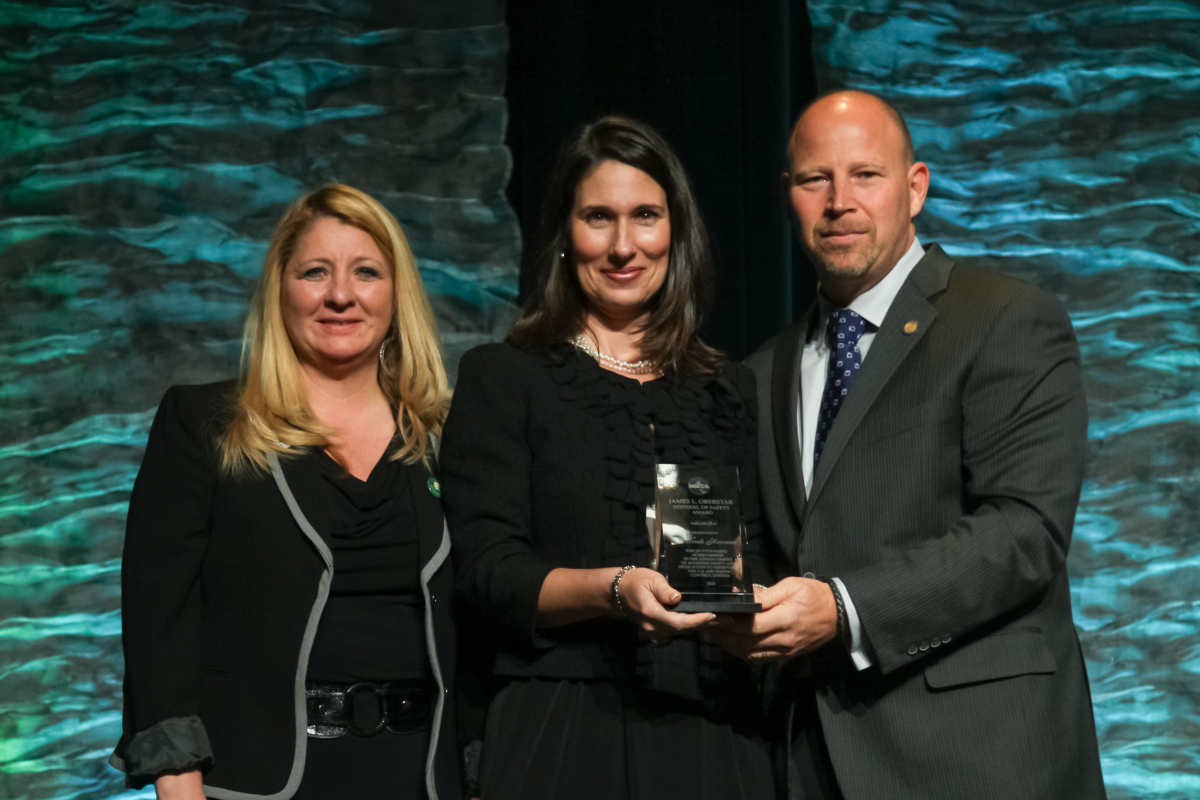 2015 Sentinel of Safety Award: Chairman Deborah Hersman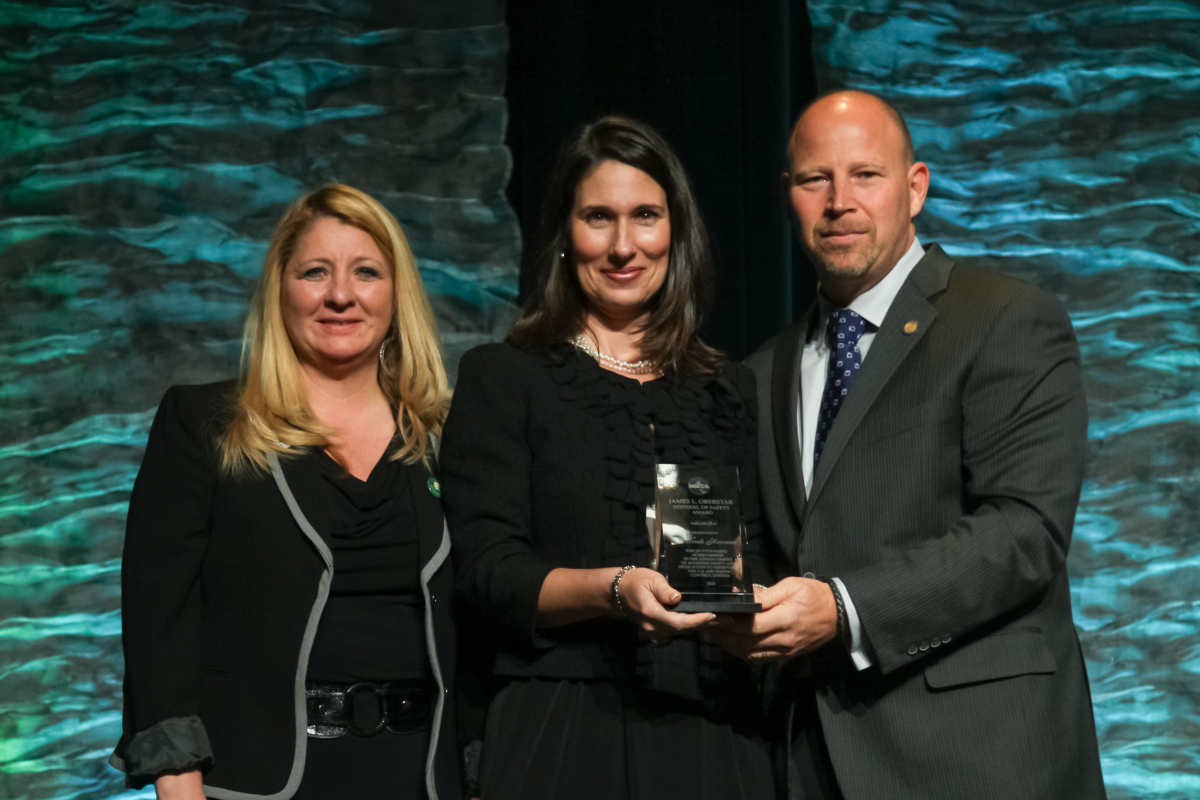 Of the many awards NATCA bestows, the Sentinel of Safety is among the most prestigious. The award, a mainstay of Communicating for Safety (CFS), was renamed at the NATCA Biennial Convention in 2014 in honor of the late Chairman Jim Oberstar. This year, NATCA honored former National Transportation Safety Board Chairman Deborah Hersman.
"As many of you know, we suffered the untimely death of Congressman Oberstar, a very dear friend of ours and also to many in aviation," said NATCA Executive Vice President Trish Gilbert. "Congressman Oberstar was the first recipient of the Sentinel of Safety Award, and we have renamed the award after him this past year during our convention in Minneapolis."
The award was created as a way to honor a member of the aviation or legislative communities that has displayed outstanding achievement in the advancement of aviation safety.
"This year's winner is a true friend to NATCA and no stranger to CFS," NATCA President Paul Rinaldi said in his introduction. "She is a defender of safety and safety is in her DNA."
Appointed to the NTSB in 2004, Chairman Hersman became chairman in 2009. While at the NTSB she investigated over 25 major transportation incidences, including the D.C. Metro rail collision, the Colgan crash in Buffalo, and the midair over the Hudson. She also played a vital role in the Dreamliner 787's battery problem. Last March she left the NTSB to become the President and CEO of the National Safety Council. Chairman Hersman also led numerous hearings and testified in front of Congress frequently.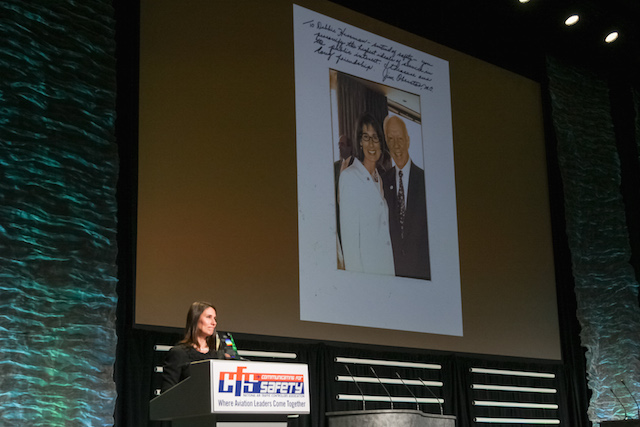 "Doing the right thing for safety is not always the popular thing. She's brave, she stands up for safety every time," Rinaldi said, commenting on Chairman Hersman's many remarkable accomplishments. "And that's why she won this year's award."
After taking the stage and accepting the award, Chairman Hersman began by sharing her past experiences with Oberstar. "I had the good fortune of knowing him for many years as a young congressional staffer," Chairman Hersman said. "Congressman Oberstar treated everyone with respect, and I'm sure when I was a 22-year-old junior staffer he didn't realize that one day I would be the Chairman of an agency he helped create in 1967. He taught me that people are important, and I just want to stress that the people are what's so important."
Stressing the importance of the people who work the safest airspace in the world, Chairman Hersman was very humble in her acceptance of the award. "We have so many people who work so hard for safety, and when we talk about the sentinels of safety, it's you guys," she said. "I work in an environment where I fly everyday; I'm so appreciative of what you do. I know that all of you, no matter where you work and no matter what you do, have to make decisions. You have to make sacrifices about when you're going to get sleep, about what you're going to be able to do with your family, and even about coming here and what shift you have to work when you go home. Thank you all for being the true sentinels of safety."
Chairman Hersman has been a strong ally of NATCA and has worked extensively with NATCA leadership throughout her distinguished career. The daughter of a military family, Hersman wanted to honor that relationship by presenting Rinaldi and Gilbert the challenge coin of the President's Office of the National Safety Council.
"They have been amazing champions for not just all of you but everyone using the national airspace," said Chairman Hersman. "Their tenure as leaders of NATCA has been unprecedented as far as cooperation, and working with other groups and organizations. I will tell you, at times relationships between the controllers and whether it's the FAA or the NTSB haven't always been easy, but I can tell you that under their leadership things have gotten measurably better. I believe that we are in the best place that we've been for many years when it comes to NTSB investigations. I never had an issue working with Paul and Trish that we couldn't figure out how to make a win-win, and that has been a hallmark of my experience with them."
Other winners of the Sentinel of Safety Award include Chairman Frank LoBiondo, Representative from New Jersey; Peter DeFazio, Representative from Oregon; Jerry Costello, Former Representative from Illinois; Steve LaTourette, Former Representative from Ohio; Frank Lautenberg, Former Senator from New Jersey; Jane Garvey, Former FAA Administrator; Randy Babbitt, Former FAA Administrator; Capt. Lee Moak, Former ALPA President; and the very first recipient of the Sentinel of Safety Award Chairman James L. Oberstar, Former Representative from Minnesota.