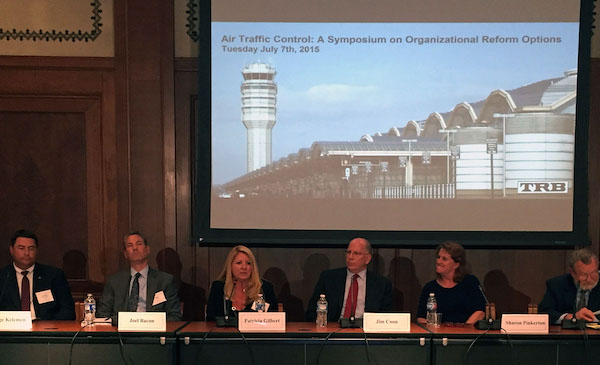 July 9, 2015 // NATCA Leadership on Panel About Air Traffic Reform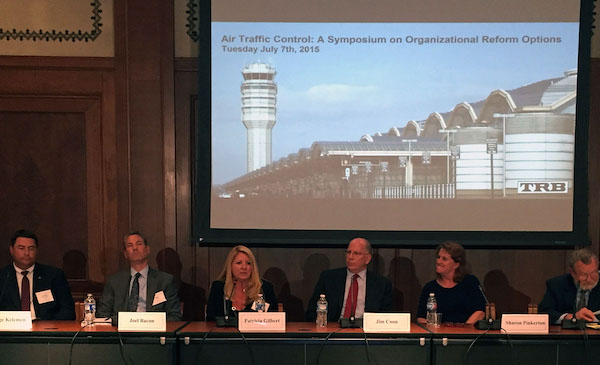 On Tuesday, July 7, NATCA Executive Vice President Trish Gilbert participated in a panel that provided stakeholder perspectives about air traffic control reform. The panel was part of a one-day, public symposium hosted by the Transportation Research Board focusing on reform options for the Federal Aviation Administration's (FAA) air traffic control services. The panel discussed past and current reform proposals and the experience with air navigation system providers (ANSPs) in other nations.



During the panel, Gilbert said regardless of what a future air traffic control reform proposal looks like, NATCA requires that safety is priority one.


"That is why we have been so vocal in our opposition to any for-profit model," she said.
Gilbert said NATCA is willing to have a discussion about a not-for-profit model, like NAV CANADA, because it encourages investment to improve the system. She emphasized that any new model has to take care of rural America, where pilots learn how to fly and controllers learn how to control.


"We think that's very important in a country that invented aviation," she said. "We are ready to work as hard as we need to take care of the system because if we do that, our members are taken care of, and those are the ones we represent. But they look at the system as something that they hold near and dear to their hearts. It's not just a career to them."


Controllers know the status quo is not working well, Gilbert added.


"We talked about the furloughs, and that's one part of it, but the tower closure list that came out [in 2013], that's where it hit," Gilbert said. "Rural America pretty much going away, and their on-ramp to our system was a big deal for us. I think that's what opened our eyes and prompted us to realize we had to be a part of the solution or we will be behind the rest of the world."


Gilbert cited a recent report showing the U.S. ranks 18th in the world in aviation infrastructure.


"That's a problem," she said. "We like to have that competitive edge and be number one. We are willing to do the work, we are willing to make some solutions happen and not just ask what the answers are. We are willing to be a part of developing what those answers should be and be a part of something important."


Airlines for America (A4A) Senior Vice President Sharon Pinkerton said A4A endorses the following key fundamental concepts: that the air traffic organization should be separate from the safety regulator, that there should be a governance board, and that the organization should be funded by a fair and equitable funding source.


"The status quo could be better," she said. "This isn't a criticism of the FAA. Rather, it is a criticism of the organization structure within which the current FAA tries to operate, and a criticism of the current funding structure."


Aircraft Owners and Pilots Association (AOPA) Senior Vice President of Government Affairs and Advocacy Jim Coon said that general aviation groups are nervous about an effort to reform air traffic control. He disagreed with the idea of moving away from fuel taxes to finance the aviation system.


"From a general aviation perspective, there is trepidation about moving to a private-type entity where it's more of an economic system than a public use system," he said. "We've looked at other countries, and for the most part, I think there have been some serious consequences as a result of that, and so we want to make sure that those mistakes aren't repeated here in the United States."


He continued, "With respect to funding I think the current system works extremely well for GA, and I think we would like to keep that, obviously. The way we pay through the fuel tax is very efficient, and it works. If something isn't broken, I don't think we should tamper with it."
American Association of Airport Executives (AAAE) Executive Vice President Joel Bacon emphasized that, from the airport perspective, reform does need to address needs in the air, but it also needs to address long-term infrastructure needs on the ground.
"We need a commitment to a long-term upgrade to infrastructure in the air and on the ground," he said. "We also need less reliance on federal funding."


Airports Council International (ACI) Senior Vice President George Keleman said like everyone else, ACI is waiting to see a reform proposal because the, "devil is in the details." He reminded the attendees that ACI wants everyone involved in reform to take a balanced and measured approach to it in order to avoid future problems or any unforeseen consequences that may exclude segments of the aviation community.


National Business Aviation Association (NBAA) President and CEO Ed Bolen said the group is focused on the progress and implementation of NextGen in order to ensure the National Airspace System can meet the future demands of rural transportation. He stressed that NBAA is concerned about any reform proposal stipulating that a board of industry stakeholders would run public airspace. He echoed Coon's comments about general aviation having a good way of contributing to the system now via fuel taxes.