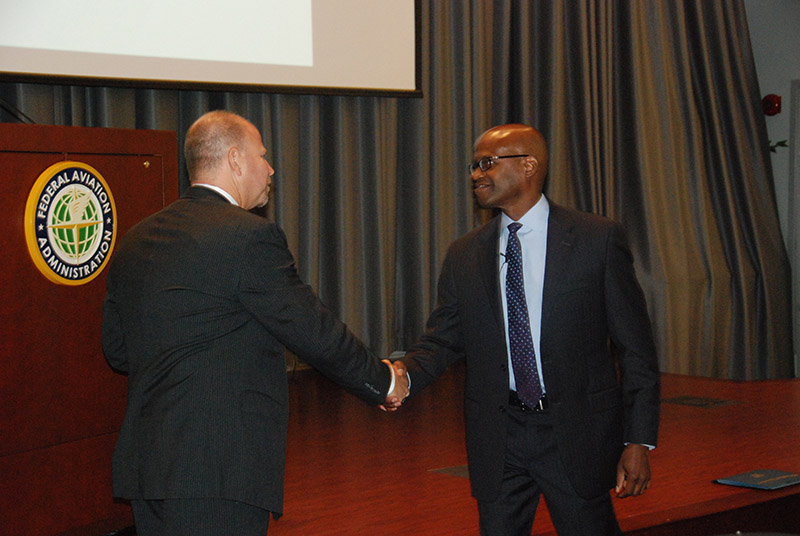 Sept. 25, 2015 // Rinaldi Speaks at FAA "All-Hands" NextGen Meeting
On Sept. 21, NATCA President Paul Rinaldi was invited to be the guest speaker at the Federal Aviation Administration's (FAA) NextGen "All-Hands" meeting. This meeting was an opportunity for leaders and employees within the FAA to hear from stakeholders and leaders on issues related to NextGen.
"There are two things that I want you to know about Paul [and NATCA] that really impress me," said Ed Bolton, FAA Assistant Administrator for NextGen, as he introduced Rinaldi. "The first one is not just the size of the union—it's almost 15,000 folks—but 93 percent of air traffic controllers are part of the union. Now, that's what I call grassroots power. The other thing that I think is very impressive and very valuable to us—and again, much of this is about recognizing the people that have been a part of the success we have had over the past two years—is that they are a real partner in everything we do. They have people assigned to every phase of the NextGen program, and Paul is a valued and welcome member of the NextGen Advisory Committee."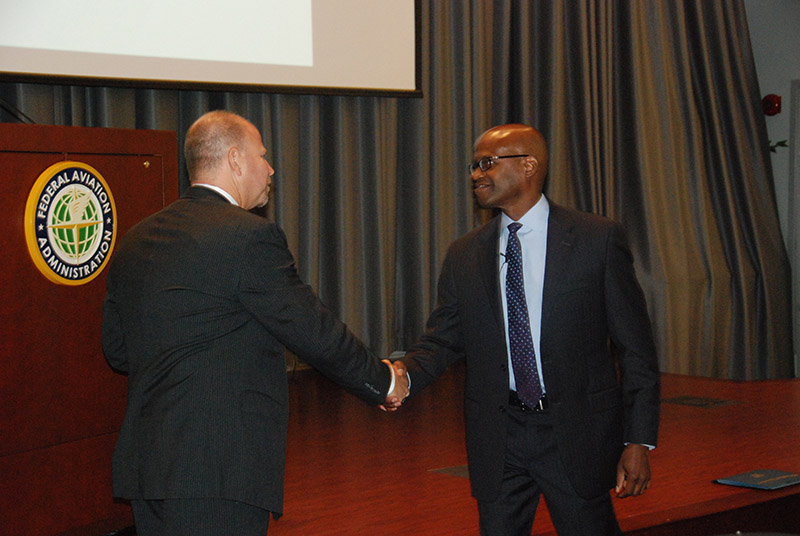 Rinaldi (left) takes the podium after Bolton's (right) introduction.
Rinaldi spoke about the many aspects of NextGen and NATCA's role in collaborative efforts that have led to the successful implementation of NextGen and many of its programs.
"When I became union president back in 2009, we had a fresh day, I thought— a brand new administrator, a brand new way to do business at that time," explained Rinaldi. "En Route Automation Modernization (ERAM), which is now a success, was a dismal failure. Two billion dollars and it couldn't track airplanes. We all rolled up our sleeves as a collective with the FAA and said you know what we need to do? We need to be on the same team. We need to work for the same goal, and we need to make sure that the outside people looking in go, 'Wow, that's a good team.'"
With the success of programs like ERAM, Data Communications (DataComm), Automation Dependent Surveillance Broadcast (ADS-B), and Terminal Automation Modernization Replacement (TAMR), Rinaldi said NATCA is looking towards the future and the ongoing funding issues.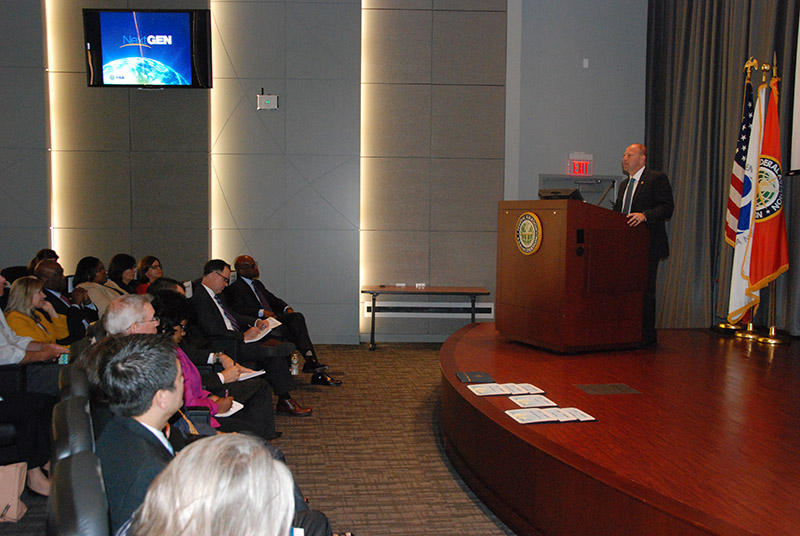 "We can't stop here," he said. "Yes, we have collaboration. Yes, we have the ability through the NextGen advisory committee to work through all of our stakeholders, but I think the challenge is, as we look at what's down the road, to look at how they fund NextGen, research and development, and our operations. There are serious questions that need to be answered for the economic engine that we provide for the country as an aviation system, contributing $1.3 trillion in GDP and over 11 million jobs."
Having a stable, dependable funding stream is essential to the continued success of NextGen programs. Not only is the FAA Reauthorization deadline next week, so is the deadline for a continuing resolution to fund the entire U.S. government through the middle of December.
"We've been pretty vocal in saying we need a stable, predictable funding source so that we can continue to implement NextGen and implement procedures so we can continue to run the safest system in the world," Rinaldi said. "If we don't, we're going to have to cut. We're going to have to start furloughing controllers again. We're going to have to start looking at shutting down facilities, and nobody wants that. I often say aviation is in our blood. We invented it here and we honed it here. We are aviation. The rest of the world sees the FAA as the gold standard of aviation, and we should continue to grow and modernize our system. Not shrink and decide where we are going to cut."
The road to stable funding is not going to be an easy one, Rinaldi continued. It will take teamwork to continue to run the safest, largest, most efficient, and most complex air space in the world.
"We have to be smarter inside the FAA and to be smarter as a team—and I mean all of us—on what's going to work, how we get there, and do it together and roll up our sleeves," Rinaldi said. "Give us the ability to build the system, because we are the experts that know how to do it, and we will do it together through collaboration."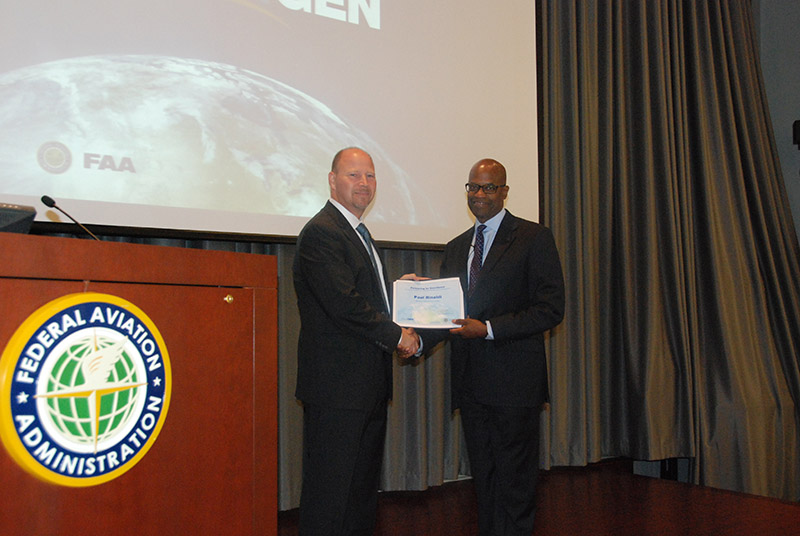 Bolton presenting Rinaldi with the "Partner of Excellence Award."
Rinaldi is the first guest speaker to ever be invited to an "All-Hands" meeting and was also awarded the "Partner of Excellence Award" by Ed Bolton for the continued dedication of NATCA and the FAA successfully collaborating together for NextGen programs.