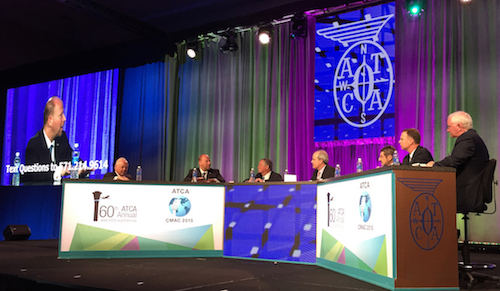 Nov. 6, 2015 // Paul Rinaldi Discusses the Future of the NAS
NATCA President Paul Rinaldi participated on a panel about FAA Reform. Panelists identified problems within the National Airspace System (NAS), what alternatives or solutions there are to these problems, and what type of reform would be necessary to overcome the challenges we face today.
Aviation leaders and members of Congress continue to discuss the need for a new structure within the NAS. It is critical that any type of change in the governance structure of the NAS protects the capacity and safety of the NAS, while also ensuring a stable and predictable source of funding for the operation.
"It's a monumentally complex system, and whatever change we make, we want to make sure we don't disrupt or have any funding consequences to the operation," said Rinaldi. "Could we go to a NAV CANADA type of system? I really don't know because we are a very big and diverse system, but we are open to have a discussion on how that could happen."
The procurement process of updating the system is one of the biggest challenges to overcome when looking at the reform of the NAS. Ninety-three air traffic facilities are being upgraded to Terminal Automation Modernization and Replacement NextGen technology right now—a process that has been 20 years in the making. Currently, procurement requirements are set through a government-based bureaucratic line of business that does not always accommodate the unique needs of the NAS. Though the procurement process has gotten better through collaboration and the involvement of subject matter experts, there are still many challenges ahead to fix this broken funding system.
"Usually the lowest bidder gets the bid, and technology is developed without subject matter experts, engineers, or controllers," Rinaldi said. "By the time that technology gets to the facilities, it doesn't work. We then have to go back into the lab and redesign it. So, we see delays in implementation and have to adjust because none of the users or stakeholders were included 10 years ago when the technology was being developed. Congress then says that the FAA can't do anything, but that's not true; it's just that the process is broken in the way we set procurements."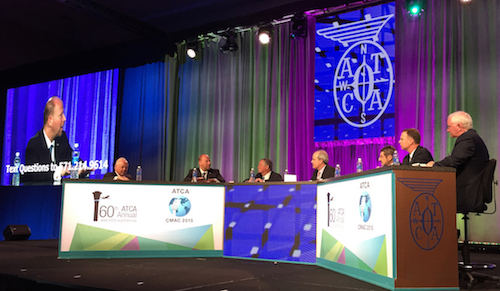 From left to right: Grizzle, Rinaldi, Challan, Van Beek, Poole Jr., Bolen, and Baker.
Along with these serious funding issues, maintaining and increasing capacity is a challenge that must be addressed in any type of new structure. Hiring concerns are a top priority for NATCA to ensure the capacity of the NAS is not diminished and general aviation does not shrink. Twenty-four percent of nation's controllers are currently eligible to retire. The FAA missed its hiring goals for the last five years. Hiring must become a top priority of the FAA in order to maintain day-to-day operations, while also testing and implementing new NextGen technologies, without any disruption in service.
"We're at a 27-year low of CPCs (Certified Professional Controllers)," Rinaldi said. "If we don't act in the near future, we won't be able to open sectors in our large TRACONs and centers."
It takes three-to-five years to become a CPC. Though the FAA is filling academy seats, they are not accounting for those who will not graduate, or the individuals who will not successfully complete training at a facility.
"We have to hire so that we see an appropriate number coming out of the academy," Rinaldi said. "My concern is the output. You can't short-staff major TRACONs and then spread NextGen technology throughout the system. I need controllers at these busy facilities, and I need subject matter experts to help bring NextGen out there. Right now, I'm not able to do that. That is a big concern."
Rinaldi was joined by Edward Bolen, National Business Aviation Association; Robert W. Poole, Jr., Reason Foundation; Peter Challan, Harris Corporation; David Grizzle, Dazzle Partners, LLC; and Mark Baker, Aircraft Owners and Pilots Association. Stephen Van Beek, ICF International, moderated the debate.