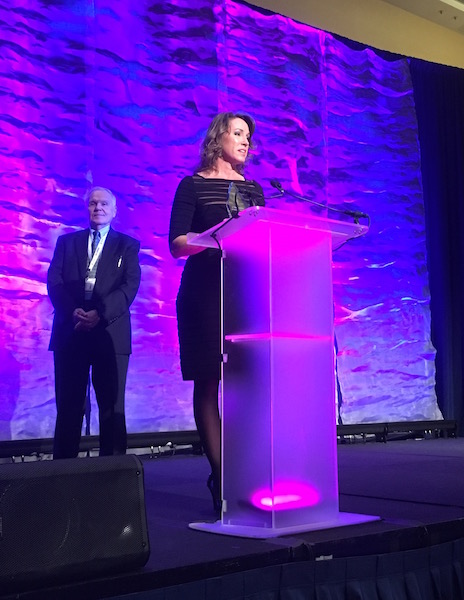 Nov. 20, 2015 // NATCA Attends ATCA 60th Annual Conference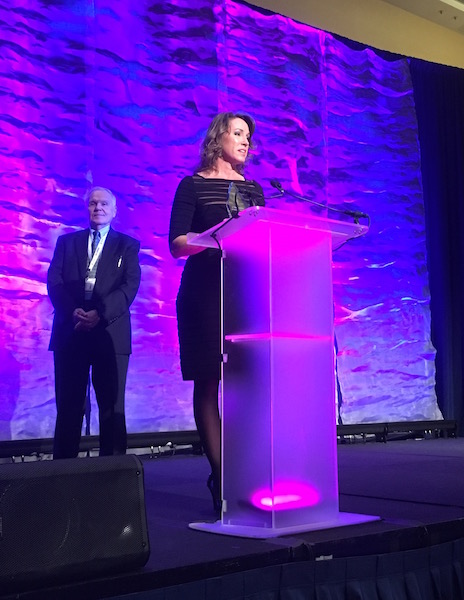 NATCA members and staff were honored at the 2015 ATCA Awards this week at the ATCA 60th Annual Conference. The awards were presented at a luncheon held on the first day of the conference. Elizabeth "Betsy" Beaumont, Fort Worth Center (ZFW), was honored with the ATCA Air Traffic Control Specialist of the Year Award. The award is presented to an individual civilian air traffic control specialist who has performed in an exemplary or extraordinary manner in support of air traffic control.
Beaumont has maintained a high level of proficiency as a certified professional controller at ZFW, where she volunteers as the NATCA analyst for the central service area Air Traffic Safety Action Program (ATSAP) event review committee. In addition to her duties as a controller, Betsy has processed over 5,000 submitter reports this year—an average of 100 reports a week.
"Thank you so much, ATCA, this was an incredible honor," said Beaumont. "I'd also like to thank my family and my sons. They have endured having a single parent working shift-work throughout their entire lives. They've been with me, supported me wherever we've gone, and through whatever we've done. Thank you so much."
---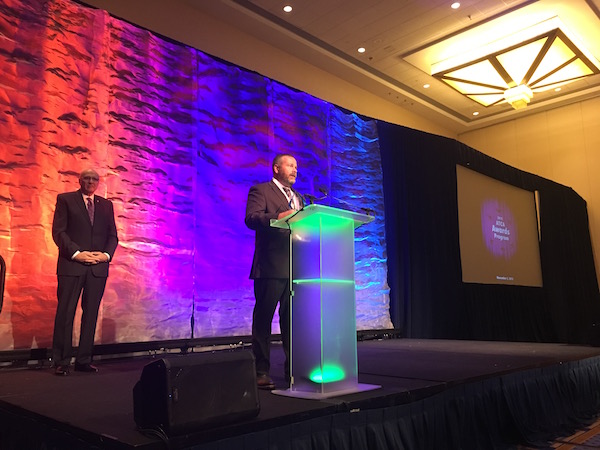 Chicago Center (ZAU) won the Chairman's Citation of Merit Award for employees' exceptional handling of aftermath and recovery from the 2014 fire outage at the facility. The Chairman of ATCA's Board of Directors gives this award to recognize exemplary work in air traffic control, and for overall enhancement of and contribution to air traffic control and the aviation community.
On September 26, 2014, ZAU went dark for the first time in 50 years of operation as the result of a deliberately set fire. ZAU controllers and 31 other facilities around the Midwest united and jumped into action. Through incredible teamwork, they rebuilt the facility's systems while, at the same time, keeping every flight safe. They did all of this while also maintaining a remarkable level of efficiency. This accomplishment was a shining example of cooperation amongst all aviation workforces. ZAU FacRep Toby Hauck accepted the award.
"It is my privilege to accept this award," said Hauck. "I want to thank our national leadership and all involved. This is a team sport. We proved it every day during the outage, and we prove it every day we keep this the safest system in the world."
---
Six NATCA controllers were awarded the Andy Pitas Memorial Award. This Medallion Award is presented to an individual or group who provided flight assistance that resulted in the safe recovery of an aircraft in distress through the application of exceptional air traffic service.
In November 2014, Hugh McFarland (Houston TRACON) received a call from a VFR-rated pilot who was stuck on top of solid IFR weather north of Houston. After flying toward Houston for almost two hours, the pilot in distress contacted air traffic control for help. McFarland, a certified multi-engine instrument-rated pilot, answered his call and talked the pilot through the weather. His professional, calm demeanor reassured the pilot in the air and helped him to land safely at Houston Executive Airport.
"Thank you for the award," said McFarland. "I appreciate ATCA, NATCA, and the FAA for allowing me to be here. Thank you for recognizing the dedication air traffic controllers show in their profession every day."
Seattle Center (ZSE) controller Mark Haechler, who at the time of the incident was a trainee, noticed an aircraft on his scope that was unable to climb. The distressed pilot was in terrible weather conditions and experiencing heavy icing. Haechler declared an emergency for the pilot, and fellow ZSE controllers Matt Dippe and Alan Passero jumped on to help navigate him out of the bad weather. Their teamwork and quick thinking ensured a safe landing instead of a potential tragedy. Northwest Mountain Regional Vice President (RVP) Doug Pincock accepted the award on the group's behalf.
"I take pride in being involved in a community of professionals that are constantly challenging themselves to improve safety and efficiency every day," said Haechler about winning the award.
Orlando TRACON controller Sarina Gumbert was working the DRW position when a Cessna pilot departed directly into the path of a departing JetBlue aircraft. Gumbert immediately saw the errant heading and issued a corrective heading. She told the pilot to turn left immediately and began to call out traffic departing from the airport. As a result of Gumbert's expertise, the Cessna and JetBlue aircraft narrowly avoided one another during takeoff. Southern RVP Jim Marinitti accepted the award for Gumbert, and commended her for being a very involved and dedicated member of her profession.
"I am honored to be a part of such a challenging and rewarding profession," Gumbert said of her award win.
William Beach, Albany-Dougherty, Ga., Federal Contract Tower (ABY), had worked over 30 years as an air traffic controller when he helped an aircraft pilot who was experiencing the symptoms of a heart attack. Calling upon his many years of expertise, he was able to successfully guide the distressed pilot to a safe landing. Beach has distinguished himself and his profession through his constant dedication to safety. His daily actions at ABY have earned the respect of everyone at the tower.
Beach, now retired, was very grateful for the award and opportunity to be at the luncheon.
---
Sarah McCann, Senior Communications and Public Affairs Associate, NATCA National Office, is a member of the ATCA Publications Committee that was awarded the 2015 Presidential Citation of Merit Award. ATCA's President, Peter F. Dumont, recognized the group for each member's exemplary work in air traffic control over the past year, and for the overall enhancement of and contribution to air traffic control and the aviation community.
"Such a high level of dedication and involvement by a group of diverse professionals is hard to come by, but the ATCA Publications Committee works together to represent air traffic—both its history and advancements—in an enjoyable format each quarter," said Dumont. "This is not a small feat, and for the continued success and improvement of The Journal of Air Traffic Control, I award them the Presidential Citation."
Accepting the award along with the group was Committee Chair Ed Stevens.
"Individually, the ATCA Publications Committee members represent far-reaching facets of aviation operations, associations, government, and both large and small corporations," said Stevens. "They collectively pool their knowledge to create a quarterly publication that is timely, editorially exemplary, and consistently challenges the aviation professional on the latest topics and developments in the industry. Thank you, ATCA, for this award."